Hey guys and gals. I thought I'd share this.
Yesterday during my work shift, I decided to contemplate ways to remove the rust and scale from my old hooker comp headers. I've been wanting to replace them, but decided that for the time being they will work, and I can spend the money elsewhere. This also got me thinking as to what the cheapest, easiest way would be. I decided on electrolysis. Before starting this thread, I did a quick search for any other threads that might have had this discussion and I didn't see it, so I'm sharing what I did. Scroll down for pictures.
For those not familiar, electrolysis works, in simple terms, by swapping ions from one source to another using DC voltage. It is more complicated than this, but that's not for this post. There are plenty of good write-ups about electrolysis around the web.
My fiance, who is currently pregnant and in the "nesting" stage, has been collecting storage totes for organizing baby clothes and other various baby things. She was grateful enough to allow me to use a 50 gallon tote for this venture.. Although it was not easy to convince her to let go an item of such extreme importance. I may now also have to replace it, as I may have messed it up a bit, but we'll see how she feels after she sees it empty.
I filled the tote with 25 gallons of water and 2.5 cups of electrolyte (later it would have 35 gallons and 3.5 cups). The electrolyte is nothing more than super washing soda you can by from a super market. I mixed this together and set the headers in. I clamped some random sheet steel and an old radiator support brace to the tote.
The sheet steel and radiator support will be my sacrificial components. They will no longer be good, unrusted, steel after the process is complete. The radiator support was already damaged and not in good condition, so it's not really a sacrifice. The 16 gauge sheet steel will be missed, however, until I pick up some more.
The headers are the cathodes, and the sheet steel/radiator support, are the anodes.
I connected the positive cable from a battery charger to the sheet steel and radiator support.
I then connected the negative cable to the headers.
I used jumper wires to complete the connections between the two pairs. i.e., I connected the first header (which was directly connected to negative cable of the charger to the 2nd header using 2 pairs of jumper wires. I also jumped the sheet steel to the radiator support).
It is VERY important not to get these mixed up. The sacrificial steel NEEDS to have the positive cable and the part to be de-rusted NEEDS to have the negative cable. Mix this up and your valued part will be worse than when you started.
Also VERY important: The anodes cannot touch the cathode. This will cause a short circuit. Do not allow the headers (or whatever your working with) to touch your sacrificial steel.
My battery charger works on 3 different amperages: 2 amp, 12, amp, and 75 amp (battery start). I selected 12 amp and this worked wonderfully. I was not comfortable leaving the battery charger on 75 amp draw for several hours (both financially and was not sure how the charger would handle this).
I stood back a bit and flicked on the circuit breaker for that outlet. Within seconds I saw the water starting to bubble. This is a good sign and I knew it was working.
I neglected to get before pictures and there are currently no after pictures, although these will be coming. So here are the pictures from the process (after setup). Within 5 minutes I could see scale floating to the surface and bubbles surrounding the headers and the sacrificial steel pieces.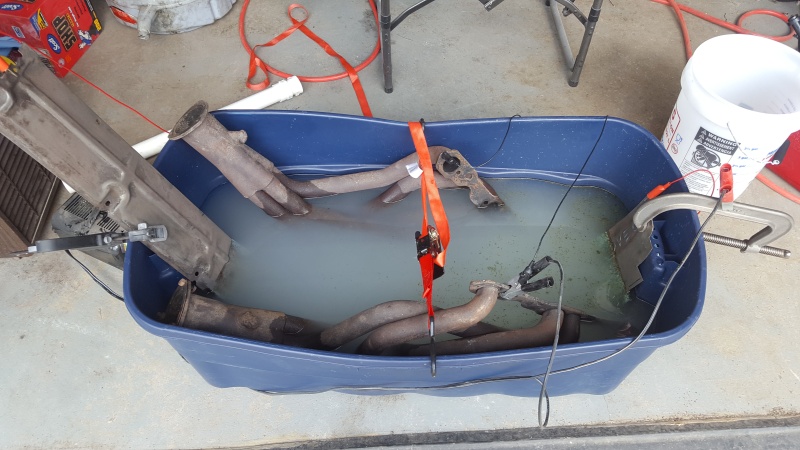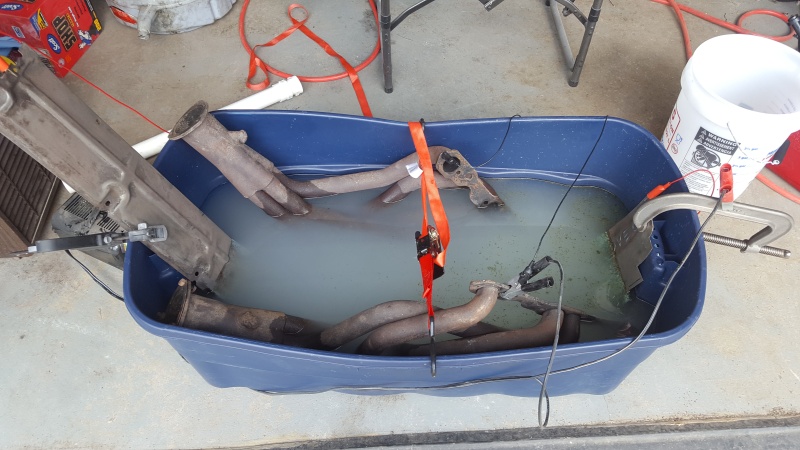 About a half hour later, I could see the rust starting to build up on the surface of the water, and the anodes were beginning to rust and build up a green gunk.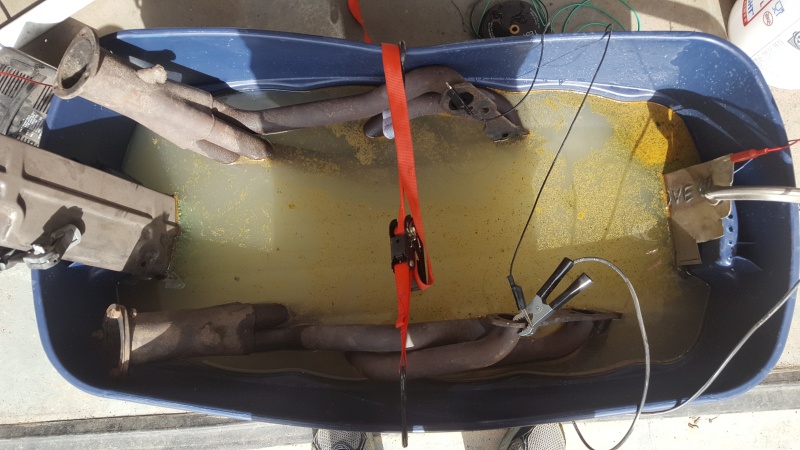 Decided to add more water and electrolyte and added the extra jumper cables: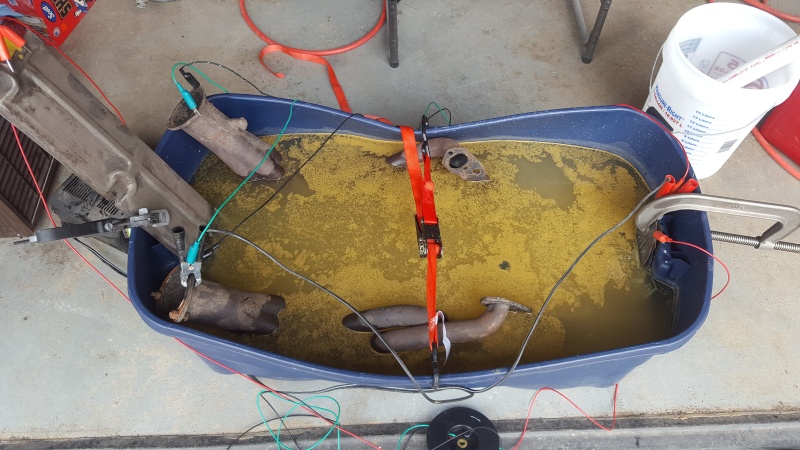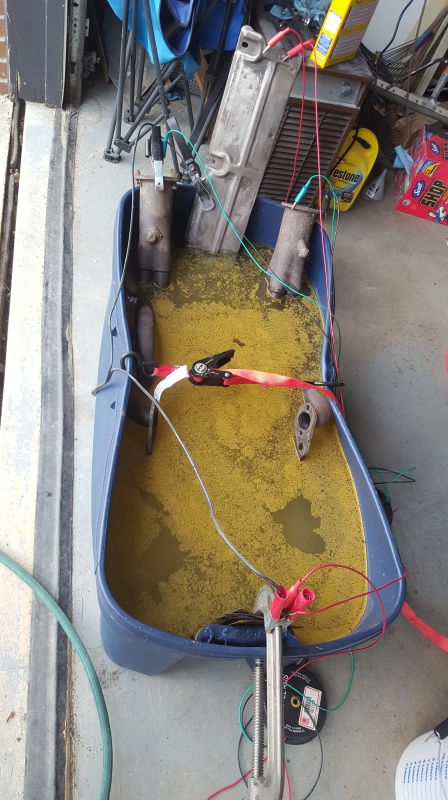 Now, they're not completely done, as I did not have them fully submerged for the sake of the pictures. What I will be doing next is taking an old 2 gauge battery cable and bolting it to the headers (one at a time) and completely submerging the header. I will also be picking up some rebar or "chunk steel" to use as the anode. Something with more surface are. You can also weld up a surround and "encapsulate" the part being de-rusted. Just make sure they don't touch each other. The more the anode surrounds the part being de-rusted (cathode), and the closer it is to it, the better it works.

Silentknight85

Donating Member





Street Cred

: 4



cool. Straight white vinegar also works real well. Just let it soak. But it would be a lot of gallons to soak headers. Wal-Mart has the vinegar the cheapest. No electolicity needed.

Joe73

Donating Member





Street Cred

: 70



Here in Europe we have used lemon acid. In powder form. Just solve 2 kilos in 20 liters of water. Trow your rusty parts in the water a day or 2 ringe with water and a vire brush, and all rust is gone and the metal is clean. This also works for larger items. Just make some of the glue you use for wallpaper and mix in the lemon acid water. And brush on what ever you like. Wrap in plastic for a day or 2. Rinse with water and a wire brush and the frame is clean. It dosent hurt rubber, crome or glass. Just remember to paint the metal fast or the rust will come back fast. I have used this stuff for years, it also removed gunk and dirt, grime from hard to reach places.

As for the lemon acid im not sure If it is Called that in the US but that is what its Called here. Its a powder and it tastes just like concentratet lemon If you get some on the hands. It is used to rinse Coffee machines and fixtures in the bathroom.

At one point you could buy a product Called strib all. It also was a acid thing, it worked best If you heated it to about 75 degreas. It would Strib metal from rust and paint. And it would also ad a rust protective coating. But they banned it because it was to dangerus. Im sorry If there are some misspelling but my english is a bit rusty

Hs1973

G3GM Member





Street Cred

: 4



I should mention that I only spent $9 for this project, and that was for the washing soda

Silentknight85

Donating Member





Street Cred

: 4



Silentknight85 wrote:I should mention that I only spent $9 for this project,  and that was for the washing soda
Don't forget, you have to buy the wife a new tote, too.


thatfnthing

Donating Member





Street Cred

: 55



Easy rust removal??? Not as easy as this hand held laser
https://www.youtube.com/watch?v=0TNXwMUZqQU
Our company's owner is thinking about getting one.... I cant wait! Big bucks though,
starting at the mid 5 figures. It sublimates rust only leaving only clean metal behind.(Sublimation is the transition from a solid to a gas)

SSTOOLMAN

Donating Member





Street Cred

: 7



Ha, yes, I've seen that before and wish I could get my hands on one.
Also, with the new tote I'm up to $20 for this project. The only issue I've had so far is when I removed the first set of finished headers from the water, they flash rusted due to the water still being on them, but it was surface rust only. A quick scuff with a scotch brite pad got them rust free. The other issue, which is a big blunder, is not having the VHT primer and paint on hand to get them painted up right away. I've got them in a temperature and humidity controlled area now to prevent them from rusting up again.

Silentknight85

Donating Member





Street Cred

: 4



I have used this process.  There are no short cuts to getting well prepped parts.  

To get any reasonable rust removal on nasty parts, you need to use lots of 'electrolyte' or you are prepping parts before putting them in the bath which adds the step you are trying to avoid.  I used arm & hammer laundry detergent, tons of it.  Eventually, you get greedy and want to speed up the process of using safe electrolyte and turn to basics like lye or acids which will elevate the hazard and toxic levels.  Then what to do with the toxic water solution and rusty sludge?  

When finished soaking, you still need to wash parts really well and metal prep to prevent rust.  It makes a mess with big parts.

I use a blast cabinet with a decent compressor. Less mess, and my shoes always stay dry.

Thanks -

Jerry

jerry46765

Donating Member





Street Cred

: 20



One of the guys on the Cadillac Power forum came up with using molasses from a farm store ( not the edible type), mixed in with water. I believe it's in powder form. He also used a big plastic tub. He uses that to get rust removed from engine parts, like heads, crankshafts, etc It's a longer term process though, like a couple weeks to get all the rust off. And it wont remove grease & oil, which have to be cleaned off first etc...
I may try it. I have a rusty 327 block, with the crank still in it, with no rods on it. ...


pila

Donating Member





Street Cred

: 43



I Found out that in your country the acid we use here is Called citric acid in powder form. Or sour salt. Here its Called lemon acid.
I just finished all the major parts for a firebird. I used a kids pool in plastic that would hold water enough to submerge all the parts. I did all parts under the car. Total cost was 100 bucks for the acid. Kids pool i had laying around.

All parts are clean and Nice now with no rust, but you need to paint it right away or it will rust over Night. All rust oil and gunk are gone. The acid neutralises itself within 5 days, left is water and sludge. I filtert the gunk from the water and the water was taken to a Wasted station along with the sludge.

I take one part at a time and clean with a hose and wire brush, you can see the rust and gunk run of when you hose it. Tha acid is not stronger than you can have your hands in it. This is the Way we do it here in Europe and it works just fine. Of course it makes a little mess but nothing major.

For a Big piece like a frame you just mix in wallpaper glue and put a Thick layer on, wrap in plastic and let it sit for 3 days. Then hose it of with a wirebrush and its all clean. Use half a pound for 4 gallons of water and you are good to go.

Hs1973

G3GM Member





Street Cred

: 4



I have used a mixture of 50% vinegar and 50% distilled water with great success on rusty tools, nuts and bolts etc. Soaking them overnight usually does the job. Below is a youtube video showing how effective it can be on sheet metal.
https://www.youtube.com/watch?v=TlcL_vHODkc

g3chevy

Donating Member





Street Cred

: 18




---
Permissions in this forum:
You
cannot
reply to topics in this forum