Just sold a rear end from a 1977 El Camino I am parting out to a guy I met at a local car show that owns a 1975 Laguna. We were trying to determine the gear ratio, manufacturing plant, etc from the code stamped on the housing. I have not found a match in any documentation I have or any here on this site. Any help with this would be greatly appreciated.
This is the code stamped on the housing.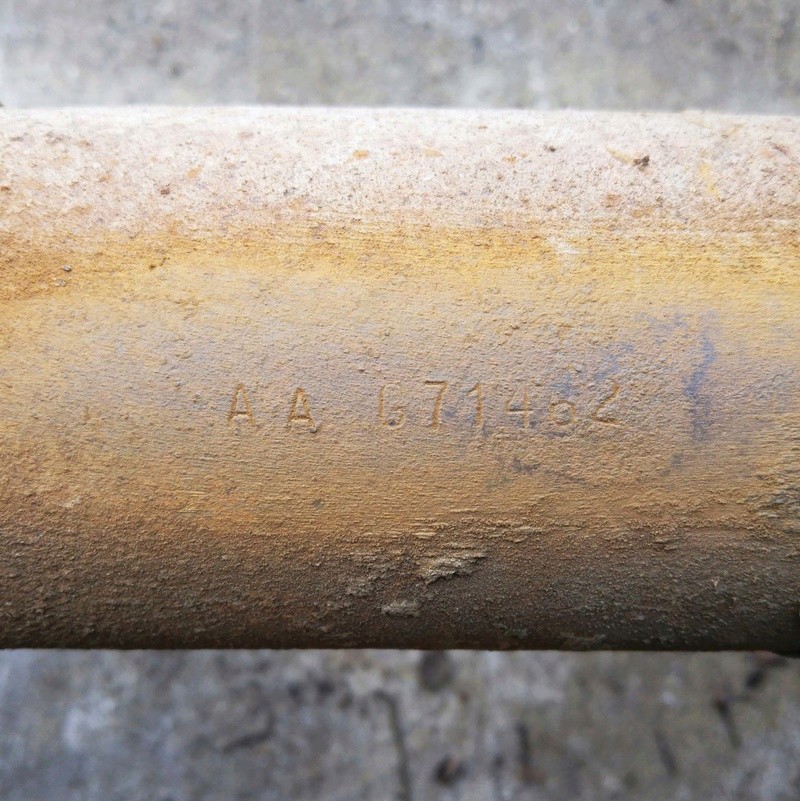 AA G71462

g3chevy

Donating Member





Street Cred

: 18




clanceman427

G3GM Enthusiast





Street Cred

: 15




bigredlaguna

G3GM Senior Member





Street Cred

: 50



This is the stock 8.5" rear end unlike the 7.5" rear end on the G-bodies. My understanding is they are not interchangeable. It also looked to be original to this 77 Camino. The link on this site does not decipher the AA code unfortunately. The only reference I've found was in an old Haynes manual showing "AA" to be a code for a 78 G-Body with a 3.55 gear and a posi which this rear end was neither. My guess is that its either a 2.56 or 2.73 open gear. But I'm still at a loss with this code.

g3chevy

Donating Member





Street Cred

: 18




clanceman427

G3GM Enthusiast





Street Cred

: 15



Well the mystery is solved. The guy I sold the rear end to pulled the cover off and found it had 17:41 stamped on the pinion making it a 2:41 gear set. The only other one I've seen like this was a posi rear end I pulled from a 77 Cutlass at a junk yard years ago. This must be a special order gear set since there's really no documentation on this ratio. And I thought at 2.56 gear set was the "highway" gear ratio in everything I've researched. Strange stuff...

g3chevy

Donating Member





Street Cred

: 18



Maybe GM used '77 parts in some of the '78 models ?  The guys on the El Camino forum up-date their 5th gen Elcos ('78 to '87) Elcos with 8.5 rear ends from Monte Carlo SS models, or Buick Grand nationals, which have the 8.5 inch rear ends.

Swapping a big block or even a higher powered small block into those Elcos with a 7.5 rear end, is reason enough to swap to a 8.5 rear gear...
Last edited by pila on Mon Apr 17, 2017 12:35 am; edited 1 time in total

pila

Donating Member





Street Cred

: 43



If I'm not mistaken, don't the 78-88 G-Bodies have a different external dimensions? I was told by a guy that races G-Body Regals that they won't bolt up without significant modifications. I also stumbled on this Oldsmobile website with info on the axle housing codes. I think this could actually be a rear end from a 77 Cutlass. Below is the post and the link to the forum.
http://www.73-77olds.com/forums/archive/index.php/t-7682.html
damaged442
05-01-2012, 09:02 PM
All ya gotta do is use the old SEARCH option up there!!
Found this from one of my ramblings from a few years ago!!
"OK here goes.
In 1977 you could have had the following ratios. Look on the front of the right axle for the code and it breaks down like this.
AA 2.41
AB 2.56
AC 2.73
AF 3.08
AT 3.23
AU 3.08
AX 2.73
CA 2.41 anti spin
CB 2.56 anti spin
CC 2.73 anti spin
CF 3.08 anti spin
CT 3.23 anti spin
CU 3.08 anti spin
CX 2.73 anti spin
The axle should have a code on it that starts with 7 (model year 77), then the two letter code above, followed by "O" for Oldsmobile, then numbers for day of year made, followed by another number for the shift it was built on. If you do not have an Oldsmobile rear, you may have B for Buick, P for Pontiac, C for Buffalo, G for Chevrolet Gear and Axle, K for GM of Canada, W for Warren, or M for Pontiac of Canada"

g3chevy

Donating Member





Street Cred

: 18



The Olds rear can be identified by the shape of the cover on the rear. Doesn't look like the usual 8.5 cover, but some '73---'77 Elcos had them from the factory, causing some confusion to owners working on them...
I don't have the pics handy to show here...

pila

Donating Member





Street Cred

: 43



I think the letter "G" stamped on the rear axle housing indicates that its manufactured by Chevrolet which makes this even more of a mystery.


g3chevy

Donating Member





Street Cred

: 18




---
Permissions in this forum:
You
cannot
reply to topics in this forum