Parting out another 73 Monte Carlo.  Original 454 LS4 245 hp car built in Arlington, Texas.  Original color was Silver Taupe Metallic.
The car has no motor, trans, or driveline.
The body, power windows/locks, tilt is sold, however there are several other parts available
Frame - no damage
6-way power bench
Front end power disc brakes/suspension/sway - brackets and hardware
Factory big block springs front/back (code tags still attached)
Quick-ratio power steering box
Big block radiator support
Full hood latch assembly
1 set of hood hinges with springs/hardware
Dual exhaust cross member (blasted and painted) with stock hardware
TH400 Column to trans shift linkage with nylon ferrule, spring, keeper, and frame hardware
Cruise regulator (bolts on near radiator support) plus two speedometer cables (long) - these are the only cruise parts I have
Full set of door hinges (professionally rebuilt)
Good front end parts: headlight extensions (I have 2 sets), grille (I have 2), lower inserts, running/blinker lenses, sport mirrors (driver's remote), tail lights, front/rear bumper - guards, rear bumper filler (I have two), rear bumper frame mounts (I have 2 sets), lower front frame stabilizers (I have 2 sets)
Rear end (non-stock posi  4:10) with heavy duty sway bar
Dash is not in good shape - there may be some small hardware, clips, brackets etc.
Heater box
AC box
Stainless 1/4 window trim
1/4 glass soft ray (I have 3 sets)
AM with 8-Track Stereo, comes with heat sink and electrical harness
Dual upper dash speaker bracket
I also have 2 standard doors with soft ray glass, regulators, latches, etc.
1 right front fender - (will need patch panel repair)
2 left front fenders - very good condition
Feel free to PM what your needs are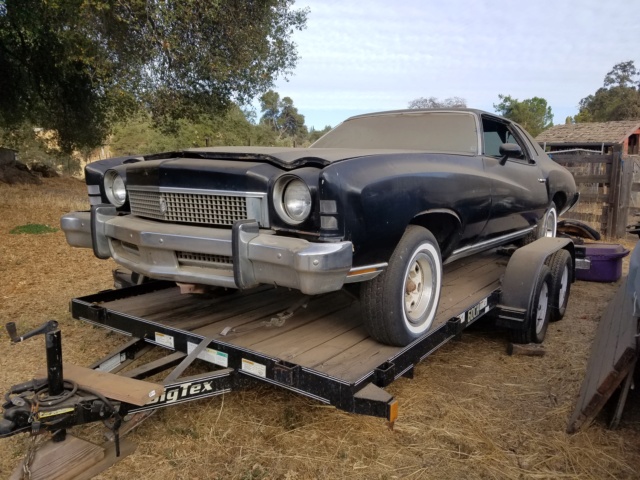 eboklund73

G3GM Member





Street Cred

: 0



Why would you part that out?

Sinister

G3GM Member





Street Cred

: 0



Was kinda thinking the same thing...

Mcarlo77

Donating Member





Street Cred

: 66



I appreciate the feedback. It is a tough call, however, when A body restorers need parts, I am finding that demand is greater than supply - even in California (not considering reproduction parts). I include myself while restoring my other 73. The last 73 that was parted went to 12 different states and included parts for a resto in Argentina from New York. A sacrifice of one for others?

eboklund73

G3GM Member





Street Cred

: 0



Parts no longer available as of December 5, 2015:

Steering Box
Radiator Support
Hood Latch Assembly
Front Bumper
Right Fender


eboklund73

G3GM Member





Street Cred

: 0



Is the car in TX currently? I saw it was built there, but not if that was the current location. I have some interest in the frame if it's got no rot.

thatfnthing

Donating Member





Street Cred

: 55



The car is currently in Sonora, CA. From everything I can tell and view from, the frame has no rot. I can follow up with some pictures for you to review.

eboklund73

G3GM Member





Street Cred

: 0



Appreciated, but I can't get it all the way back here.  Didn't know where you were and was hoping it was close enough that I could rent a trailer and come get it. A couple states would work, but I can't do cross-country.

thatfnthing

Donating Member





Street Cred

: 55




Hi eboklund73. I just sent you a PM. Thanks.

FumiyoG3

G3GM Member





Street Cred

: 0





Similar topics
---
Permissions in this forum:
You
cannot
reply to topics in this forum