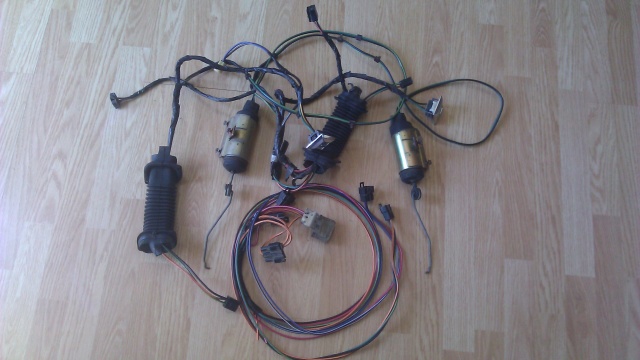 I've got a pwr lock setup correct for our '73-'77 "A" body cars...complete.  Everything you need to install...working lock actuators w/correct linkage, door harnesses, cross-over harness (actually includes the cross-over wires for pwr windows, too), door panel switches and door jamb protective boots.  
Electrically, this is a piece of cake to install...run the wiring and just plug the "hot" connector into the fuse box and you're good to go.  Don't have to splice into existing wiring harnesses.  There is a cutout template on the backside of the lower door panels for proper location of the switches.  There are also dimples in the doors for drilling holes where the lock actuators are to be mounted.  Hardest part about adding this option is knocking out the door & body plugs where the protective boots install.
I've made a couple repairs to the door harnesses where a few wires were pinched or damaged by correctly soldering and taping them.  Then checked continuity and I guarantee they will be trouble-free.  Asking $195; shipped (Lower 48).
P.S.  If you want to go all out and add pwr windows, let me know.  I can get the necessary window regulators with motors from the car.  Additional cost is unknown at this time...but, could find out.

Mcarlo77

Donating Member





Street Cred

: 70




---
Permissions in this forum:
You
cannot
reply to topics in this forum