Page 2 of 2 •

1, 2

Hs1973 wrote:I to have shaved the bumpers as they are the easiest weight to loose. Also im thinking of cutting the bars in the doors out, for 2 reasons. 1 Being the weight, and 2 Being that the door is so heavy it closed like a safe door. And is causing the hinges to wear out fast.

Also i have a fiberglass hood, since it also is a heavy piece. On my want list is new alu heads, the old ones do a good job, and im pushing 350 horses on a fresh 355 smallblock. But i guess more wants more. If i could get 450 in the end, i would be happy with that. My chevelle is a streetcar that dosent see track or race, other than redlight action from time to time.

Right now the car is away for the winter, and i have a fresh rebuildt rear with a posi and 3:42,  i cant wait to see what that does for my car. The car was Real slow of the Line with the old one peg rear, i belive it was a 2:73 or something. And it was a dog of the Line until i would get up in speed and rpm. Then it would just keep pulling till you lift the pedal. So i hope it is alot faster now. We shall see.
Gears will wake it up. I had a 79 Malibu with I seem to remember 2.73 gears. I went to 3.73 gears and the car picked up a second in the 1/4. I went from 15.20 to 14.12. Changing the converter to something in 2200 rpm stall range will help it too.

bracketchev1221

G3GM Enthusiast





Street Cred

: 15



dynchel wrote:

decided to shave some weight this winter.  I'm a little disappointed that all this fat removed only too the bumper from 86 lbs to 54 lbs
Originally, I only noticed that you replaced the impact absorbers for the brackets.  But now I see that you removed the reinforcement as well.
Sorry but I have to ask........
Is removing safety items worth the small amount of weight reduction for a car that's
driven daily and not used for competition?
Think about what could happen in the event of an accident.
I am sorry but time and time again I see posts regarding weight reduction and owners seem to gravitate
towards removing safety items in the never ending quest to shed pounds.
Unless you own a 9 sec Chevelle like Ray, and need to shed pounds to compete in a
specific class.....what's the point?
You own one hell of a nice looking car, I would hope the last thing you would want to do is
drive the family in an unsafe car.

BBMALIBU

G3GM Member





Street Cred

: 2



I don't believe this is "unsafe". The car will take more damage if hit, yes but it's at least as strong as a pre '74 bumper. Personally I wouldn't remove the door bars unless the car is caged.

dynchel

Donating Member





Street Cred

: 40



dynchel wrote:

fasrnur wrote:For myself, it's about trying to get mine to handle a little better. I know, if I do some shocks, sway bars, and springs I could get the same results. Like John said, it's cheaper than making more power right now. My car is on a strict budget build for right now. Everything I can do by myself for nothing is a bonus. After I get it handling better, then I'll move to make is faster with more power.

Impala rear bar, poly bushings, along with a tight frontend & decent shocks will make these cars handle very well.  
I did the Impala rear sway bar (1") and a Trans Am front sway bar (1 1/4") I think, biggest one I could find, along with boxing the rear lower control arms and new rubber bushings out back, plus new shocks all around. The car drives like a dream now, no more of that sofa on wheels feeling. This was done in stages with other things like new engine mounts, and a rebuilt rear end out back, the parts and hardware to install were about $250 Canadian, so well under $200 US and some fun time with the kids in the garage. Just my $0.02 worth...

Dinomyte

Donating Member





Street Cred

: 9



Thanks for the insight Dinomyte. I needed to hear that from some that might be on a budget and path that I'm on with my car. I am also planning on installing a quicker steering box to see what it does for handling.

fasrnur

G3GM Enthusiast





Street Cred

: 8



I have station wagon springs in the rear, impala SS sway bar, fabricated control arms (rear adjustable with heim joint) frame supports, & cheap "heavy duty" rear shocks & traction bars.  Front has a 1" sway bar with poly bushings & end links, & Monroe sensatracs.  Rest of front end is rebuilt stock using Moog parts.  The car handles very well, especially since that wasn't my intention, the limiting factor is the tires. Mastercraft avenger g/TS .... Mastercraft calls them cosmetic performance tires.
Last edited by dynchel on Sat Feb 04, 2017 9:55 pm; edited 1 time in total (Reason for editing : added details)

dynchel

Donating Member





Street Cred

: 40



The limiting factor in my car is ME, I'm not really wanting to push it to the limit. I've got BF Goodrich Radial T/As all around, 255/70/15s on the back and 255/65/15s on the front (if I remember correctly) and you can still get her sideways if you try.
No traction bars or anything like that, lots of chrome which I'm sure helps with performance.

Fasrnur, I just hope what I've learned / shared from what I've done benefits you. It's others here sharing what they've done / learned that got me to the setup I have, and I love it. I've got to also mention that even tho seating doesn't play any role in ride or performance, buckets with significantly better support (springs / foam) than my old bench are a big plus.
Dino

Dinomyte

Donating Member





Street Cred

: 9



Thanks Dinomyte. I know that nice buckets would help in the way you control a car by holding you in place. My last toy had a pair of Recaro seats in it and I loved them. I'm not going to change to bucket as that would detract from what I want the finished theme to be on my car. I look forward to spring!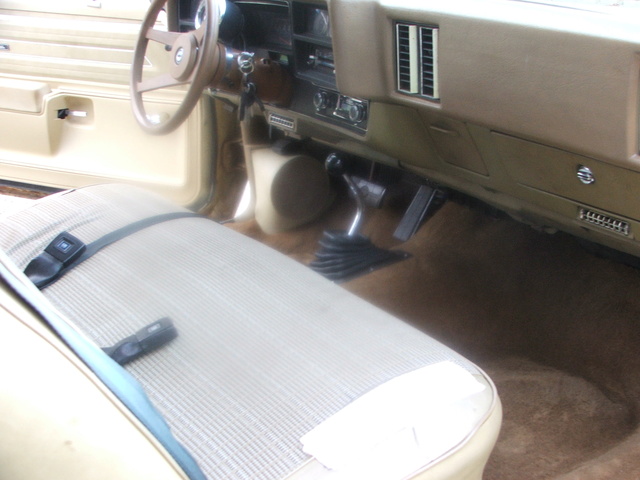 fasrnur

G3GM Enthusiast





Street Cred

: 8



She looks awesome, Bench and Stick very nice combination.

Dinomyte

Donating Member





Street Cred

: 9



Thanks Dinomyte. But if you look real close. it's the new clutchless trans. lol

fasrnur

G3GM Enthusiast





Street Cred

: 8



opps

I should have noticed there were only two pedals . . .

Dinomyte

Donating Member





Street Cred

: 9



So many people miss that Dinomyte. That's half the fun of having the old Hurst Autostick 1 shifter.


fasrnur

G3GM Enthusiast





Street Cred

: 8



Page 2 of 2 •

1, 2


Similar topics
---
Permissions in this forum:
You
cannot
reply to topics in this forum