Anyone convert older 2-speed wipers to delay of pulse type ?
My manual for Elcos shows wiring for the pulse type wipers. I'm sure that parts to convert to that old system must almost impossible to locate (??) Like the motor, switch etc...
I had forgot about the PIA in rain with the old 2-speed wipers, until today...maybe my Elco is a fair-weather ride !!

pila

Donating Member





Street Cred

: 43



I use rain x all the time for just this reason .I dont drive my cars much in the rain but I hate wiper marks on the windsheild and having to flip the wipers on and off during a light rain.

ant7377

G3GM Addict





Street Cred

: 36



Jc whitney had a little controller years ago to add to your wipers that you could hide under the dash.

ant7377

G3GM Addict





Street Cred

: 36



I installed one of those aftermarket intermittent wiper units on my wife's 74 Malibu back in the 80's. It seemed to work fine and was a very quick install. I know I removed it when I sold the car, but have no idea as to where it is now. Completely forgot about it til now.

77camino

G3GM Member





Street Cred

: 6



I upgraded mine.  The Monte's had it as an option from 75-77, so I purchased the wiper motor from Advanced Auto -- it's essentially the same but with an additional timing circuit.  That's the easy part.
The dash will be the primary issue -- finding the stock delay wiper control will be a trick (last I knew Phil at Montemania had some, but the price will be steep), and it requires a larger hole than the original non-delay switch, which will in turn require either a new matching dash face or surgery.  All that is for the Monte, though, the Elco might not have that issue.
The wiring is simple and can be accomplished with the factory diagram and about $2.00 worth of wire and quick connect terminals.  Phil wants $150.00 for the original harness, which was ridiculous.
So I went off script again (big surprise) -- I always hated the location of the original switch and liked later model vehicles with the control on the directional lever.  So I grafted in the multifunction lever from a Dodge Ram, but many others will work since the concept is the same: the various positions on the delay simply introduce different levels of resistant to reduce the current to the timing capacitor in the motor.  When the capacitor is full, it fires one rotation of the wipers.
Now I just need to make a cover to hide the thing: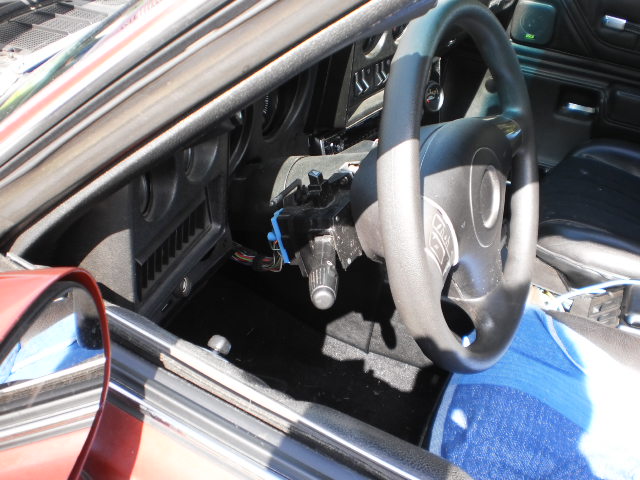 The next plan is to change to an aftermarket washer motor so I can control how much fluid is dispensed -- the current one will empty half the bottle with its pre-timed cycle.  
Let me know if you want to tackle it and if you need any help.

thatfnthing

Donating Member





Street Cred

: 65



I have one of the delay switches in my collection of 76 malibu parts, also, a good wiper motor if your interested. I do not have any wiring harness. Jerry

testpilot61

Donating Member





Street Cred

: 3



Similar topics
---
Permissions in this forum:
You
cannot
reply to topics in this forum