Ordered some new brake lines to go with my overhauled rear and of course they don't fit worth a fiddlers f***. I sent them some pics so figured I would post while I'm at it. Last pic is my homemade one I bent buy hand. Hoping to get the rear in this week-end. Left side fit after an hour of tweaking and it's not that great. right side just ain't going to work. I guess I'll stick with my home-made ones. Typical stuff when dealing with a 73~77 a body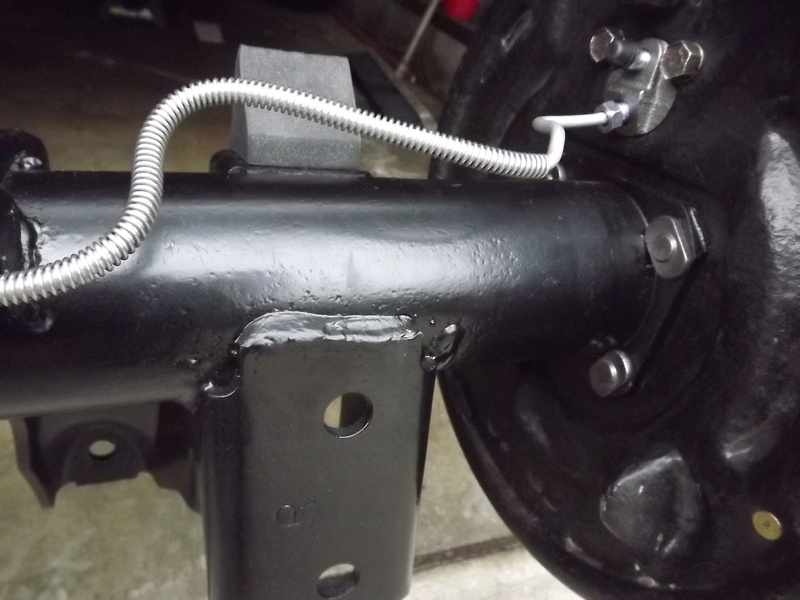 73ss

G3GM Member





Street Cred

: 11




Joe73

Donating Member





Street Cred

: 79



Thats where I got mine from. Your right side looks like it lays out good. I think mine is too long. Left side I couldn't get it to fit the outer axle tube clip.

Have you fitted them with the backing plates on?

73ss

G3GM Member





Street Cred

: 11



Yes,  rear was blasted, epoxied and installed.  Brake lines layed in place, backing plates installed.  Then the gears, posi and girdle cover.  Lines lined up nicely.

Joe73

Donating Member





Street Cred

: 79



I held the right side next to your pic and I have a S bend that you do not have. Maybe they boxed them wrong.
My girdle cover is on Back order. I'm going to run the old cover for a week or 2, drain it, look things over and then put the girdle cover on.

As always, Thanks for the info...

73ss

G3GM Member





Street Cred

: 11



Joe73 wrote:I got mine from inlinetube and they fit great.  I actually got all the brake lines front to rear from them and they fit good.

+1 I bought the complete set of brake lines, front to back, from Inline Tube. I also bought the fuel lines from them too. I didn't have any issues installing any of them.

Hawk03

G3GM Enthusiast





Street Cred

: 18



Hey. Funny this was posted. I have been looking at this as I have to do the entire system. I decided to do all of mine from scratch. I just received my brake flare kit in the mail today. I am going to use the NiCopp tubing all new everything. I am doing it this way because I have the Wilwood brake kit with the Wilwood prop valve and master cylinder. For some reason Joe's stuff always looks right.

REVINKEVIN

G3GM Enthusiast





Street Cred

: 17



Similar topics
---
Permissions in this forum:
You
cannot
reply to topics in this forum