Have a bunch of items left over from my engine build.  Everything is new and unused unless otherwise noted.  If anyone is interested.  Giving you guys first shot.  I'll put it up on FB later tonight.  Message if your interested in anything.  Thanks.
SBC Polished aluminum timing chain cover with bolts, seal and gasket  $25 shipped
Fel Pro 1405 exhaust gasket  $15 shipped
MSD 8213 side mount coil bracket (Have two)  New one $5, used one $3
Centerforce Roller Pilot bearing 43001  $15 shipped
HEI wire retainer
ARP Header Bolts,  Stainless,  HEX head  $15 shipped
ARP Oil Pan Bolts, Stainless, HEX head $20 shipped
ARP Timing Cover Bolts, Stainless, HEX head  $12 shipped
ARP Valve Cover Bolts, Stainless, HEX head $10 shipped
7/16" Long Poly Locks for stud girdle (16) $15
Scorpion 7/16" Poly Locks (came with my roller rockers) full set of 16  $10
3/8" rocker studs brand new removed from my new Promaxx heads (16) hex  $15
Spectre Grade 8 flywheel Bolts 4698  $3
Spectre Billet 42555 SBC Oil dipstick and tube with O ring fits 65-79 $10
(6)  Blue Plug Wire Heat Sleeves
Starter stud and shim kit SBC  $9
Side Terminal Battery Disconnect $5
Taylor 45469 Coil Wire $5
ARP Ultra Torque Fastener Assembly Lube $3
Summit Performance Assembly Lube $5
Battery Cable w/clamps   ½" wire, 14 feet long  $50 shipped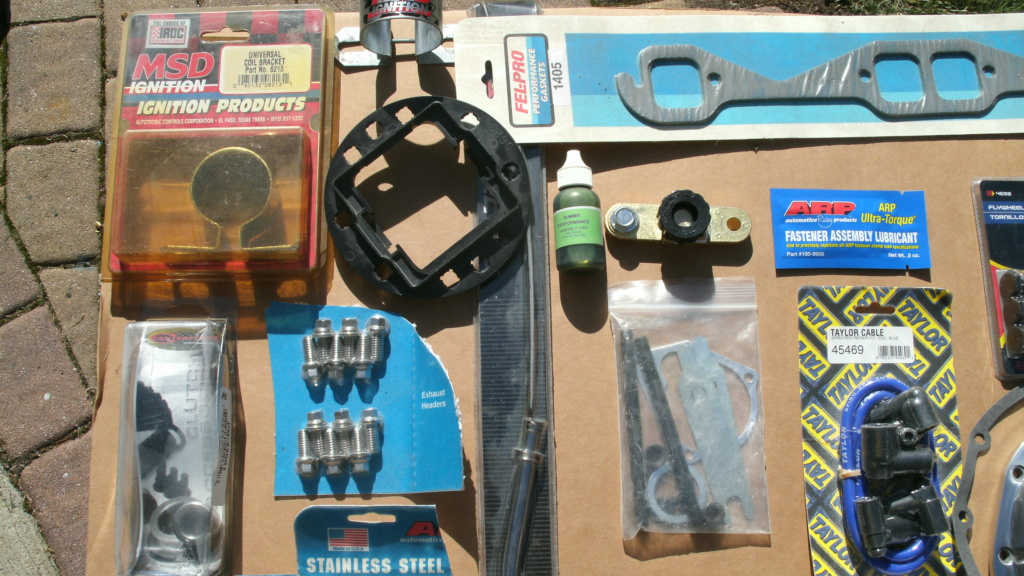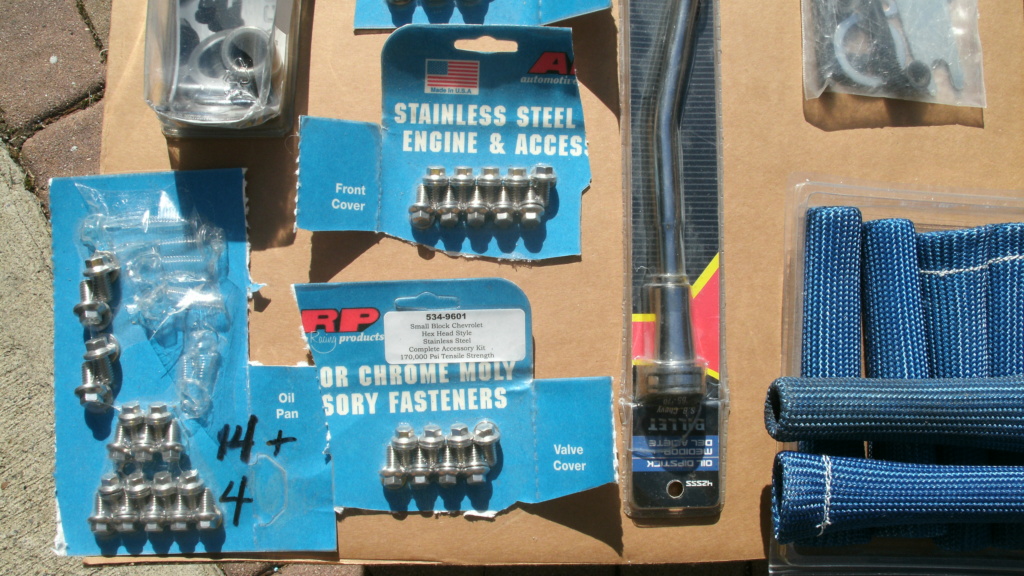 Joe73

Donating Member





Street Cred

: 78




Joe73

Donating Member





Street Cred

: 78



Joe, do you think the timing cover will work with an Edelbrock double roller timing set? I've read that some timing chain sets won't work with these aluminum timing covers. If it does work, I'm interested. Thanks!

g3chevy

Donating Member





Street Cred

: 22



My mistake. The timing cover is sold as well. Thanks
Last edited by Joe73 on Mon Oct 14, 2019 3:16 pm; edited 1 time in total

Joe73

Donating Member





Street Cred

: 78



Ok, updated list.  Sold items are removed.

ARP Timing Cover Bolts, Stainless, HEX head $12 shipped
MSD 8213 side mount coil bracket (Have two)  New one $5, used one $3
Centerforce Roller Pilot bearing 43001  $15 shipped
HEI wire retainer
7/16" Long Poly Locks for stud girdle (16) $15
Scorpion 7/16" Poly Locks (came with my roller rockers) full set of 16  $10
3/8" rocker studs brand new removed from my new Promaxx heads (16) hex  $15
(6)  Blue Plug Wire Heat Sleeves
Starter stud and shim kit SBC  $9
Side Terminal Battery Disconnect $5
Taylor 45469 Coil Wire $5
ARP Ultra Torque Fastener Assembly Lube $3
Summit Performance Assembly Lube $5
Battery Cable w/clamps   ½" wire, 14 feet long  $50 shipped

Joe73

Donating Member





Street Cred

: 78



Updated list.

ARP Timing Cover Bolts, Stainless, HEX head $12 shipped
MSD 8213 side mount coil bracket (Have two) New one $5, used one $3
Centerforce Roller Pilot bearing 43001 $15 shipped
HEI wire retainer
Scorpion 7/16" Poly Locks (came with my roller rockers) full set of 16 $10
3/8" rocker studs brand new removed from my new Promaxx heads (16) hex $15
(6) Blue Plug Wire Heat Sleeves
Starter stud and shim kit SBC $9
Side Terminal Battery Disconnect $5
Taylor 45469 Coil Wire $5
ARP Ultra Torque Fastener Assembly Lube $3
Summit Performance Assembly Lube $5
Battery Cable w/clamps ½" wire, 14 feet long $50 shipped

Joe73

Donating Member





Street Cred

: 78



Similar topics
---
Permissions in this forum:
You
cannot
reply to topics in this forum