+2
REVINKEVIN / Mr. 600+HP
S3TPI
6 posters
Page 2 of 2 •
1, 2
Hey. In 1973 our fantastic government passed a law that bumpers should be rated for a 5mph incident without damaging the lighting system and body. This is when we lost the tail lights in the bumper look. The law started out as 2 1/2 mph, but when it was passed it was 5mph. Now this is what I have read somewhere, but I could not find it again, in a 2 minute search to answer your question. GM was designing the 73 and up Colonade A Body line, as well as other news cars, and they incorporated a 10 mph bumper system in case the law was changed. This way they wouldn't have to make any more changes. You have to remember that during the'70's the auto makers where like beaten down dogs. Just take a look at a mid 70's Mercedes 2 door coupe. The bumpers on that thing look like gutters from your house. The funny thing is the 10mph bumper law never came and in the early 80's the law changed again so bumpers got smaller. Long story short, they never needed to be that big in the first place. Here is a neat article about the bumpers and what you can do to fix the problem. One of the cars is even a Laguna.

https://www.google.com/amp/s/www.motortrend.com/how-to/1976-chevy-camaro-how-to-fix-ugly-1970s-bumpers/amp/

REVINKEVIN / Mr. 600+HP

G3GM Enthusiast





Street Cred

: 19



g3chevy / Mr Pontiac likes this post
Thanks for the info, Kevin, I do remember the 5 MPH front and 2.5 rear requirement, but never heard they were going for 10. I also recall that in the event of an impact greater than 5 MPH, the damage caused to the impact absorbing system cost more to repair than just an ordinary bumper. So, it wasn't really saving anyone any money. I don't know where they are at for low-speed collision requirements these days, with the whole front end of the car being plastic.

S3TPI

G3GM Member





Street Cred

: 0




REVINKEVIN / Mr. 600+HP

G3GM Enthusiast





Street Cred

: 19



They have evolved, that's for sure!

S3TPI

G3GM Member





Street Cred

: 0



Hello again everyone. God I can't believe how long it's been since my last post on this. When I started this project I told myself i was going to hammer it out and like happens to so many it just didn't end up that way.
So what happend? Well my wife and I welcomed our first child into the world and we bought our first home. Needless to say the Malibu just had to go on the back burner.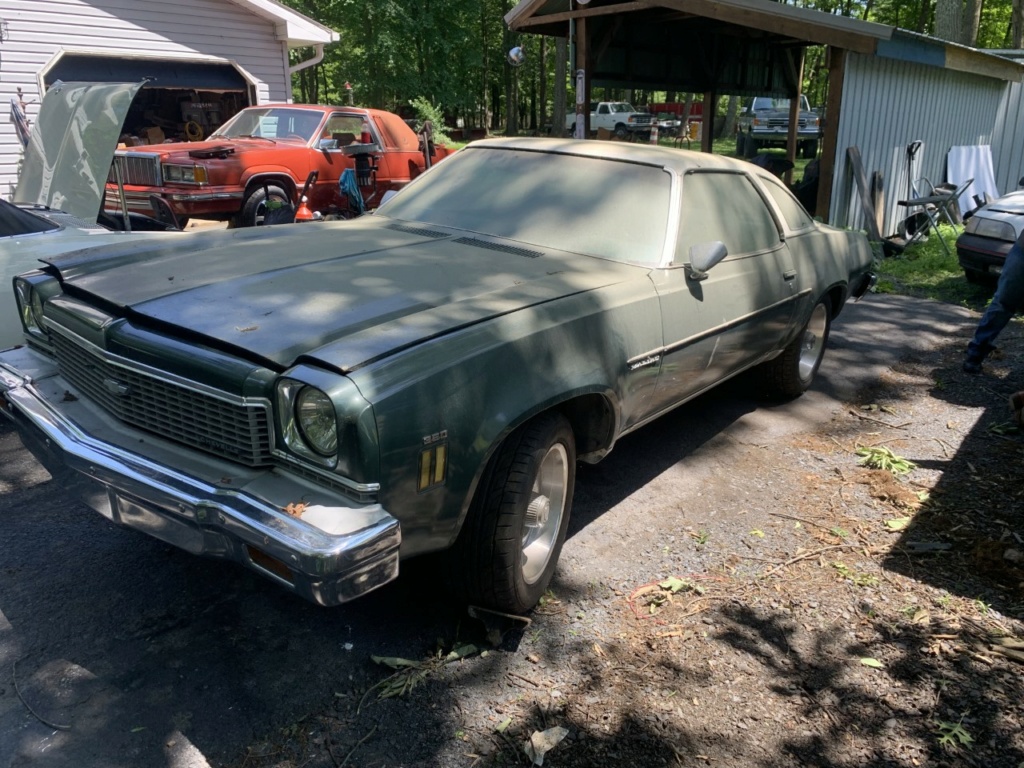 That being said my son just turned one and things have calmed down so now it's time to get back to it!
As you can see the engine and trans have been pulled out I didn't get many pictures yet but Just cause I haven't been turning wrenches doesn't mean I haven't been stocking up on parts. I have an L33 and a 4L80E to put in the car. I also purchased new body mount bushings a tanks brand fuel tank that's baffled and ready for an internal pump, a fitech ultimate ls system to run the engine and trans coming in as soon as it's off back order. Also a complete new valvetrain from comp cams and I now have most of the parts I'll need to convert the car over to rack and pinion.
So what's next? The body will be coming off the frame shorly so that I can box the frame, do the steering and change the body mounts. I'll try to take more pictures this time unlike when I did my corvette brake swap. There's a long road ahead and right now my goal is to just get the car back running it's own power in spring.

Greenmachine

G3GM Newbie





Street Cred

: 0



The insurance companies lobbied the federal government for the bumpers because they didn't want to pay for damaged grills and tail lights.

ant7377

G3GM Addict





Street Cred

: 36



Where'd you get the gas tank from? Im looking to get rid of my external pump setup and go internal but I cant find a listing for a tank for our cars on their site.

alowerlevel

G3GM Member





Street Cred

: 6



The tank is actually meant for a second gen a body. I was going to use one of the many setups out there to convert my tank to an efi style tank but what I really wanted was the baffling. I bought it and did a test fit and the second gen tank fits with no issues. Just requires a modification to the factory fill neck. I'll cover the install when I get the tank in the car permanently. The only draw back is that the tank is 17 gallon instead of 22.

Greenmachine

G3GM Newbie





Street Cred

: 0



Page 2 of 2 •
1, 2
Similar topics
---
Permissions in this forum:
You
cannot
reply to topics in this forum