For those of you who have switched to, or are thinking about a 9C1/Imp SS rear end...
This is what they look like if they come apart.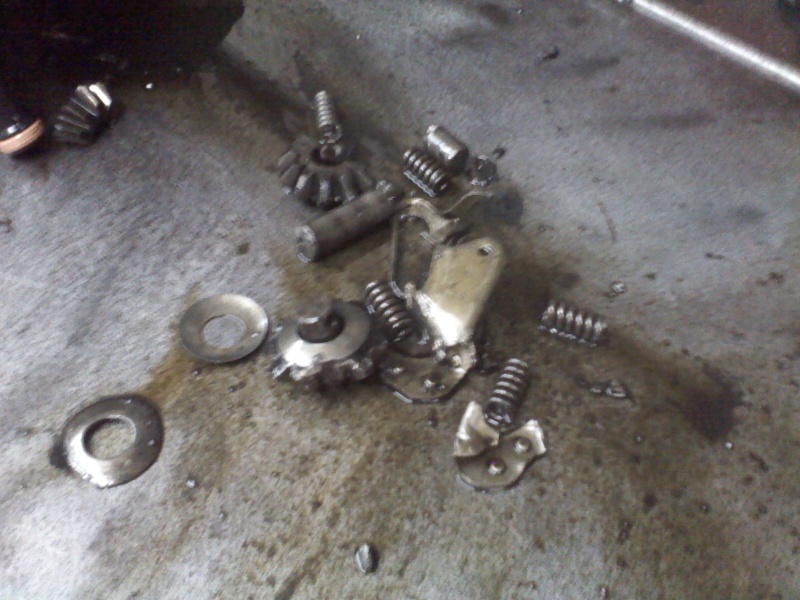 Sorry for the crappy phone pic, but if you look close, you can see one gear in two pieces, and the other with several missing teeth.
All fixed and back on the road, but I had an interesting day or two this week.

Roadcaptain S3

Donating Member





Street Cred

: 26



Hmmm...you must have driven the Impala pretty hard, yes? JB

JB2wheeler

G3GM Fanatic





Street Cred

: 28



Negative, Just cruising along on New Cut @ Outer Loop Friday. About 45 mph and PHOOEEY!

I'm quite sure the guy I bought it from last year rode it pretty hard before his Dad took it back from him.

The rear end was the only thing left that the dad hadn't rebuilt.

Roadcaptain S3

Donating Member





Street Cred

: 26



I take it you had the Gov-lock rear? Been there before too. Coming home in my truck & all of the sudden I heard a whining noise. Before I could slow down to a stop.... KABOOOOM! It shattered everything inside & blew some pieces through the front of the diff rendering the entire unit useless. I prefer open rear ends if they are factory just because of that. Hard driving has nothing to do with it IMHO. I think it has to do more with poor craftsmanship & previous owners failing to change out the fluids on a regular basis.

The Dude

Management





Street Cred

: 48



Cross pin broke in three pieces? Once that happens, it spits the contents out like a thrashing machine.

I just threw out a bunch of broken and worn carrier assemblies. Typically the cross pin will get wear from worn spider gears (wear on gear teeth) and there will be enough slop on the gear/pin that it will bind breaking one or both gears riding on the pin.

But breaking the cross pin into three pieces isn't common. I would bet heavy wear from both spider gears on the pin and maybe the cross pin retaining bolt was broken allowing the pin to move around in the carrier.

Oh the memories...


jerry46765

Donating Member





Street Cred

: 20



I'm guessing that there was a nasty crack in there somewhere, but when I bought the car, all I did was check the fluid.

I've never had one go that hard just cruising down the road, or even heard of it for that matter. I actually thought somebody had hit my car for the few seconds it took to figure out noone was anywhere near me.

Roadcaptain S3

Donating Member





Street Cred

: 26




That makes me wonder about my Roadmaster.
I've seen that with governed posi's but never clutch posi's.

74chick

G3GM Member





Street Cred

: 6



Impala's and 9C1's got the crappy A$$ cone type alburns none got govlocs those are only in trucks. If yours had one, it was installed from something else.

Jim_Rockford

G3GM Member





Street Cred

: 4



hey guys putting my 91 caprice up for sale 700 and it has 3.08 posi 305 has a no start condition right now wifey says gotta go she wand older wagon has new pump filter and icm
interior rough leather all cracked and split

___________________________________________
Sam

If life was fair I would have 150 G3's

dragons_lair59

Managment





Street Cred

: 11




---
Permissions in this forum:
You
cannot
reply to topics in this forum