anyone up grade there stock style fuse panel thats under the dash to the modern square push in fuses.if so how much trouble is it, or will I get lucky enough for them to make the plug and play kit.

Dead Man

G3GM Member





Street Cred

: 4



Upgraded my entire electrical system to a 93 Caprice wagon last year, including the fuse panel, which now swings down from under the dash: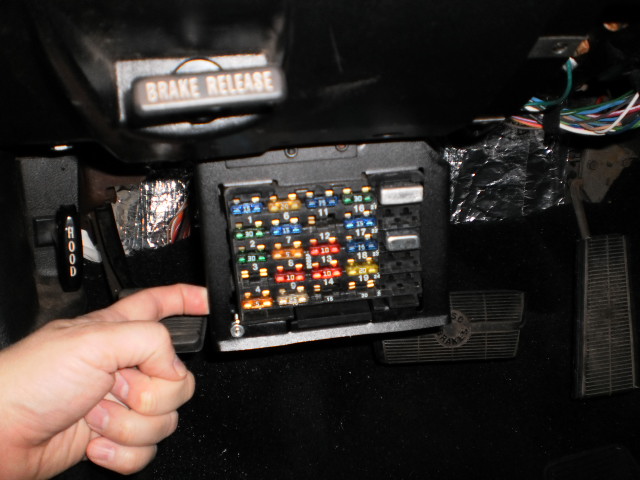 It was a lot of work, but it was worth it.
While you can buy just a fuse panel, there are no specific "kits" to make it plug-n-play for our cars, especially in light of the fact that the ones we have mount directly to the bulkhead connector as a unit -- no aftermarket fuse panel will do this. Expect a considerable amount of work to mount and wire the fuse panel yourself. However, if you are interested in upgrading the entire system, companies like Painless, Ron Francis, and American Autowire sell entire electrical system kits that are prewired to a modern style fuse panel.

thatfnthing

Donating Member





Street Cred

: 65



nice, thanks for the info.I think once I start the frame off im gonna add this on the list of things to do.

Dead Man

G3GM Member





Street Cred

: 4



like the plug-n-play comment with the old fuse type it could be done?

bagpipe71

G3GM Member





Street Cred

: 0



people rant and rave about American Autowire's kit for our cars. It is a little pricey, but they say well worth it. I believe the kit is around $600.

I went with the much cheaper EZ Wiring 18 harness, and it was alot of work. The videos make everything look so easy. This kit was around $200.

The key with the modern harnesses is, the wires are labeled, but you better have good eyesight and good lighting to be able to read the wires.

The key is, you have to take your time, and have alot of patience. If you don't have patience, then you might want to hire the job out.



alleyball4

Donating Member





Street Cred

: 5



---
Permissions in this forum:
You
cannot
reply to topics in this forum