Just wanted to share a couple of experiences about online shopping...

I joined the rewards program @ Autozone. Every time you spend $20 or more per purchase you earn "points" and when you accumulate enough, they give you $20. "on the house" to spend @ the store. There's more info on their website.

Also- I'm on the Advanced Auto e-mail list and they are constantly running on-line promos like 15-20% percent off & or free shipping if you buy $75.00 or more, etc. I just bought a new Melling hi-volume oil pump, oil pump drive shaft & pump screen & saved like $7.00 by buying online & picking up @ my local store which is only like 4 miles away. Best part is they had it in stock & no pesky shipping charges.

I'm cheap (I know) but you gotta save what you can. The little stuff adds up fast.

77mali

Donating Member





Street Cred

: 62



I love shopping for parts online while saving a few bucks here and there. Beats driving from store to store hoping they have what you need in stock. My strangest purchase this summer was a pair of the single headlight bulbs for the '75 Laguna. I checked a few of the main auto parts stores around me and they didn't stock them anymore. Found a pair on an Ace Hardware Warehouse Outlet site (of all places) for half what they would have cost to have them special ordered through one of the auto parts stores. Plus, like you found with Autozone, they shipped them free to my local Ace Hardware where I picked them up within a couple days.

Mcarlo77

Donating Member





Street Cred

: 70



Buy your common nuts and bolts at Tractor Supply, not the auto parts store or a hardware. You can buy hardware by the pound and they have grade 5 and grade 8 hardware. Good quality and cheap.

Pretty much use Autozone exclusively in our little town. They have good quality parts at reasonable prices in stock.

I used to have a Napa account when I lived in NE Indiana but since we moved, the local Napa guy is a criminal.

Thanks -

jerry46765

Donating Member





Street Cred

: 20



Tractor supply's nuts a nd bolts are coated to keep them from rusting.

ant7377

G3GM Addict





Street Cred

: 36



So I picked up the parts and I'm pretty happy. The little drive shaft is pretty cool, instead of that cheap plastic coupler connector (which is cracked on my old one) the Melling unit has a steel coupler that is attached via a pin. I'll post some pics tomorrow maybe to compare all the units. Sometimes the little things like that get me jazzed. I looked at the performance "upgrade" to the block and figure it will be beneficial to move a bit more oil than stock, even though it's not hi-pressure, just the volume of oil through the pump will be greater. I hate to say it but I was too lazy to clean up the old parts & was afraid there might be some debris left over even after cleaning that would get into the new assembly. Good way to spend $40.00 w/ a 15% off online buy. Thanks Adavanced Auto.

77mali

Donating Member





Street Cred

: 62



I shop for most every day items at the local Advance Auto. I have to say that this particular store has been really good, and the counter people know what they should about parts. Any store or business, is only as good as the manager and people who work there.

Anything beyond stock parts that I need, comes from Summit Racing. The customer service there has bent over backwards to help me, quite a few times in recent years.
Free shipping, but a handling charge, so buying multiple parts saves money, with just one handling charge.

pila

Donating Member





Street Cred

: 43



I spent a half hour speaking w/ the store manager who actually built a Camaro and knew his stuff. Hooked me up w/ lots of info including the proper dist cap/plug wires & lots more little stuff. Nice when you get someone who speaks the language & can look up parts based upon your power-plant & not necessarily the year/make/model.

77mali

Donating Member





Street Cred

: 62



Here are the 2 pumps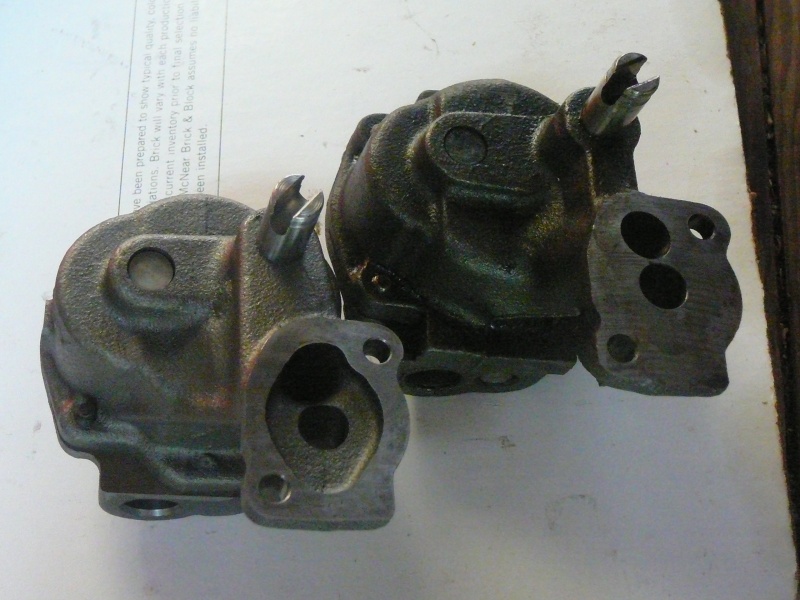 & the 2 drive shafts
The 2 pick up screens were the same but Had to clean & reuse the old one as the new one was a hair too wide for the hole in the pump. Go figure.

77mali

Donating Member





Street Cred

: 62



Chevy oil pumps last a long time. I use the Moroso race pumps, which have the anti-cavitation grooves in the body. Not a real big deal, but they keep the distributor steady to prevent spark scatter, which is caused by the pulsations of the gear teeth in the pump.
Like you are doing, I wouldn't re-use an old pump on a new build either, even though the old one worked good yet.
That retainer sleeve on the pump shaft, the plastic OEM type, or the metal on, are not under any strain, so either works fine. The plastic one gets brittle of course, but they will last as long as the engine, if not disturbed.

pila

Donating Member





Street Cred

: 43



Mine was brittle & it cracked too from top to bottom.

77mali

Donating Member





Street Cred

: 62




77mali

Donating Member





Street Cred

: 62



Similar topics
---
Permissions in this forum:
You
cannot
reply to topics in this forum