+3
bitterfitter
77mali
1973 454 MONTE
7 posters
Page 2 of 2 •
1, 2
Mcarlo77 wrote:Hey, Fishgrinder...any luck contacting Gary the Tachman?  It's been three days now for me and, after a couple attempts to call him and an e-mail, no word from him.  Not exactly exemplary customer service IMO.

However, in an amazing stroke of luck, I actually located probably one of the last NOS '75 tachs left on the planet...and, it was right in my backyard!  Small, one-man parts business in Mpls, (Nat'l Impala Assoc.) had one on the shelf.  This guy's dad started an auto repair business back in '56 and the son eventually followed in his dad's footsteps while also collecting obsolete GM parts from local dealerships from the time he was 14 yrs. old (he's now 49).  Now, that's all he does is sell NOS and nice used parts.  Merry Christmas to me!!  

 
Woho, christmas sure came early for you
I haven't contacted the Tachman. Took a look at the fusebox yesterday.
There is a setup similar to 77Mali's picture, but instead of the cased silver thing, there is a rather long plastic tube . I guess there's just a glass tube fuse inside it. All pictures I've found on Google show the filter as this small silver tube. Then I followed the wire that went up behind the dash, and it was cut. Once I get the car out again I'll try to trace the tach wire coming from the firewall. But that will be in many months from now.
Edit: missed your post saying the fusebox thing was a resistor  
 Well, I'll have to take a closer look underhood.

Fishgrinder

G3GM Member





Street Cred

: 4



https://servimg.com/view/15485509/401

https://servimg.com/view/15485509/408

I'd love to post some pics, but all of a sudden I can't load pics onto this site.  I get to the point where I click on "Copy" for Images...which is supposed to bring up another box asking if I "Allow Access" of the transfer of files from www.serving.com...but, that box doesn't show up and so, no transfer/posting of pics.  WTH?

Anyway, here is the NOS tach. Still stoked over finding it! The guy gave me another name of a company that specializes in tach repair...Williamson Instruments in Arkansas...as I'd still like to get my other one repaired if it's reasonable. Tried calling them right after lunch and had to leave a message. Of course, no return call...

Mcarlo77

Donating Member





Street Cred

: 77




77mali

Donating Member





Street Cred

: 62



77mali wrote:Steve give him a call, he's a good guy & knows his $h!t.  I think that $250 is for a complete restoration & not the electronics upgrade.  I could be wrong but I seem to remember it was about $100 or so.
Well, the harsh reality is that it DOES cost $250 to do the electronic upgrade...at least according to the woman who answers the phone when Gary isn't in (which seems to be most of the time). Pity...as I was hoping to repair my old tach as a spare or to sell since the face on it is almost perfect. So, all you guys tempted to buy a used tach cluster keep this in mind as it could cost you an additional $250 over and above the $150 + you'll pay if the tach isn't working.

Mcarlo77

Donating Member





Street Cred

: 77



Oh well at least it might be a good option for someone who had one to begin with that died. He must only be doing it part time now. $250 is a bummer alright but if you spend the $$ I think it comes w/ a warranty & you can list it on e-bay maybe? I paid $250 for a complete set of 75/76 gauges with the pod & c/board...still have to test that they all work & the c/board is in sad shape. These old parts can suck.

77mali

Donating Member





Street Cred

: 62



After reading this thread I have to ask if anyone knows for sure when the AMPMETER and VOLTMETER replaced each other in our cars? I ask because I have been doing a little cleanup and wiring under the dash. My car is a very early '74. Looks like it was made in the early part of September '74. The tach has the little five between the 0 and the 1. I also see that I have the AMPMETER and not the VOLTMETER. I understand the tach could have been changed but I do not see how the AMPMETER could have been swapped in the factory dash?

bitterfitter

Donating Member





Street Cred

: 9



amp was 73-74

volt was 75-77

1973montec

Donating Member





Street Cred

: 17



That is correct.  Another bit of information...the GM pt# for the flex circuit on back of the cluster housing is 8908200 ('73/'74 w/tach gauge) and 8986113 ('75-'77 w/tach or fuel economy gauges).

Regarding the Fuel Economy gauge cluster, it's always been presumed that those weren't introduced until the '76 model year. Not true...as I recently came across a '75 Monte in the salvage yard with one in it; complete with the Build Sheet showing it coming from the factory (RPO code UF7) that way.

Mcarlo77

Donating Member





Street Cred

: 77



My 75 Laguna has a fuel economy gauge, if it matters....

Pontichev327

G3GM Enthusiast





Street Cred

: 7



A little update from me. I've searched the engine compartment and couldn't find the filter. Then I traced the wire through the firewall and under the dash. It goes in to the block in the center of the image, clipped (and grounded?) to the pedal bracket. There's a thicker brown wire running parallel to the small one.  After the block they both go in to the big bundle that leads to the instrument panel.
Tried to sand the clip and bracket since it is quite rusted, but still no reaction on the tach.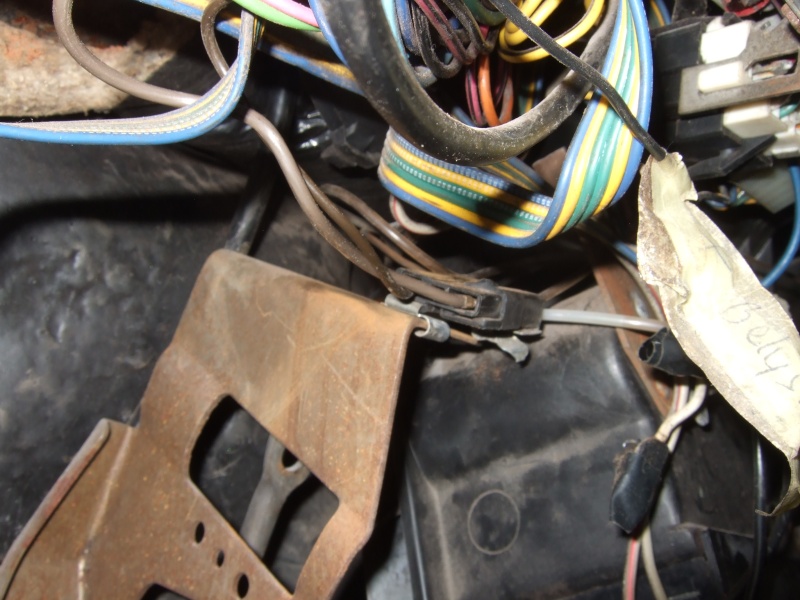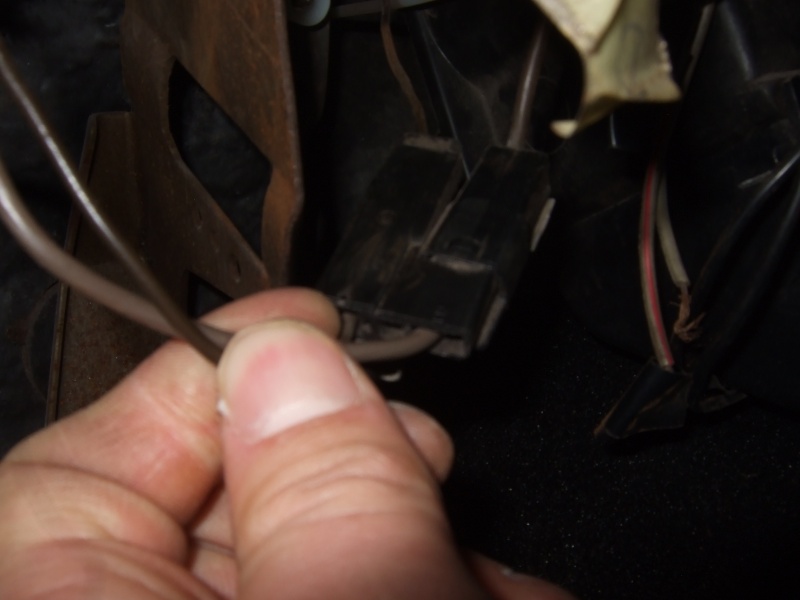 Top left wire comes from the distributor.
Does anyone have a picture of 75 Monte with factory tach and the original Hei hook up?

Fishgrinder

G3GM Member





Street Cred

: 4



Page 2 of 2 •
1, 2
Similar topics
---
Permissions in this forum:
You
cannot
reply to topics in this forum