+5
thatfnthing
bitterfitter
RobW
dynchel
driveit
9 posters
Page 2 of 2 •
1, 2
Rockauto show a 96 9/16" lg intermediate for a '75 Malibu...

Mcarlo77

Donating Member





Street Cred

: 77



I'm seeing a 98 3/4" intermediate for a 74, but now that you mention it, my frame is from a 75, so the 96 9/16" is probably the way to go.

I actually just did a vehicle search on Raybestos' website. They show both for a 75:

Parking Brake Cable
PG Plus; 96-9/16" Length; Intermediate BC92351

Parking Brake Cable
PG Plus; 98-3/4" Length; Intermediate BC92410

As well as the 104.5" and the 115". Apparently there's also a 106.25" and a 127-5/8" cable.

I haven't yet measured the slack in my 115" cable to determine what the length should be. I spent the night trying to get the driver side header installed, first removing the cross member support braces and then fighting with the 4th header bolt (4th in from the front of the engine). I think the header may need to come back off and get a slight ding to get the bolt in. I think the factory dent is not deep enough and the head of the bolt is snagging up on the pipe.

Silentknight85

Donating Member





Street Cred

: 4



This morning I started messing around with the e-brake cable again. I originally thought the intermediate cable was too long. Now I believe it's actually the front cable. Unless I'm doing something wrong. I did find a cable that's about an inch shorter, but I don't think the inch will make a difference.
Here's the setup I have:

Silentknight85

Donating Member





Street Cred

: 4



I see a couple things that vary from the stock setup. The cable hooks on the frame rail should both be the same length (about 9 3/4" lg) and should be hooked to bottom side of the rails at the round hole located directly below the body mount bushing holes. The crossmember hook should be moved to the next hole to the right (as seen in the photo). I do think your intermediate cable is way too long. As I said, mine measures between 96"-97".

You are correct in that there is a slightly shorter front cable available. I almost went that route as I am almost at the limit of adjustment with mine. But, seeing that it's such a p.i.t.a. to replace with the body on, I decided it's fine for the time being. Besides, I never use the emergency brakes on any of my vehicles.

Mcarlo77

Donating Member





Street Cred

: 77



Like this?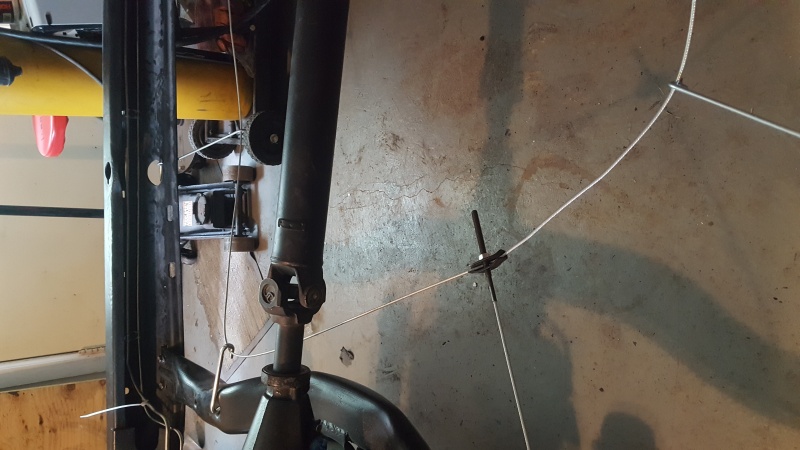 I never got the chance to see how this was before every thing was ripped about. I've just been guessing.

Silentknight85

Donating Member





Street Cred

: 4



There you go. Now, you can maybe get some better understanding as to what you're working with.

Mcarlo77

Donating Member





Street Cred

: 77



Page 2 of 2 •
1, 2
Similar topics
---
Permissions in this forum:
You
cannot
reply to topics in this forum