+5
Sleddogg
chevellelaguna
Mcarlo77
Joe73
locomojo04
9 posters
Needing a trailer hitch for my car, because I don't like trucks. And the trunk almost serves me as a truck bed now. Anyone have a hitch on an A-body? Let me see some pics please. Thanks.

locomojo04

G3GM Newbie





Street Cred

: 1



How much weight are you going to tow? That would make the.difference whether you can use a bumper mounted or frame mounted hitch.

Joe73

Donating Member





Street Cred

: 80



My '77 Monte had a GM (Dealer installed, I'm sure) hitch on it when I purchased it. Four bolts to the bumper support. I've seen a few more just like it on cars in the salvage yards.
Joe is right about knowing the weight you'll be pulling to determine if this style or a frame bolt-on will be sufficient. We used cars all the time back then to pull pop-up campers, 16' runabouts, utility trailers...even small horse trailers.
Check out this '72 pulling an Airstream!

Mcarlo77

Donating Member





Street Cred

: 77



I had a hitch on my 75 four door, I used it to pull my 76 Laguna home on a car hauler. I got a lot of looks. Today from a weight and safety aspect you wouldn't be able to do that without getting pulled over by the police in Pa.

chevellelaguna

G3GM Enthusiast





Street Cred

: 16



I removed mine from my Grand Prix some time ago. Sadly, the assembly has probably been melted down and shipped to China by now...about the best I could help with is maybe some pictures of the holes in my frame where it bolted to. It bolted to the frame and also had a crossbar piece that bolted to the bumper right under the receiver. If that would help you at all, I would be glad to snap a few photos.

Sleddogg

G3GM Member





Street Cred

: 2



Chris had this on his small block 73 monte back in the day. i dont know if he still has it or not.

http://www.ebay.com/itm/73-1973-Chevrolet-Chevelle-Malibu-Laguna-EXC-WAGON-New-trailer-Hitch-Kit-/261100116828?pt=Vintage_Car_Truck_Parts_Accessories&hash=item3ccac79b5c&vxp=mtr

1973montec

Donating Member





Street Cred

: 17



Mine had a bar that looked basically like a cross..4 bolts in the bumper and one in a thin crossmember that ran between the frame rails..it's was ok for my 14' aluminum boat but not much else. Crystal welding said for 250 including the hitch they would weld a real receiver hitch in there...that would be a good way to go but probably wouldn't look good hanging out under the bumper..ply if your car is nice you maybe don't want someone welding of your frame.

Colonnade Mattie

G3GM Member





Street Cred

: 0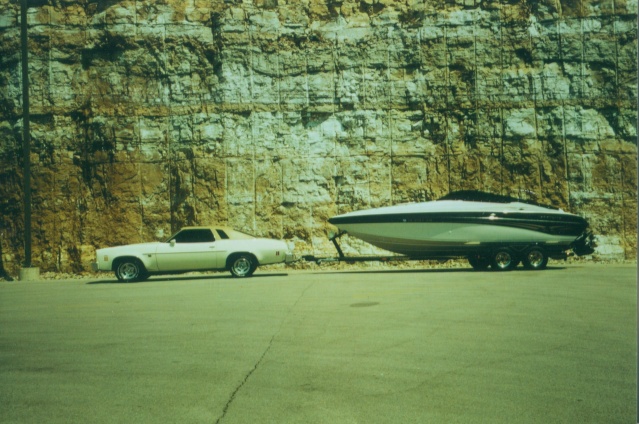 For 10 yrs I've towed three different boats ranging from 2500 lbs to our last one pictured weighing in at 5000 lbs. including trailer. We still have the pictured one but after towing this boat for 6 years I've since retired the Malibu from towing & now have a truck. As the boats got heavier the more modifications were done to safely continue towing without fear of breaking down before getting to the lake. With the right hitch & tandem trailer with brakes I had seen on an old 75 Malibu promotional brochure stating with a tow packaged Malibu could handle towing up to 5000 lbs. I originally started with a already mentioned bolt on style Class 2 hitch which worked great until my third boat which required a professionally welded into the frame Class 3 hitch. I would think a 77 LeMans would not be much different. Let me know if you are thinking of a weld in style I'll take & post a picture of how mine was done.

LSANTI76

G3GM Member





Street Cred

: 2



holy  
 moly your Malibu would fit inside the darn Boat WOOOOOHHOOOOO

Limey SE

Management





Street Cred

: 97



---
Permissions in this forum:
You
cannot
reply to topics in this forum