After wheeling in to my local NAPA store and asking about the suspected dead buzzer I found a solution for $5!
Before I get into details, the square buzzer with the grille shown in my other post is NOT dead after all and it's not the headlight buzzer either!  It may be for the seat belts...but I know it works and it's not related to my original problem.
So at NAPA they sell a "lights on buzzer kit" and the part number is 782-1637. link here.
I installed the buzzer yesterday and it works great!  I'm going to return all my unused Radio Shack parts.  The installation was fairly easy; the worst part was getting fuses out and inserting the fuse tap.  I started by following the "fuse tap method" directions but discovered that the buzzer was constantly ON even when the key was removed.  So I then read the "if all the other methods don't work try this" directions and that led me to the solution: out of dumb luck I clipped the red wire onto something I've got plugged into the "LPS" power tap and the black wire onto a fuse tap I installed in "GAUGES".  Buzzer was off, I pulled the headlight switch out and buzzer came on!  yay!  I did it several more times just to enjoy the sound of "no more dead batteries!".
I've attached a photo; in it you can see the  red wire/alligator clip on LPS and the back wire clipped to GAUGES.  The buzzer itself is the small black cube stuck to the bottom of the fuse block.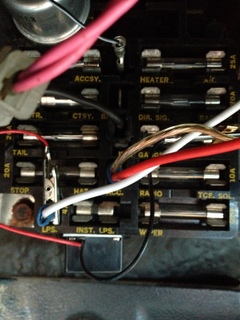 dhw3971

Donating Member





Street Cred

: 3



Can't beat that.
Buzzer Kit = $5
New Battery = $200
Hmmm. Let's see... what make more sense?
Good Stuff. Thanks for sharing.

LS_Quest

G3GM Member





Street Cred

: 0



That one looks more like the type I used in the 80s......

pila

Donating Member





Street Cred

: 43



I ordered one this morning. Thanks for sharing!

SSTOOLMAN

Donating Member





Street Cred

: 7



Similar topics
---
Permissions in this forum:
You
cannot
reply to topics in this forum