One of the first things I want to do to my 74 Laguna is get rid of the single exhaust and go to duals. I do have the 73-74 double hump crossmemeber so that should make things easier.

Anyone have any experience with mail order exhaust systems for the 73-77 G-bodies? There doesn't seem to be any local companies who can mandrel bend 2.5" for these cars. I do have a set of headers I'd like to use so finding someone local would be nice, but it doesn't look like its possible.

Jegs seems to have a 2.5" system, but I'm afraid its a generic one. Drawing on the fact that the 73-77s seem to have a lot of similarities suspension-wise with the 94-97 Impalas, I wonder if an exhaust for one of  those will work? I don't mind cutting and fitting the front pipes, and I do have a MIG. But I'd like to get at least exhaust pipes in 2.5" that will neatly clear the axle.

sportster_restorer

G3GM Member





Street Cred

: 1



I had a flow master header back exhaust years ago, and while it was well made (thick wall tubing, mandrel bends) it was a royal pain in the a$$ to install.  The main reason being the welded in h pipe left no wiggle room.  I would say the Jegs exhaust would be your best bet.

dynchel

Donating Member





Street Cred

: 40



i have the pypes xpipe kit from headers back, very sastisfied with it

Limey SE

Management





Street Cred

: 95



Limey FYI not far from You In Fort Atkinson WI just east of Cambridge where I live is a muffler shop that did mine. I drove in with straight pipes with turn downs. They did from the headers back with Magnaflows (I got off craigslist for $30) for $300. tucked it in perfect. They did a great job from behind the wheel to the back bumper, a lot of the kits hang down in this area. Its all welded and hung in the right places. I went Galvanized. You can go stainless if you want.
Come up to Jefferson swap on Friday and do it then, 7 mi from the fair grounds.

SSTOOLMAN

Donating Member





Street Cred

: 7



SSTOOLMAN Mine is already done with cutout's installed,  I did them my self with clamps, ONLY thing I am going to Change is the clamps going to get the band style instead of Normal muff clamps, and this kit is stainless, I only have with the headers and mufflers under 175 invested  
This is already on the car, the Mufflers are the only difference, the ones I went with are about 2.5" shorter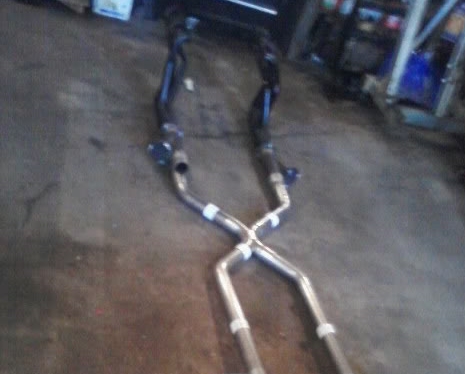 Limey SE

Management





Street Cred

: 95



Sorry Limey, got a little mixed up on who started the thread. My bad.

SSTOOLMAN

Donating Member





Street Cred

: 7




Limey SE

Management





Street Cred

: 95




1973montec

Donating Member





Street Cred

: 17



I used Magnaflow 15894. Tucks nicely. This is not really a do-it -yourself. You will most likely have to take to an independent shop that cares. It requires some "massaging" to get it to look right and does require some bending with the proper equipment to achieve .
I like the exit from the rear bumper.
See here at the end of the post:
https://www.g3gm.com/t8709-update-1973-monte-carlo-body-off-frame-resto

impalamonte

G3GM Member





Street Cred

: 14



My Malibu has a 2 1/2 inch set from Summit, which I installed about 10 years ago. It fit OK, but I didn't use a H or X pipe. Maybe next time ......

pila

Donating Member





Street Cred

: 43



Similar topics
---
Permissions in this forum:
You
cannot
reply to topics in this forum