I have a1973 chevelle SS I'm restoring and I want to put a electric cooling fan in and I know nothing about them looking for advise. I have a 454 with a 350th. Brand size ease of installation and cost. Thanks for your time.

John brown

G3GM Member





Street Cred

: 0



Hayden 2747 clutch. Some cheap ac insulation from home depot to seal between shroud and rad. Auto zone.brand 160 thermostat and 70/30 mix of antifreeze. 2 core with 1 inch tubes aluminum rad.
Many write ups on how this combo will out cool an aluminim rad with electric.fans. This combo is being used on some 6-700hp combos running nice and cool in 90+ temps.
I have part numbers if you need them.

Joe73

Donating Member





Street Cred

: 80



I just bought (yesterday) dual cooling fans from a v6 Ford contour.  They seem to be a common choice for retro fits.  $60.00 from the junkyard, $31.00 for a install kit (eBay motors), and a 105 amp alternator..$95.00.  It's not together yet, so can't say how effective (or not) that it is.

dynchel

Donating Member





Street Cred

: 40



here's my $60.00 junkyard score.  The install kit is enroute from California.

dynchel

Donating Member





Street Cred

: 40



The dual LS1 fans from a 98-02 Camaro/Firebird with integral shroud fit like they were made for our cars. They move way more air than the stock fan ever could, and allow me enough room to stand in there to work on the motor.  I use a Flex-a-Lite controller for mine so they come on gradually.  Be prepared for some wiring, though.

thatfnthing

Donating Member





Street Cred

: 65



If you never want to worry about over heating this is what i used. Some here will think I'm nuts but this was shown at SEMA and I installed two Spal brush-less fans and the variable temp sender in my car set up last year. I had to tap my water pump for the sender unit as the LS set up is different that a stock head for the temp sender.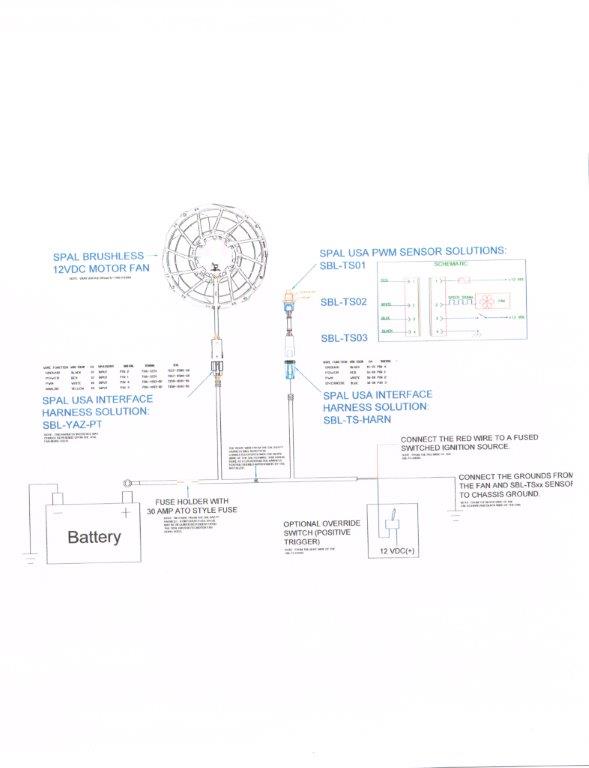 " />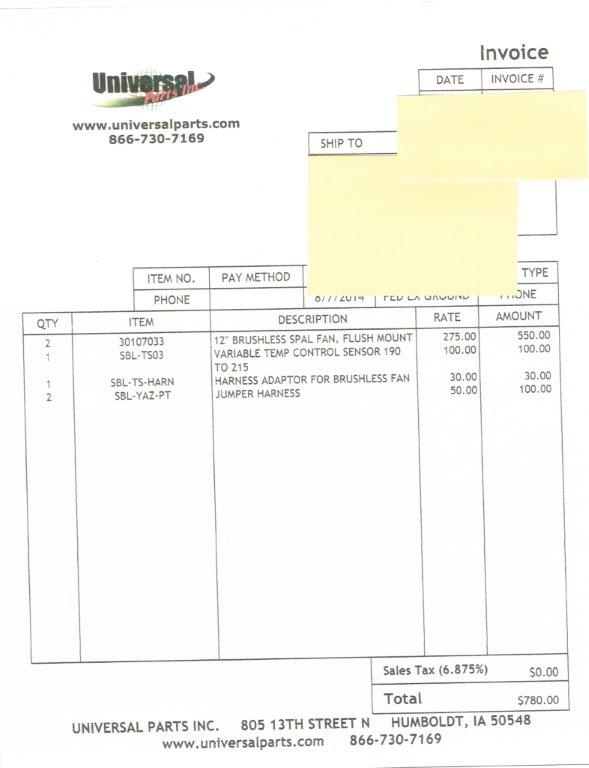 " />
I also used this raidator set up.
http://www.entropyrad.com/1968-1977-chevelle-aluminum-lsx-conversion-radiator-with-dual-fans-and-aluminum-shroud.html.
It works awesome. The fans increase as temp goes up they really push a ton of air and draw very little amps. Its still hard to find info as they are not even listed on most catalogs. I do see summit has them but no one has wire diagram like I have posted. Temp gauge in car never goes up or down more than 5 degrees even with AC on sitting in traffic.

Wallyuph

Donating Member





Street Cred

: 31



Similar topics
---
Permissions in this forum:
You
cannot
reply to topics in this forum