Im looking to install the factory Heat shield tube for the starter wires. Anyone have any pics on how it mounts to the trans bolts? Its kind of bent like an "L" so I figure the other end of it must go to a bolt on the starter itself.

Any pics out there? Thanks in advance.

Joe73

Donating Member





Street Cred

: 80



Joe, is this the part you're referring to? If so, the mounting tab with the small hole attaches to one of the solenoid mounting bolts and the other should attached to the transmission to engine mounting bolt that is the second one up from the bottom. Let me know if you need a pic and I'll take a pic for you tomorrow when I'm over at the shop.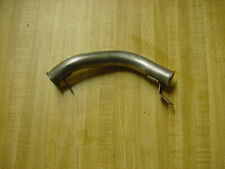 g3chevy / Mr Pontiac

Donating Member





Street Cred

: 33



Yes, that's the tube. I figured it went to a solenoid bolt. I put a mini starter in the car so I guess I won't be using the tube. I'll heat sleeve the wires. Thanks for the help.

Joe73

Donating Member





Street Cred

: 80



Similar topics
---
Permissions in this forum:
You
cannot
reply to topics in this forum