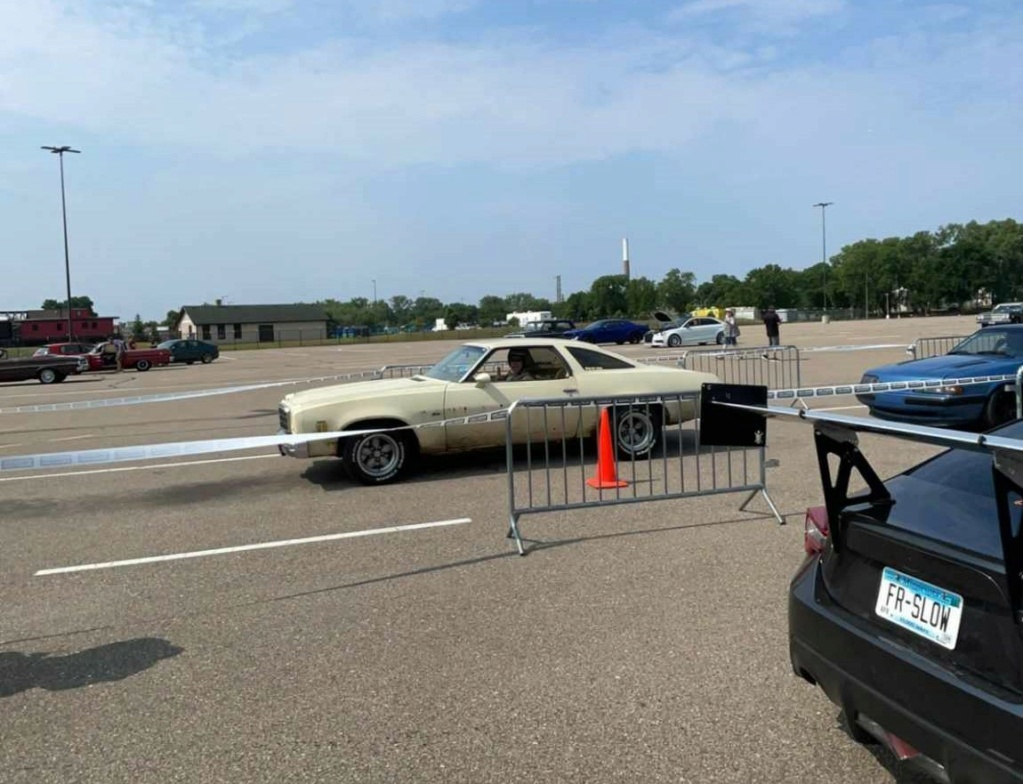 Last weekend was the Street Machine Nationals. I look forward to it every yyear since the early 90's. Last year I decided to try Auto Cross for the first time in over 45 years. It went okay? lol This year I wanted to improve my time. So I did some steering work and would have loved to have gotten my gears in the rear. Oh well. I set out to improve my last years time, and I did it! YAY! lol By swapping to a quicker steering box and some "driver technique" I was able to shave 8 seconds off of last year's time. Gives this old fart some encouragement for next year. lol

fasrnur

G3GM Enthusiast





Street Cred

: 9



77cruiser, bucket, Finn Monte and 76Chevelle2Tone like this post
fasrnur wrote:

Last weekend was the Street Machine Nationals. I look forward to it every yyear since the early 90's. Last year I decided to try Auto Cross for the first time in over 45 years. It went okay? lol This year I wanted to improve my time. So I did some steering work and would have loved to have gotten my gears in the rear. Oh well. I set out to improve my last years time, and I did it! YAY! lol By swapping to a quicker steering box and some "driver technique" I was able to shave 8 seconds off of last year's time. Gives this old fart some encouragement for next year. lol
Nicely done.
I did some auto cross with the Chevelle when I was in college.
The car came equipped with heavy duty sway bars, 8" wide Corvette rallys and Goodyear HR70-15 police pursuit tires on it, so it did pretty well.
I imagine it was kinda funny to see this big 'old Chevelle out there wallering around with the Triumph Tr6's and other small cars.
BTW:  the guy that won our events was Neil Hanneman, who went on to be the Chief Engineer for the original Viper program, so we were in good company.
K

Keith Seymore

G3GM Member





Street Cred

: 11



Thanks for the compliments Keith. I've always seemed to try and build an all round fun car. Even in the early 70's when I started really playing with cars, I've always wanted the best of all types of racing. I like to go fast in a straight lines, and turn some corners too. I love driving my car, so I need to mold mine into a car that can do it all and still be reliable. So far I'm doing ok? lol
I don't even get a second look from others on the Autocross track. They have no idea what is done to the underside of the old Turd. Just how I like it! "Walk softly and carry a BIG stick!"

fasrnur

G3GM Enthusiast





Street Cred

: 9



Holy Smokes Jeff 8 seconds off time is quite a feat nonetheless that's pretty cool

___________________________________________
1977 Chevelle SE x2
One Mild original
one Wild NON original
Anthony

Limey SE

Management





Street Cred

: 97



fasrnur wrote:
By swapping to a quicker steering box and some "driver technique" I was able to shave 8 seconds off of last year's time. Gives this old fart some encouragement for next year. lol
Well 8 seconds faster is quite "outrageous"!

76Chevelle2Tone

G3GM Member





Street Cred

: 0



Congratulations on that massive improvement! Do you like the faster steering on the highway?

anthonyalessi74

G3GM Newbie





Street Cred

: 0



Thanks. The only thing about a quicker steering on the street is....if you sneeze you've changed lanes. lol

fasrnur

G3GM Enthusiast





Street Cred

: 9



What did you go with for steering box ?

ant7377

G3GM Addict





Street Cred

: 36



ant7377 I went with a Jeep Grand Cherokee. 93-97 or so. They all are 2 1/2 turns lock to lock.

fasrnur

G3GM Enthusiast





Street Cred

: 9



---
Permissions in this forum:
You
cannot
reply to topics in this forum