Odd request, but is anyone able to get me a chunk of a firewall? I keep chasing rust issues on mine, and it's now to the point that I had to cut out the rolled beads and the wheel well mount on the passenger side. If someone has a parts car with a decent firewall, and is willing to cut it up and sell it, we'll that would just be swell. Let me know. Thanks, guys.

Silentknight85

Donating Member





Street Cred

: 4



WOW. Your three days late. I just cut up a whole firewall with no rust except a in the wiper linkage area. I would have gladly given you a piece cut to specs with my plasma cutter.

Good luck with your search.

Joe73

Donating Member





Street Cred

: 80



Thanks, Joe. Anyone else?
I have a serious issue with my firewall that I've been trying to fix. I've made a lot of progress, and have patched the hell out of the area, but I keep running into more issues.
The problem is that the car was in a wreck at some point in it's life and the lower passenger firewall was damaged. The metal is weak and the shape is all wonky. I'm missing a good section of pinch-weld, too.
The lower firewall/floorboard area (black area with the two square holes) was pushed into the car in the accident. I've pulled it out a bit, but can't really get it into the correct shape.
Ideally, I'd like to replace the area surrounding the inner fender bracket, and the panel that has the two square holes. If I get that entire section as one piece (with pinchwelds intact), then it would save me a bunch of time and energy.
I've added a picture of the current state of the firewall, and circled the area I'd like to completely replace.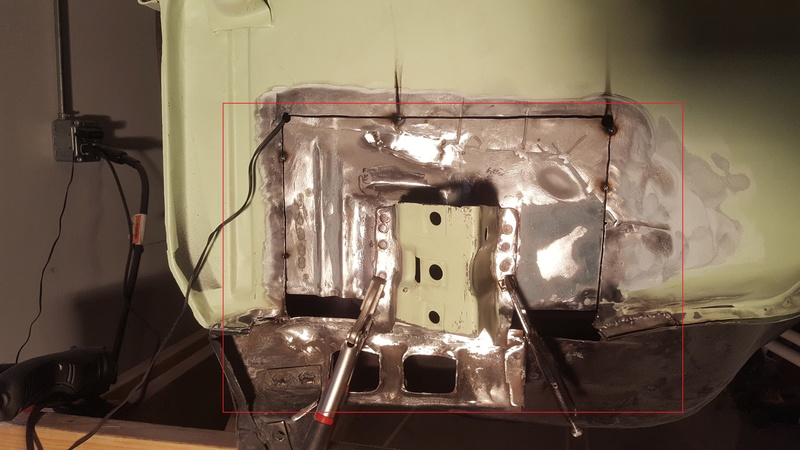 Silentknight85

Donating Member





Street Cred

: 4



It may be a stretch, but you might take a look at these guys.
http://www.ctcautoranch.com/
They might ne able to help with what you're looking for sir.

fasrnur

G3GM Enthusiast





Street Cred

: 9



Yeah, I've already got an email into them and dvap. No responses, yet. I'll give them a couple days and call.

Silentknight85

Donating Member





Street Cred

: 4



Just reactivated membership here. Have access to 4 or 5 carcasses in local yard. (Blacks Auto, Dona Ana NM) Yard is essentially for general purposes closed but can cut out pieces and ship. Clean Southern New Mexico metal, very little deicing here or salt used. Dave S. dona Ana NM

newmexguy

G3GM Member





Street Cred

: 1



Great cond rust free firewall piece needed---237.17 shipped.pm me if interested.

4thgenmc

G3GM Newbie





Street Cred

: 0



Similar topics
---
Permissions in this forum:
You
cannot
reply to topics in this forum