Does anyone know how to adjust the side windows on these cars? My '76 2-door's window sticks out a bit too much at the top when rolling up. When I rolled up the window it hits the plastic guide and is forced into place. At highway speeds iff I drop the window, I can't get it back up until I slow down, because of the wind pressure.

Thanks.

76 Malibu

G3GM Member





Street Cred

: 2



Anyone? Maybe someone has a diagram from the Factory service manual you can scan? I don't have one yet.

Thank you.

76 Malibu

G3GM Member





Street Cred

: 2




Hawk03

G3GM Enthusiast





Street Cred

: 18



That thread referenced how to adjust the tilt of the glass in relation to the "A" pillar.  Here are the instructions for adjusting window inward or outward: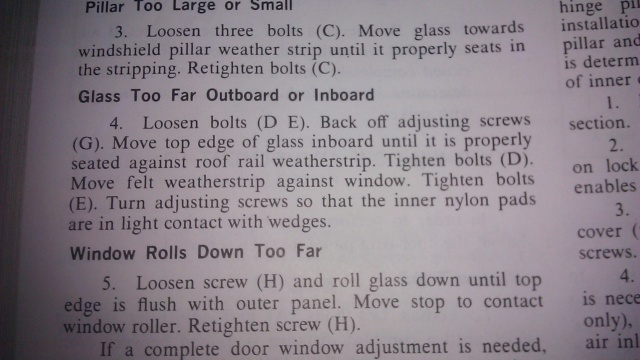 If the illustration is hard to read, let me know and I'll attach closeups of each segment.
Edit: Just realized...the problem with this illustration is there is no referenced "G" adjusting screw as described in instructions. Anybody know where these would be located?

Mcarlo77

Donating Member





Street Cred

: 77



Great, thank you very much!! If you have time to do the close-ups, that would be appreciated.

And your edit has my only other question, where is the "G" adjusting screw??

76 Malibu

G3GM Member





Street Cred

: 2



FWIW, the Fisher Body service manuals are available on ebay and from helminc.com -- I've even seen some on CD for sale. You will find all that info in there and a lot more that will come in handy later. And since our cars did not vary much from 73-77, just about any of them will do, and they're generally less than $30.00. You will find them an excellent investment.

thatfnthing

Donating Member





Street Cred

: 65



Great info, thank you!  I will have to buy one for sure.  I have been hunting for a hard copy for a while now, but this may be a better answer.

In the mean time, if any one know where "G" adjusting screw is located please chime in.

UPDATE:  I did buy the body manual and was able to adjust the window pretty easily.  Once the door is apart it is pretty easy to see what adjustments to what.  Thanks again for the help, I can now roll up my windows at highway speeds again.

76 Malibu

G3GM Member





Street Cred

: 2



---
Permissions in this forum:
You
cannot
reply to topics in this forum