I finally started tearing the '74 apart this morning. I started working on the front end and when taking the bumper off, I didn't consider just how heavy the damn thing was, and as soon as I got the last bolt undone...I had about 150 lbs of bumper laying on my chest. Needless to say, I'm alright, but I'm having trouble with one little thing. How do you get this off?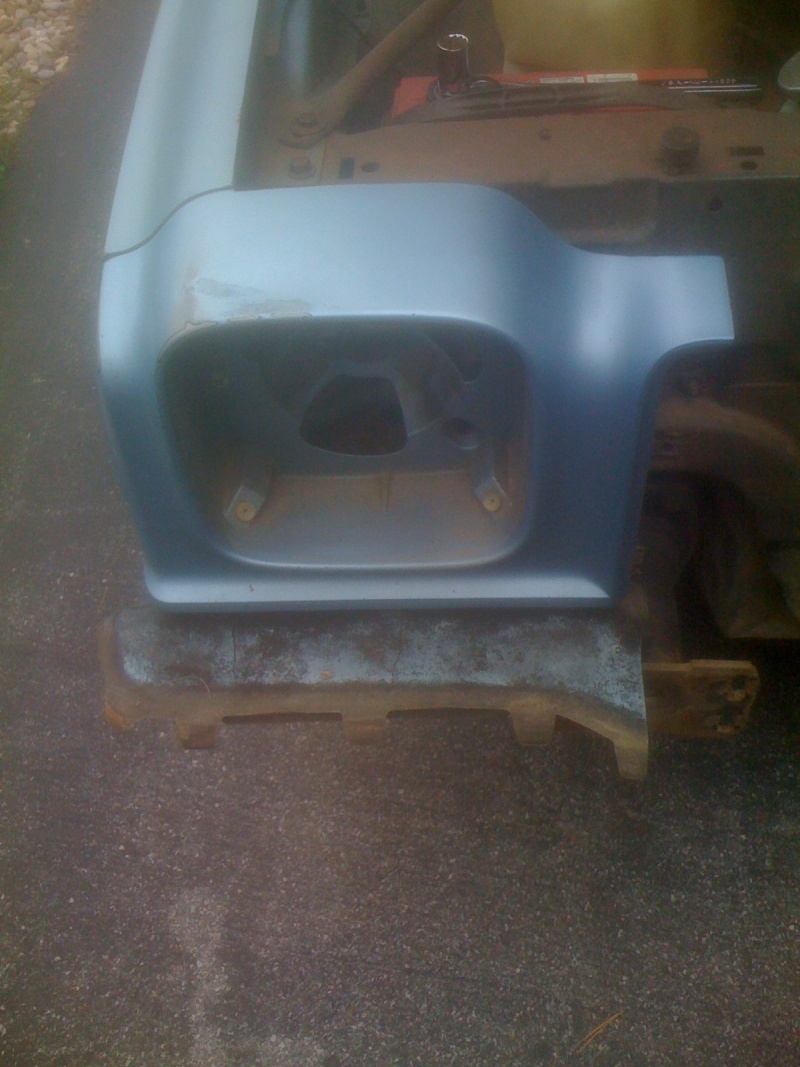 wokrdan AKA BU Balls

G3GM Member





Street Cred

: 2



ok dan see where your cross member for the hood support (where your ratchet is) reach in behind there you will feel some lil speed nuts ( 3/8" i think) and you will get them off and pull them off foward be acreful so they dont bend......if you dont find them i will post a pic of mine removed tomorrow after i get my internet back on

___________________________________________
1977 Chevelle SE x2
One Mild original
one Wild NON original
Anthony

Limey SE

Management





Street Cred

: 97



Man, your pic is staring right at the backside of those nuts. They're on the curve of the body line. When you find them, you will smack yourself for not finding them sooner. They're hidden, but not hard to reach if memory serves me right. If Limey doesn't post up a pic by Monday, I will for ya.

The Dude

Management





Street Cred

: 48



I've reached inside the panel and found what feels like the ends of a screw. And looking at it from the side, I can't find how to unscrew it from the body panel. I'm going to take off the fenders on Sunday anyways, but I was trying to get these off today. It looks like they're clipped in with those clips that once you put them in, you either have to work really hard to get out, or break them off and get new ones.

wokrdan AKA BU Balls

G3GM Member





Street Cred

: 2



It feels like the end of a screw because the speed nut has grooved a thread onto it. That part is just a rod molded onto the bezel & doen't come off. Keep sliding your finger to the end & you will feel the nut. The nut should be a 3/8" like Limey said or possibly 7/16". Once you loosen it, the nut will come right off.

The Dude

Management





Street Cred

: 48



you can almost turn it with your fingers (but NOT advised) i will post a pic tommorow after i get home internet got back sooner than was scheduled gotta love BUD (not the smoke but beer) and I almost positive on the size put a socket on the bolt you feel and just give a few turn then take off by hand they disappear into body work fast LOL

and if you dont take the speed nuts off first these will come off (with more work) with the fenders

___________________________________________
1977 Chevelle SE x2
One Mild original
one Wild NON original
Anthony

Limey SE

Management





Street Cred

: 97



Similar topics
---
Permissions in this forum:
You
cannot
reply to topics in this forum