On a 73 chevelle, Would anyone know if the 4 top dash screws (2 driver side screws, 2 pass side) that go in at an angle on the defrost vents, Do they screw into the plastic duct work for the defrost vents, or do they screw through the dash into the cowl area? My defrost duct work is not up tight against the defrost vents on the dash. I'm thinking maybe the screws go though the duct work to draw it up tight? Does anyone have the duct work out? Maybe take a look and see if there are screw holes where it meets the dash. I'm getting the windshield replaced again and would like to get it straightened out. Those screws are a pain with the glass in. Thanks for any help..

73ss

G3GM Enthusiast





Street Cred

: 11



On my 77, those screws simply go through to tabs at the top of the firewall to help hold the dash top in place. There are a couple of tabs that go through slots in the top of the ducts to hold them in place independently. Rough pic, but might help;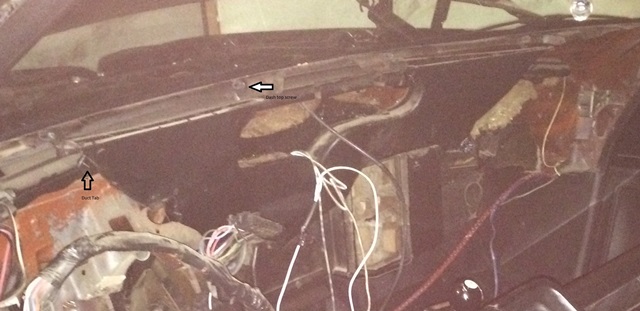 77ElClassic

Donating Member





Street Cred

: 5



Thanks Bill for taking the time to mark the locations on the pic. That clears things up. I must not have the tabs in place. Hopefully I can return the favor.

73ss

G3GM Enthusiast





Street Cred

: 11



Glad I could help.
I just realized I pointed that arrow to the staples that hold the 2 duct halves together. The tabs are just slightly above that.

77ElClassic

Donating Member





Street Cred

: 5



Similar topics
---
Permissions in this forum:
You
cannot
reply to topics in this forum