They are small battles but important as a whole. This one is the heater selector slider. The slider on top moves freely. The one that goes from heat to cold moves from cold to about the middle and becomes very tight. I had to use a pair of pliers to move it to hot. I pulled the glove box and followed the cable and it looks good with no binds in it. Any ideas on what to look at or where to lube it?

Damon23

G3GM Member





Street Cred

: 5



I had the same problem and took it out and just lubed up everything. Kept moving it until it was freed up Damon.

fasrnur

G3GM Enthusiast





Street Cred

: 9



So you removed the cable or the whole unit? It looks pretty tight up there. I don't know if it's worth it to remove the box for.

Damon23

G3GM Member





Street Cred

: 5



Here are top and bottom pics of where that Hot/Cold lever usually binds.  I'm pointing to the forward pivot pin on top.  On the bottom of the forward pin, there is a peg that must slide and that can cause binding.  Thirdly, there is a pivot pin just in front of the vacuum control box that needs to be lubed.  You'll need to remove the instrument bezel...then, the three front screws that hold the Temp Control A$$'y in the dash.  It won't come out very far without removing the wire connectors...but, should come out enough to give you access to these points.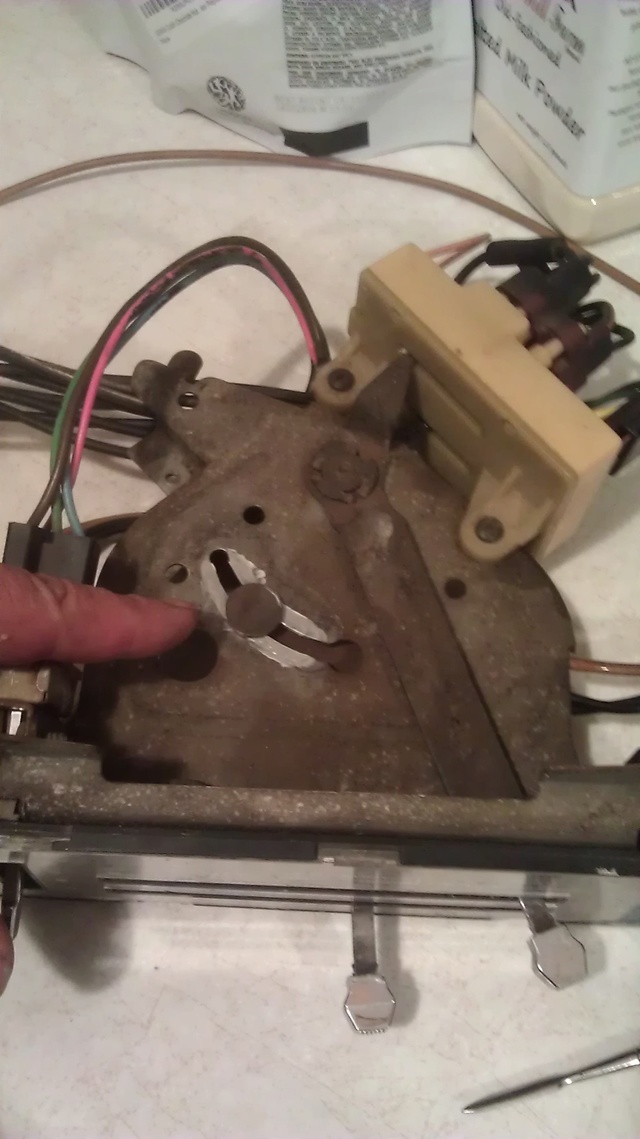 Mcarlo77

Donating Member





Street Cred

: 77



Damon, Steve explained it better than I could and that's exactly what I did to mine as well. Thanks Steve!

fasrnur

G3GM Enthusiast





Street Cred

: 9



Got it apart. The mechanisms move freely as well as the door. The cable was bent at the door end causing the issue. Straightened and lubed and now works well. Now the snowball effect of cleaning up the dash bezel. I personally do not care for the modern radio but the cut the crap out of the dash so I guess it is what it is.

Damon23

G3GM Member





Street Cred

: 5



I too had the issue. I found the bracket on the HVAC box under the passenger side of the dash just below the left corner of the glove box to be the culprit.
That bracket gets loose at the screw holding it to the plastic HVAC box. But , I found the hole in the bracket where metal to metal contact for activation of that "hot / cold" mechanism is where it was binding. I removed the cable allowing me to slide it through the bracket. Removed the bracket , then enlarged the hole in the bracket with a drill bit. In my case , problem solved.

impalamonte

G3GM Enthusiast





Street Cred

: 18



I too had that problem. Got a cable at the junkyard years ago. Good now.

ant7377

G3GM Addict





Street Cred

: 36



Similar topics
---
Permissions in this forum:
You
cannot
reply to topics in this forum