I thought this was a story that you gentlemen might find amusing.
When I was a kid, my uncle Pete bought a '76 GP. Black, black vinyl top, black bench interior. It had a 400 Pontiac engine, which he proceeded to add a number of go fast goodies to. To my young behind, this car felt like it would rotate the earth backwards. It was the baddest thing I had ever ridden in. And, it was THE car that set the hook on what has become a lifelong love of cars, and what is now my profession (building race cars).
Building race cars, you come across a lot of interesting people. For me, one of those people was a Pontiac enthusiast named Justin. he and I became good friends, and have done a lot of projects together over the last few years. Fast forward to the middle of last year......Justin sends me a text that says "Hey man, check out this SJ I just bought!"......He acquired the car as part of a package deal when buying a '70 GTO that he wanted. The initial plan was to pull the running engine out of the SJ and stick it in the Goat. But after driving the car around for a day, he decided that it ran too well and the car had too much character to junk it. So he kept it.
Right before Christmas, Justin sent me a text that said "Hey buddy, next time I'm over that way, I'm going to bring you this SJ. I want you to have it." Needless to say, I was shocked. I was worried about what might be going on with him, but it turned out that he just didn't really have time to enjoy it, and knew my history with my uncle Pete's car, and just wanted me to have it. Another mutual friend of ours named Shawn had a new car at the shop that was getting a ton of work done, and was coming out to check progress. When Shawn rolled in, he had a trailer behind his truck, and inside it was the SJ. Justin had also made the trip with him. During the trip, one of the axle straps had rubbed a hole in the gas tank and dumped 25 gallons of fuel all over the inside of the trailer (which is a story in itself lol), so the tank needed some attention. They had stopped at a local auto parts store and gotten some of that "gas tank leak fix" putty, so Justin climbed under the car and went to work. Unbelievably, it fixed the leak. We ended up taking the car to Dairy Queen later that night. What a blast that was!
Anyway, here's a picture of the three of us with the car. I'm the ugly fella in the middle, lol. You may or may not recognize Justin (on the left) and Shawn (on the right). They're also known as Big Chief and Murder Nova from Discovery Channel's TV show Street Outlaws. They are a couple of goofballs, but are some great folks, and have become like family to me and my family.
Hope you guys got a chuckle out of this.
TQ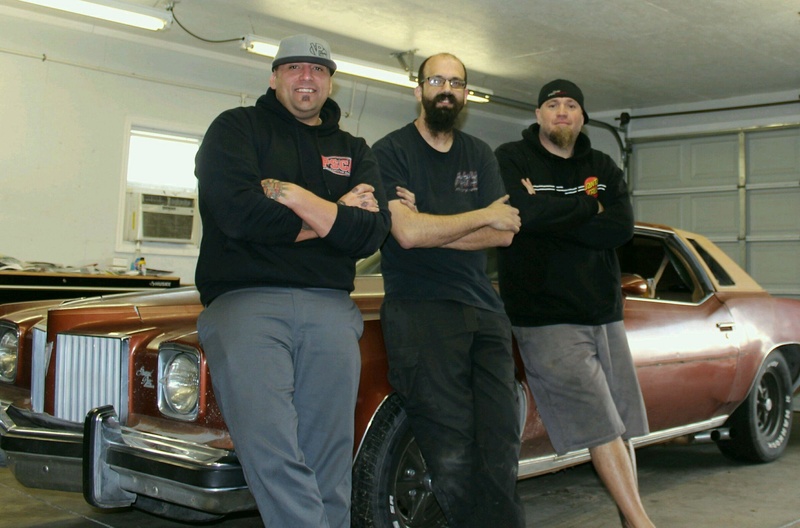 Tquillen

Donating Member





Street Cred

: 0



Cool story, thanks for sharing. It's always cool to hear what made an impression on us at a young age to get us into cars! That fuel tank leak is really scary, glad you guys caught it. I love watching street outlaws. I wonder where Big Chief sourced his latest 70 GTO. I looked at a real 70 Judge project car in Philadelphia, PA last year which was restorable but didn't have the original engine so I passed.

clanceman427

G3GM Enthusiast





Street Cred

: 16



Cool story. Love watching Chief and Shawn race on Street Outlaws. It's cool you know them. Looking forward to seeing the new GTO on the street. OKC is about a 6 hour drive for me. I would like to make it up there one of these days, maybe even get a chance to watch some racing.

rosco77

G3GM Member





Street Cred

: 2



Hey just noticed what I think is an exhaust exiting in front of the rear tire with side holes cut in the pipe. Am I right? If so how's it sound, pretty good?

clanceman427

G3GM Enthusiast





Street Cred

: 16



Thanks for sharing t your story sir. That's just too cool that you not only know these guys, but you built, or were part of, the Murder Nova's last transition.

So!? When's the SJ going to be gunning for the list?

fasrnur

G3GM Enthusiast





Street Cred

: 9



Clanceman - When I took possession of the car, it had one chamber flowmasters exiting in front of the tire. My ears are still ringing from that Dairy Queen run! LOL....I changed the exhaust to mandrel bent 2.5" with Super Turbo muffs. Sounds great, and is a bunch quieter!

fasrnur - I sold Chief all his stuff to go turbo when he changed from the nitrous motor. When he made the switch to alcohol with The Crow (the first car), I did all the conversion fabrication, plumbing and wiring work. Did the same when he brought me the CrowMod. I also went out and wired the new Crow before the race with Gas Monkey (yes, the car was built in eight dats, and it was a HOOT!).

You guys keep your eyes on that new car......it is bad, bad fast.

I am a blessed man to have friends/customers as good as Shawn and Justin. I only wish that everyone could see the kind of people they are behind closed doors, when the rest of the world isn't looking.

TQ

Tquillen

Donating Member





Street Cred

: 0



And to beat it all, my wife likes to ride in it......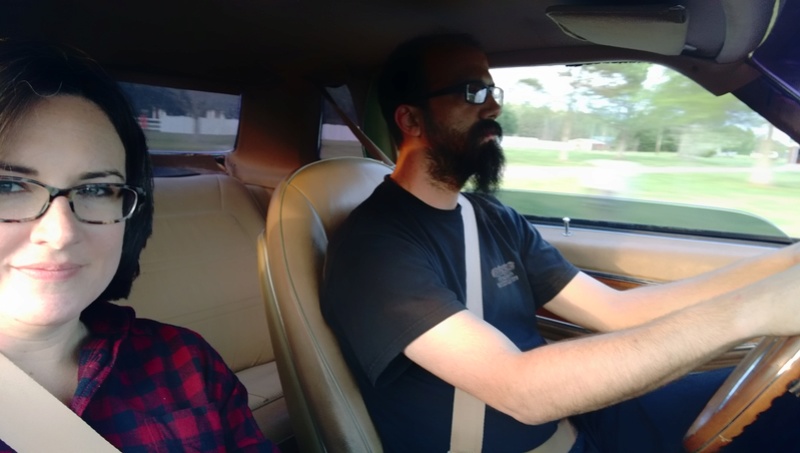 Tquillen

Donating Member





Street Cred

: 0



I think the SJ may have had a run in with Doc....LOL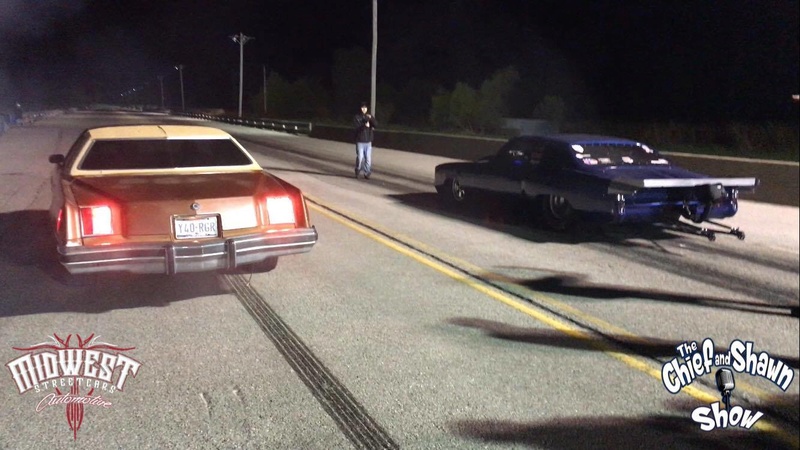 Also, if you want to hear the story of their trip to Athens, AL in their own words, set aside some time to listen to this podcast. Be forewarned: to say that the language used is "salty" would be the understatement of the century. NOT for sensitive or young ears. However, I can promise you that your sides will hurt for days from laughing!
https://midweststreetcarsauto.podbean.com/e/chief-and-shawn-episode-39-%e2%80%9cthe-adventures-of-chief-and-shawn-big-foot-sighting%e2%80%9d/

Tquillen

Donating Member





Street Cred

: 0



That's an awesome story!!!! I met Shane? (w/bob the dummy) at a track here in Ohio last fall. He was in town getting a tranny from Rosslers. He was going to make a few passes in that Vega. He went to make a pass and scattered the thing on the starting line, 6 qts of oil on the track. He was the only guy to blow up or break down the whole night. Kinda sucked, I wanted to see what it would run. He seemed like a nice enough guy.

I think its amazing chief is running a "little" pontiac motor, up against all the tall deck 500inch plus BBchevys. Very impressive for a motor that has been out of production for 40 yrs.

73ss

G3GM Enthusiast





Street Cred

: 11



Shane is an AWESOME guy. His little SBC makes some beans, for sure!! He stayed with me and my wife for about a week last year...we were swapping the ring and pinion out in his car, and we needed a press. It was getting late, but I knew a guy who had a press we could borrow that night to get the new bearings on the pinion and the spool. Shane said, "Nah, we'll do it in the morning." I woke up the next morning, and he had already left the house, to get breakfast I assumed. Well, he brought back two dozen donuts, and a brand new 20 ton press! He told me I didn't owe him anything, to keep it because he might need it again one of these days. Great guy!!

Tquillen

Donating Member





Street Cred

: 0



Similar topics
---
Permissions in this forum:
You
cannot
reply to topics in this forum