I'm putting an Edelbrock Performer, Holley dual inlet 650 carb, and new fuel inlet line on my 74 Laguna 350. However, the dual inlet fuel line, the usual parts store Mr. Gasket one, goes right over where the factory control valve for the heater connection should go on the Performer manifold. So how have folks addressed this? I've seen a vacuum control valve similar to the stock one, but made for a Corvette that has a bracket on it where I could mount it to the fenderwell and still have factory heater control. However, where do I connect that line to on the engine?

It looks like the return line from the heater goes to the water pump and I can still use the old setup so that's taken care of. Its the line that used to exit the stock cast iron manifold that's giving me problems. I'm sure that someone here has addressed this. Pretty sure I'm not the first one to put a Performer and Holley on a small block g3.

I'll try and take some pics of the whole situation later today and post for clarity.

sportster_restorer

G3GM Member





Street Cred

: 1



The remote heater control valve is the way to go. Then you could use a short adapter to thread into the manifold. That should allow the heater hose to clear the fuel line. Just a tip form experience, by a nicer fuel log. The cheap chrome ones don't always seal well. You may be able to find one that isn't as long, which would help with clearance as well.

Podor

G3GM Member





Street Cred

: 2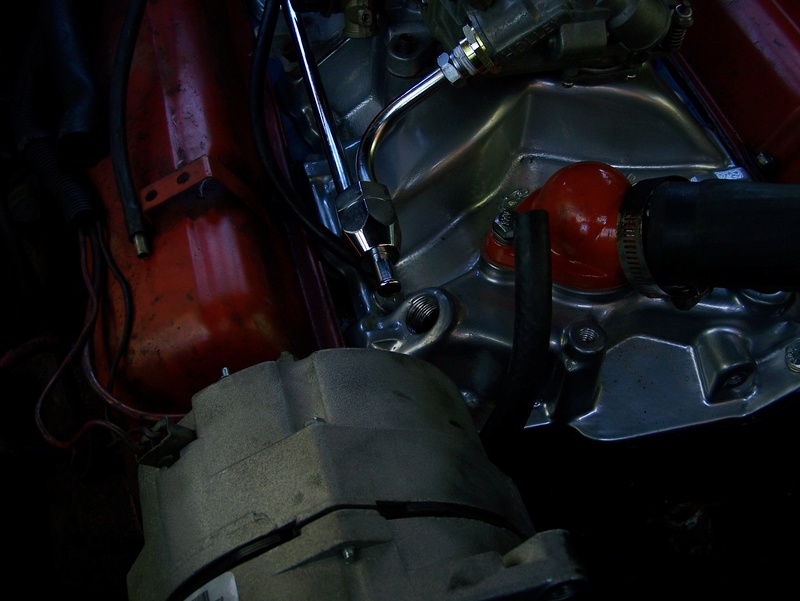 The images posted a little bit darker than they appear when I view them from my file. But they do show the interference with the fuel line and the outlet for the hot water control valve.
I did a little playing around yesterday and added a 1/4" spacer below the Holley. Along with slightly shortening the fuel lines going into the carb. I put a slight bend into the control valve and it looks like I may be able to get it all to fit. I don't like that hot tube so close to the fuel log. I also am thinking of trying two 45 degree 1/2" NPT street elbows to jog that valve out of the way. That with a little bend may be the solution. Gonna try that as soon as the street elbows come in. I'll post pics as I hopefully make progress. Although Edelbrock stuff is pretty high quality and darn near bolts in,,,,they kinda dropped the ball on this problem.

sportster_restorer

G3GM Member





Street Cred

: 1



I was going to mention a carb spacer. We have plenty of room under the hood for a 1" spacer and tall air cleaner. Since the 1/4" spacer is making it better, grab a 1" spacer and you should be good to go. I always run a 1" spacer, guess thats why I never ran into the problem.

Joe73

Donating Member





Street Cred

: 78



This is the fuel log I used on my '74 back in the day. I had an RPM Airgap, so it was slightly different. This log is significantly shorter, which would allow a rubber line to easily clear the control valve. Not sure if you can see it in the picture. The inlet is 2" or more shorter, which will give plenty of clearance. It is a much better piece than the Mr. Gasket one.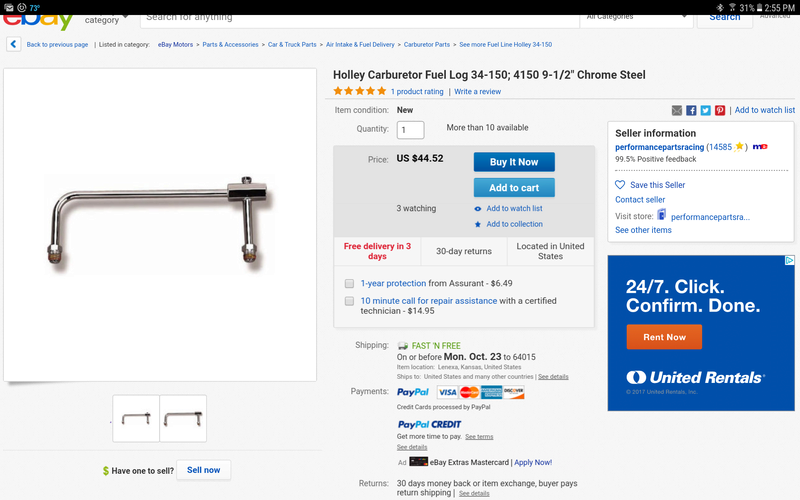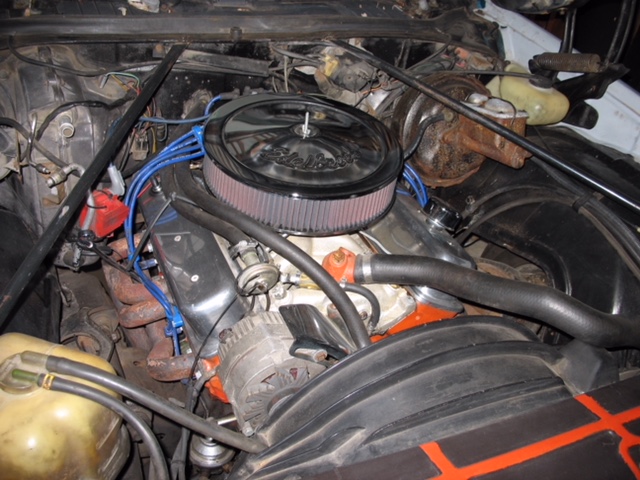 Podor

G3GM Member





Street Cred

: 2




73ss

G3GM Member





Street Cred

: 11



They also come in stainless. Have to search the net for the right fitting. I have stainless ones waiting for my manifold and aluminum water pump.

Joe73

Donating Member





Street Cred

: 78



73ss wrote:This would not clear a stock fuel line. I used a house plumbing elbow. Probably not the greatest idea to screw cast iron into an aluminum intake. I couldn't find a brass one. It does the trick
If you put some anti-seize compound on it it should be okay. If not, the two will eventually weld themselves together due to galvanic corrosion and you'll never get them apart again.

thatfnthing

Donating Member





Street Cred

: 65



I didn't want, or like, the factory heater control valve hanging out there on top of my intake or the heater hoses running across the top on the intake, so I found one that I could mount remotely and run my hoses out of the way. You can see it on the inner fender. I just wanted my engine compartment looking a little cleaner.

fasrnur

G3GM Enthusiast





Street Cred

: 9



So this was what I ended up with. Two 45 degree street elbows from Amazon. Although I don't have the new heater control valve installed yet, I did a quick mockup with the old heater valve, carb, and fuel line and everything looks like it will clear with some room to avoid heat transferred to the gasoline.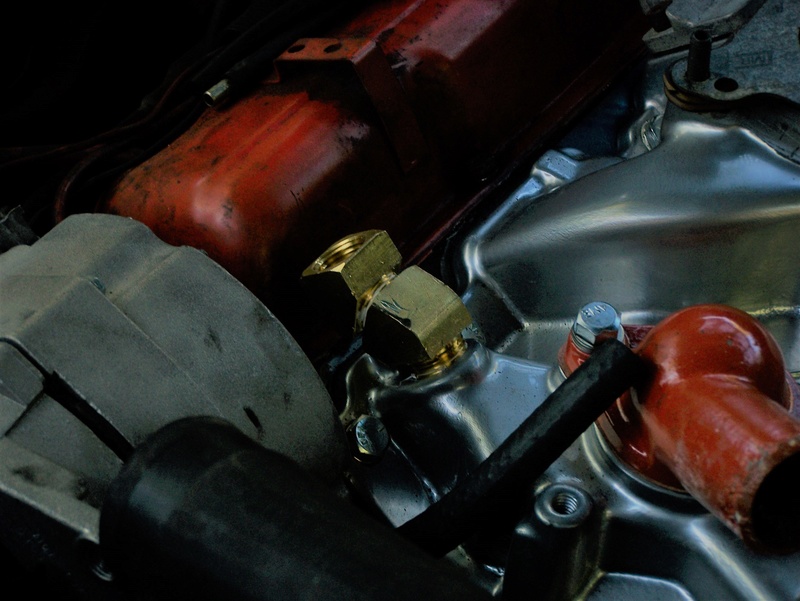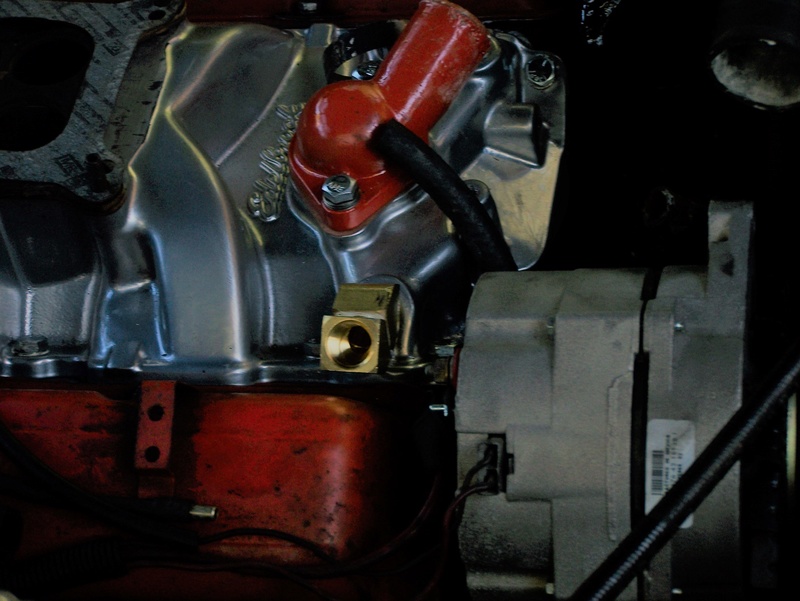 Oh and it does appear that you can remove the valve covers without removing the elbows.

sportster_restorer

G3GM Member





Street Cred

: 1



Similar topics
---
Permissions in this forum:
You
cannot
reply to topics in this forum