Purchased my Acme headliner, 1973 Neutral Color, from Rockauto for $88 to my door.  It came with extra material for the sunvisors.  
I removed the edging on my original visors and the vinyl came right off nicely.  Its just folded on and has a metal clip on the ends.  I hit up a couple of local auto upholstery shops near me and they all wanted $100 to install and restitch the edge.   I thought that was pretty excessive.
To the internet I went.  I found Vinyl Specialties.  http://www.autosunvisors.com/    They have visors for lots of different vehicles including our chevelles and montes.  $88 for a new pair of visors.  Their site shows improved pivot area with a longer shaft or something.
Anyway, I emailed them and they have the neutral color but I ended up just sending them my excess headliner material just to guarantee a correct match.   I cant complain.  Excellent quality workmanship.  
Thought I'd post in case someone is looking for sunvisors.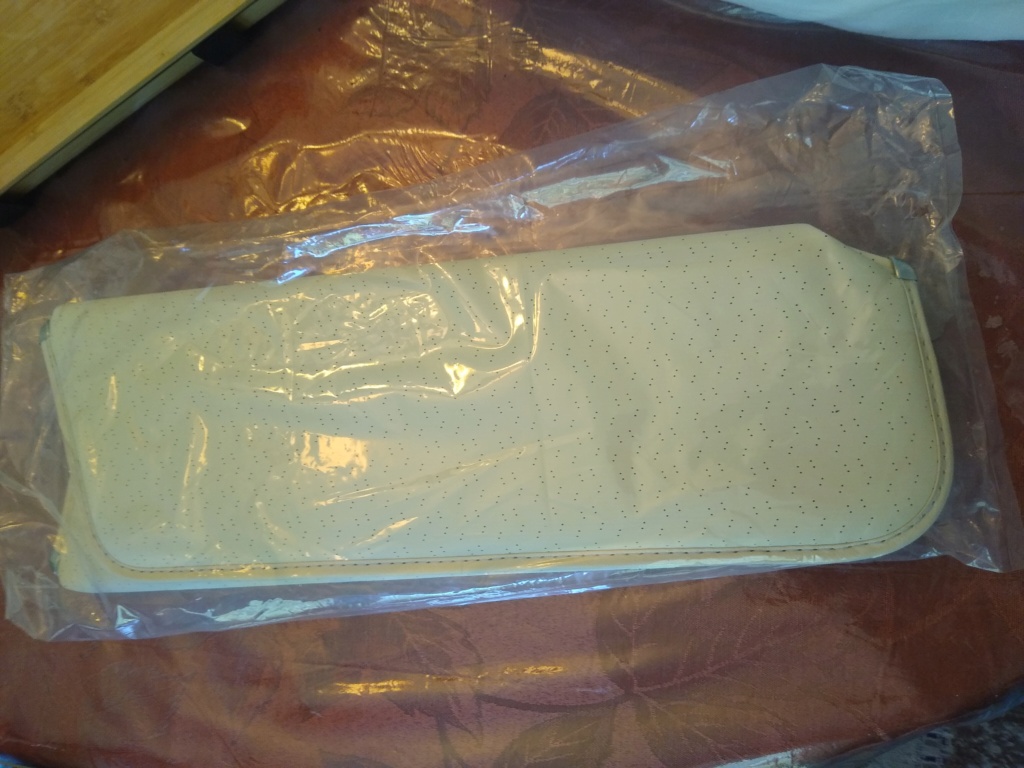 Joe73

Donating Member





Street Cred

: 80



Your absolutely correct Joe !

Couple of years ago I approached a upholstery shop here and he said its cheaper now to buy them premade. He also told me that the machine that is required for him to stitch them was a $5000 piece of equipment. He said he was doing so for $100.00 pair and could not compete with the premade any longer and decommisioned it.

So what this tells us is that it is just another way the high volume manufacturers are ( domestic or Foreign) are continuing to put the foot down on the craftsmen of yesteryear.

impalamonte

G3GM Enthusiast





Street Cred

: 18



Thanks for posting the information about sunvisors, I need a set and took a look at the site.

S3TPI

G3GM Member





Street Cred

: 0



About 5 years ago I went to an old guy in town to see about getting some material for my S10 headliner. He offered to do the headliner and visors for $50. I could not turn that down. They were done perfectly. When I picked them up he said the whole job took him half and hour and about $10 in materials. They have lasted in great shape for 5 years of on and off daily use and harsh Louisiana sun.

When my edging started to go on my 77 I went back to see about getting the visors done (I guess OP had done the headliner but had just sprayed the visors black and they are fragile). His shop was no longer there.

crice63

Donating Member





Street Cred

: 2



I ordered from Vinyl Specialties and received my sunvisors yesterday. Installed them today and they look great. I'm very happy with them.

S3TPI

G3GM Member





Street Cred

: 0



I noticed that rockauto has sunvisors as well for about the same price.


Joe73

Donating Member





Street Cred

: 80



Yours looked really good in the pictures, so I decided to order from the same place. The Rock Auto ones may be good, but I haven't heard anything about them.

S3TPI

G3GM Member





Street Cred

: 0



Joe's visors look great. Definitely will try out Vinyl Specialties for my next project. I did buy a set of visors from Rock Auto for my 87 SS El Camino and they were well made but the color was just a shade lighter than my existing headliner which I'm sure is due to age. But very happy with them and the price was right.


g3chevy / Mr Pontiac

Donating Member





Street Cred

: 33



Similar topics
---
Permissions in this forum:
You
cannot
reply to topics in this forum