A Charming Description
https://indianapolis.craigslist.org/cto/d/louisville-1977-el-camino-seeking-new/7436559845.html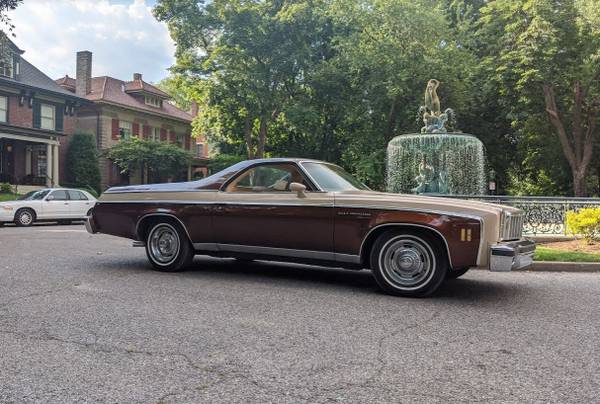 Craigslist wrote:1977 El Camino seeks new home

Have you always dreamed of having an El Camino? Are the vintage lines irresistible, the idea of a car-in-the-front-truck-in-the-back just your jam? Every detail is perfect, right? The font on the emblem, the gleaming grill, the oh-so-sexy 70s vibe.

This is a dream car. My dream, the one I made come true when I bought this spur of the moment after finding it one early pandemic night on craigslist when I decided I'd stop saying "I've always wanted an El Camino" and finally bought one.

And the dream came true for the little girl who rode standing up in her dad's red El Camino, the one he loaded with firewood, when it was just a cool car on the market, not a collector's item that people stop to leave notes on asking if you'd sell it, and post pictures of on Instagram that your friends find and send you.

Never mind that the rearview mirror won't stay mounted, that the sideview mirrors won't stay in position. Someone back in the day thought seat belts were government overreach and cut them out, and the gas gauge doesn't work so you have to keep a little notepad with the mileage whenever you fill it up and do the math -- or more likely roll the dice and figure you'll just stop on the side of the road one day. Mostly silent, sometimes the AM/FM radio bursts out alarmingly with a staticky version of classic vinyl tunes (because obviously that's the only stations you'd play in a ride like this). It had no AC and *that* was worth fixing (though it didn't last too long) so you can lose a pound just cruising around, dripping in sweat, legs stuck to the vinyl seats (that's why you keep a towel rolled up behind the seat).

And a dream it was. It rides like a cruise ship, gently bobbing over bumps in the road, the throaty rumble of the 350 V8 reminding you that once upon a time cars were built without faux engine roar soundtracks. 0 to 60 in … ha, never mind, this car isn't built for speed. It's built for admirers. Because if there's one thing everybody can get behind in a divided world, it's the enduring appeal of a ride that's business in the front, party in the back. And somehow, in this same world where most El Caminos are rusting away behind a snarl of weeds, this one was pristine. 80-something thousand original miles … on a 1977! New paint. New tires. New exhaust. New interior. A true and legit work of art restored with love by the previous owner who left this world and left the car to family member who didn't feel the same.

So I brought it home as excited as any kid has ever been on Christmas morning. And the dream was real. Days of lake lounging, the blow-up unicorn raft tethered in the back, a Home Depot portable fan spinning from the floorboard for the sunset ride home. Nights of drive-in movies, cramming popcorn in your face while you're curled up on a pile of blankets under the flickering glow of the projector, content in the knowledge that you have the coolest car at the movies. Hopping into the back with friends to cruise the neighborhood with your champagne roadies, hoping any cop who pulls you over will overlook your transgressions because damn that's a fine car (that's what people tell you at stop lights every. single. time.) Loading it up with a Christmas tree here, with a barrel of bourbon there, because now you're the friend that when someone asks if you can haul ____ you can say yes and pay forward the karma of all the times friends with trucks helped you.

Picnicking in the back just because you can. Looking for any reason to go to the Dairy Del or Dizzy Whizz. Making it the ultimate prom photo prop for a teenager -- and for your grown-A$$ friends when you decide what 2021 needs is a 70s themed adult prom with your Elco parked out front (drawing more admirers than the limo). And trying to make it your daily driver like trying to make diamonds and furs your daily wardrobe -- ever so much fun but wildly, impossibly, absurdly impractical.

It squeezes into the garage (an old stable/carriage house) of our Victorian with a hair to spare in the front and back, and space for only one person to slither out a door. It can be started with a screwdriver (so they say) and broken into with a coat hanger (so I learned when we locked ourselves out of it) so we can never (ever) leave it on the street overnight.

Still, I'd keep it. Who gets their dream car and gives it up?

But real life gets in the way sometimes. When you're building a business you need a vehicle you can rely on, one that comes with modern safety and conveniences. And you'd like to put that car in the garage. And it's all fun and games to raid your savings account to buy a car until you also raid it to buy a building that's gonna be your retirement and you have to act like a grown-up once in a while even though you're really still the kid in your dad's El Camino, looking for that next adventure.

So it's time to call this chapter over. It was a beautiful ride. But #elcaminotioduro needs a new home. New people to baby it, to take it out for Sunday drives, to love it not just despite its quirks but a little because of them. To fight anyone who dares say it's not perfect. To find the right place to fix the bumper that the TARC driver crinkled (I'll never recover from that.To treasure it until it's time to pass it on to a new generation of El Camino lovers.

Is that you? This car can't go to just anyone. To be considered, tell me why you'll love it, how you'll take care of it, since when it's been your dream. (We can talk about the money -- how do you put a price on a dream? Yet we must.) Mostly I want to know how the story continues.

Hawk03

G3GM Enthusiast





Street Cred

: 18



Prob the Best ad I have seen written in a Long time


___________________________________________
1977 Chevelle SE x2
One Mild original
one Wild NON original
Anthony

Limey SE

Management





Street Cred

: 97




g3chevy / Mr Pontiac

Donating Member





Street Cred

: 32



Similar topics
---
Permissions in this forum:
You
cannot
reply to topics in this forum