Limey made a comment my club's website that I have pics of my car there, but none here. Now that the school semester is over, I have time to play on the pc. Here is a picture I took in my work parking lot, through the upstairs window. Not the best picture with the reflections from the trees showing all over the paint, but I like it anyway.
[img]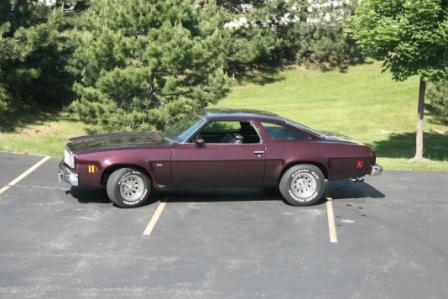 [/img]

HDHugger

G3GM Member





Street Cred

: 6



Very Nice I really like it !!!!

___________________________________________
1977 Chevelle SE x2
One Mild original
one Wild NON original
Anthony

Limey SE

Management





Street Cred

: 97



I like it too! The 4th gen of Chevelles/Malibus, and El caminos are my favorites. My '74 Malibu is my second one, and I'm on my 4th Elcamino from that era.

I like the color on yours.

pila

Donating Member





Street Cred

: 43



Very nice car. The reflections give it charactor. JB

JB2wheeler

G3GM Fanatic





Street Cred

: 28



Very nice color, I like.
BTW, it's about time you posted up at least one good pic on here for us!

The Dude

Management





Street Cred

: 48



Sweet ride, something about that pic and stance makes it look compact!

badtemper44

Donating Member





Street Cred

: 6



Similar topics
---
Permissions in this forum:
You
cannot
reply to topics in this forum