I went to the July C&C event in Dallas, and there were 3 G3s there, a 75 El Camino, a blue 73 SS, and my 77.

Someone posted a video of me driving off after the event.



I'm at the 1:33 mark in the green sedan.



texan01

G3GM Member





Street Cred

: 6



sweet as heck my friend !!! WOOT WOOT

___________________________________________
1977 Chevelle SE x2
One Mild original
one Wild NON original
Anthony

Limey SE

Management





Street Cred

: 97



The SS was cherry, 454 and 4 speed. I really liked it!

The Elky, well, made mine look showroom fresh. 350/350 combo, with some 295s on the rear.



texan01

G3GM Member





Street Cred

: 6



The only green sedan I saw there was this nice looking one. JB [img]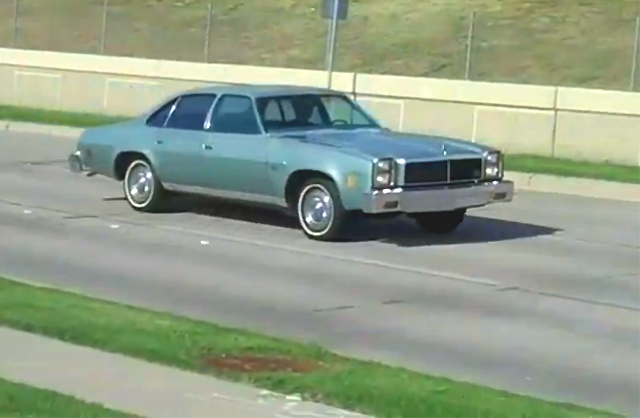 [/img]

JB2wheeler

G3GM Fanatic





Street Cred

: 28



Thanks!

mine's an odd one, in person it doesn't look that green, it just looks like a faded silver. Nor does it look all that shiny. the black spot on the hood and fender is where the paint has rubbed through to the primer.

Ya'll wouldn't have heard it over the traffic noise, its so quiet that I'm considering replacing the ancient catalytic converter with either a new more efficient one, or none at all just to add more rumble to it. I had the lights on so as I was leaving, people would be somewhat less inclined to walk in front of it.

texan01

G3GM Member





Street Cred

: 6



That is pretty cool to see the Malibu 4-door zing by like the Lambos and Ferraris....

I go to the C&C in Southern CA on occasion and don't ever remember seeing a '73-77 Malibu, Camino, or Monte Carlo.

Thanks -

jerry46765

Donating Member





Street Cred

: 20



One of my friends has a very rough '84 Monte Carlo SS that we swapped in a 454, and he parked next to me while a guy was showing off his Caterham. Needless to say when he popped the hood on the Monte, everyone was drawn to the song of the 454.

It was a little odd, but there was a good mix of old and new muscle and supercars there.

Most shows I go to, I'm the only G3 there.

texan01

G3GM Member





Street Cred

: 6



Similar topics
---
Permissions in this forum:
You
cannot
reply to topics in this forum