So I will be, in the next couple weeks parting out my son's 77 Malibu that at one time looked like a 73/74 Laguna. The nose, core support, hood, and drivers fender already gone locally.
Anyone need a picture or have a question shoot me a message. Some parts on car some are not.

Rear Defogger Plus switch
Power windows
Power locks
Dual exhaust crossmember
power trunk plus button
swivel seat recovered last year but has a small tear in corner of drivers
tach and gauge Gauges modified with after market gauges except fuel.
trunk light
overheadlight
driver door originally from California no rust some dings
pass fender
rear sway
74 tailights
74 tail panel
4spd pedals and bar.


gpoetx

G3GM Newbie





Street Cred

: 0




Cdub74

G3GM Member





Street Cred

: 0



Cdub74 wrote:Center console?
Post was from 5 years ago but I have a console if he doesnt respond red in color

___________________________________________
1977 Chevelle SE x2
One Mild original
one Wild NON original
Anthony

Limey SE

Management





Street Cred

: 95



I'm interested in your pedal assembly for a standard shift if you still have them. Thanks in advance. jerryh

testpilot61

Donating Member





Street Cred

: 3



Jerry...this post is 6 yrs old and OP hasn't visited this site since May '14. Maybe post in Classifieds Wanted section and someone on here would be able to help. I do believe these can be found aftermarket, too?

Mcarlo77

Donating Member





Street Cred

: 70



testpilot61 wrote:I'm interested in your pedal assembly for a standard shift if you still have them.  Thanks in advance.  jerryh
https://www.thepartsplaceinc.com/product/1977/1977-chevrolet-chevelle-malibu-4-speed-conversion-kit-kit-includes-brake-and-clutch-pedals-z-bar-10-clutch-pedal-pushrod-clutch-fork-boot-clutch-fork-adjustable-clutch-fork-pushrod-clutch-fork-ball-clutch-return-spring-s-z-bar-frame-bracket-z-bar-hardware-kit-containing-an-engine-ball-stud-frame-side-ball-stud-1-retainer-1-felt-washer-2-nylon-bushings/41562
1977 Chevrolet Chevelle/Malibu 4-SPEED CONVERSION KIT - KIT INCLUDES: BRAKE AND CLUTCH PEDALS, Z-BAR (10''), CLUTCH PEDAL PUSHROD, CLUTCH FORK BOOT, CLUTCH FORK, ADJUSTABLE CLUTCH FORK PUSHROD, CLUTCH FORK BALL, CLUTCH RETURN SPRING(S), Z-BAR FRAME BRACKET, Z-BAR HARDWARE KIT (CONTAINING AN ENGINE BALL STUD, FRAME SIDE BALL STUD, 1 RETAINER, 1 FELT WASHER, 2 NYLON BUSHINGS)
Price: $289.00
TPP Number: MT9894Z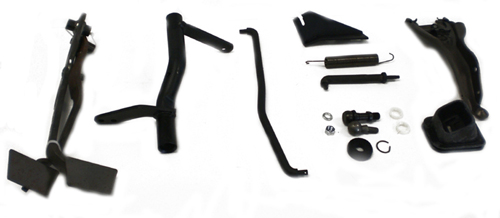 Limey SE

Management





Street Cred

: 95



Similar topics
---
Permissions in this forum:
You
cannot
reply to topics in this forum