The October issue of Hot Rod magazine has a good article on transmission coolers, like the types of coolers, how they should be mounted, what kind of trans temps to maintain, and what temps will trash a transmission.  Good info article for people thinking about adding a trans cooler.
 They strongly advise against using the plastic ties that come with some coolers, to attach them to the radiator core, by the way....
 Also they recommend running the cooler AFTER the the radiator cooler, if both are used inline...

I haven't added a cooler to my project Elco yet, but I usually do add one to my projects.

That article may possibly be accessed online on their site (??)



BILL

pila

Donating Member





Street Cred

: 43



I have mine run after the factory cooler
  but...I do have it installed  with the tie strips through the radiator.
  It must work as it gets hot enough to burn you.
Last edited by dynchel on Mon Aug 25, 2014 8:52 pm; edited 1 time in total (Reason for editing : added details)

dynchel

Donating Member





Street Cred

: 40



I have a monster Derale with a 10" pusher fan in front (visible in the photo below from when I was swapping the A/C condenser), mounted to the radiator brace and the header support. It's plumbed after the stock cooler, and the fan is temp controlled and only kicks on after a significant amount of driving. I wasn't taking any chances after spending 2k on the OD trans.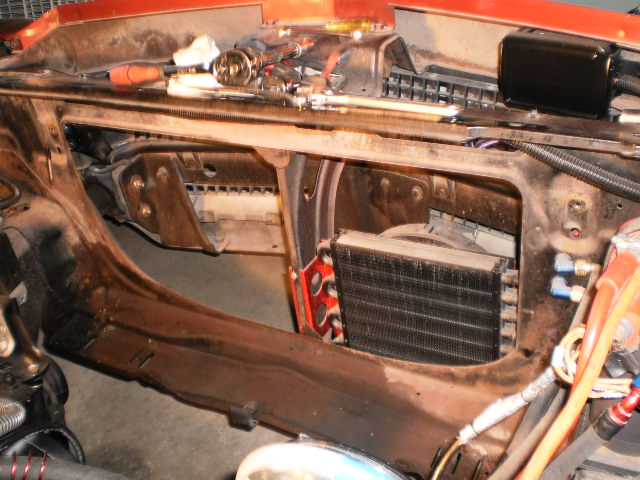 thatfnthing

Donating Member





Street Cred

: 65



I am just using the one in the radiator for now. Is is hard on a transmission when you manually shift down? automatic btw.

driveit

Donating Member





Street Cred

: 15



I've been down-shifting for years, like when it's time to ease off for a light or stop-sign on a country road. Can't say it does any harm......

pila

Donating Member





Street Cred

: 43



The only downshift you really need to be careful with is into first gear. If you are going too fast that one can hit hard. But otherwise, with the trans coolers, try to connect the supply to the bottom side of the cooler. That ensures that the cooler stays full of fluid. On the factory cooler the bottom side being the supply helps cooling a little due to the cooler becoming a counterflow heat exchanger. The engine coolant flows top to bottom, trans fluid flows bottom to top.

bracketchev1221

G3GM Enthusiast





Street Cred

: 15



Hot Rod article from 1997, probably the same information:

http://www.hotrod.com/techarticles/engine/high_performance_oil_cooler_tech/

jerry46765

Donating Member





Street Cred

: 20



Similar topics
---
Permissions in this forum:
You
cannot
reply to topics in this forum