As some of you know, a few years back I paid a guy to do the body work on my 74. He ended up screwing me over quite royally. He said the car needed new floor pans. This weekend, while working on another issue, I discovered that he welded the new pans on top of the old ones. Is this common practice? I wouldn't have thought so. He also did not prime or prepare the new ones in any way. The bottom of the new pans are already showing surface rust. The old pans are rusted, rotting, and full of holes.
I am debating removing the both sets of floor pans and buying yet another new set. I'm looking for some advice. I've never replaced floor pans before, and am not sure how to remedy the situation. Don't mind the gaping hole in my firewall, that's another issue that I'm addressing.
Here, you can see an area of the original floor plan that was severely rusted. This was sandwiched between the torque box and the new floor pan. Notice the gap between the two pans.
Same as above.
Here you can clearly see the distinction between the old pan (black) and the new pan (rust)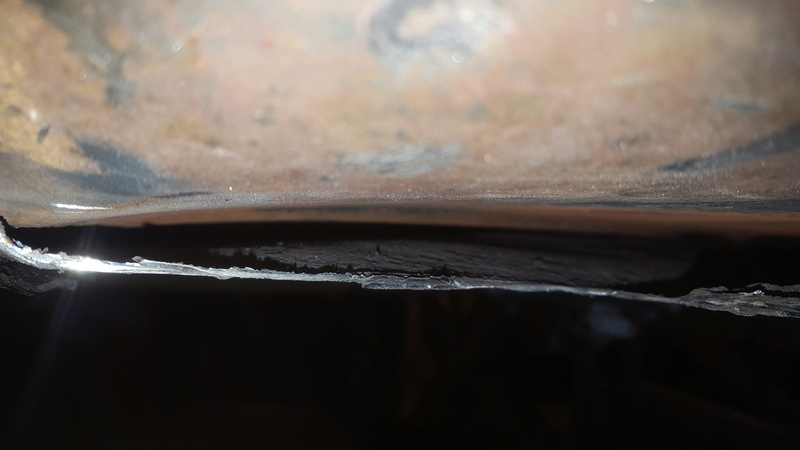 Gap
What the hell?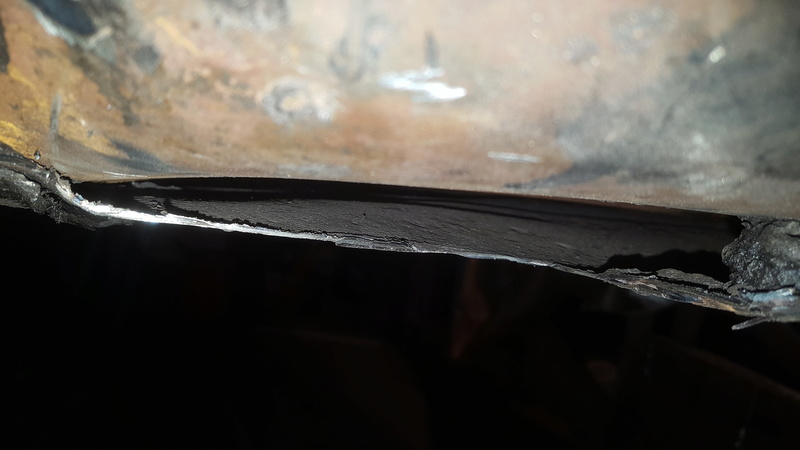 This car is a nightmare.

Silentknight85

Donating Member





Street Cred

: 4



I've seen that lots of times.  Aftermarket floor pans never fit exact and take some tweaking.  They are stamped and are never exact, especially for our cars.  This is what I would do.

The rotted floor has to come out.  The problem that I'm seeing is that since the new pan was placed on top of the old, I'd be concerned with the frame rail side (rocker side).  The rot thats probably going on there is probably the worst.  Only way to fix any of that would be to remove everything and start over.

But if you wont to keep what you have and still remove the old floor, this is what I would do.  Grab an electric die grinder from harbor freight.  Like this one.    http://www.harborfreight.com/electric-die-grinder-with-long-shaft-44141.html   I'm not a fan of harbor freight stuff but they have a handful of good stuff and this is one of them.  Beats running the air compressor and hose.  And its great for cutting panels for butt welds.  

I'd cut the old floor at the bottom where the trans tunnel meets the floor.  ONLY CUTTING THE OLD FLOOR.  This is just to make "room".  And then I'd cut about 5 inches in front of the seat crossmember.  This all has to be done from the bottom so where glasses.  

Then cut along the frame rail but leave and inch or two to work with.  It can be trimmed later.

Do one side at a time.  

After the old floor is out, I'd take that die grinder, go inside the car and go perpendicular to the weld, and grind the weld dots off.  Just do the trans tunnel side and the front floor sides.  Work at it until the panels separate.

Now, apply pressure with your foot at the front corner of the panel right where the front floor meets the tunnel.  The new panel should go down to where it needs to be.  If not, find out whats holding it and grind it out.  If your by yourself two cement blocks or something heavy should do the trick while you check underneath to see if its down all the way.

Once you get the panel to where it needs to be, you have to make a choice.  Butt weld or Overlay weld.  Overlap is way easier but I always do a butt weld and blend the welds to the metal.  

Either way, when you have the panel down where it needs to be, you need to scrib a line with something sharp and pointy all around the new panel.
That will make a good reference mark.

If you want to go overlap, get in from underneath and find a way to measure from the scribe to the bottom of your cut original floor.   If you stick a paint stick between the panels, push it up and check til your flush with your scribe.  Then mark the length to the bottom of your original panel.  Take the stick out, put it on the bottom of the floor lined up with the bottom mark and scribe or mark the top of the stick.  Now you have your inside scribe on the OUTSIDE (bottom) of the car.  Measure down 1" from this new scribe and thats where you will be cutting the old floor for an OVERLAP weld.  You have to do the paint trick thing all along to get a good scribe line under the car.  

Now for a BUTT WELD you would do the same scribe inside, transfer the scribe to the outside all along.  Now you would cut ON THIS LINE for a nice clean butt weld.  This is where the electric die grinder shines.  Real easy to cut panels for butt welds.

If doing the overlap weld you will have to clean between the panels REAL good and then spray some WELD THRU PRIMER (spray can) in there.  Put the weight back on the panel to line up the scribe and tack it in place.  Remember to jump around with the tacks so you dont build up heat and warp the panel.  

After doing the overlap weld, put a couple tacks on the underneath as well.  then grind the overlap a little smoother than it is.  Clean the area good and put a quick swipe of USC DURAGLASS over the seam edge.  It will setup quick.  Give it a quick scuff with some 80 grit and then, IF NEED BE, put a thin skim of Rage Ultra body filler over the duraglass.  Sand smooth.  The rage ultra is unbelievable stuff and when they say its the easiest sanding filler made, they aint kidding.  

As for the butt weld, weight down the panel to get it in place.  You might have to put a floor jack underneath with a block of wood just to keep the butt joint tight to you get it tacked in.

After its tacked in you might have a few "gaps" that the mig would probably blow through.  Here's what I do or have.  Take a 6" piece of 3/4" copper plumbing pipe.  Put the end 2 inches in a vise and squeeze it flat.  So now you have a 4" handle.  Then take a 3" piece of the 3/4" pipe (I like a piece of 1" for this), slice it lengthwise, open it up and hammer it flat.  Then place the 2" of flattened 3/4" pipe with handle on top of the flattened piece.  Wrap the flattened piece around the flattened 3/4" piece.  Hammer flat.  Now you have a nice welding spoon.  Should only take about 10 minutes to make.  

I'd also grab a welders SWIVEL magnet from lowes or a hobart brand from tractor supply.  Dont get the harbor freight one, its not too strong.  This is what I'm talking about.  https://www.amazon.com/Hobart-770564-Swivel-Magnet/dp/B002AKIRIK

Now if you have a gap in your butt joint (no pun intended) put the copper spoon behind the joint and use the magnet to hold it in place.  Now when you weld the joint it wont blow through.  

Sounds like alot but its actually not difficult.  Just very time consuming.  

If you decide to just remove everything, that would be best, just use the same scribe method, remove ALL THE RUST and use weld thru primer between ANY overlaps.  

Good luck with it.

Joe73

Donating Member





Street Cred

: 80



I am a certified autobody tech. I have been welding old cars for 30 years, if you want the best result i would start over fresh. I bet your guy did not Seam weld it all the Way around, but just tacked it in place. So i would start by grinding the tack welds and remove the "new" floors. Then you can see if you can reuse them or if you need new ones again. If they have anything more than light surface rust, i would buy new ones. Then follow joes recipe, take your time measure twice and Cut once. Only attack one side at a time, if you Cut it all out it can easy make it look like you will never be done. Also it is Nice to have an original side to look at if something seams of.


Just be wery careful to remove all rust as even the smallest amount left will spread and keep rusting. And use weldtrough primer on all overlaps, make sure everything is clean and degreased like if you where to paint it. And if you use overlap, make them as small as possible. I always weld it edge to edge to avoid overlap. Since overlap is a Woid where moisture can start new rust. But im Aware that it takes alot of practice to get right so at least make them as small as possible.

Also as Joe says, weld a little at a time and cool it Down with a wet rag or compressed air if you have it. When you feel you are done and have grind Down the welds, put a light under the car and turn the light of, the pinholes will show if there are any. Keep at it until all holes are gone, then finish it up as Joe descibed and you are good to go.

Hope you get a good result. Regards from Copenhagen. Henrik.

Hs1973

G3GM Enthusiast





Street Cred

: 14



Good stuff here, Joe and Henrik.

Roadcaptain S3

Donating Member





Street Cred

: 26



Thank you. I've corrected "issues" like that a couple times. Or when someone decided to use a stop sign as a floor pan. LOL.

Joe73

Donating Member





Street Cred

: 80



Joe73 wrote:Thank you.  I've corrected "issues" like that a couple times.  Or when someone decided to use a stop sign as a floor pan.  LOL.
v.  Lol, I've done all of this.  Floor pans out of roof flashing, pop rivets and kitty hair,  spray foam, I've since changed my ways tho....Z😋

dynchel

Donating Member





Street Cred

: 40



Thanks, everyone. Looks like I've gotten myself into quite the pickle. I'll tackle this, yet though. Thanks guys!

Silentknight85

Donating Member





Street Cred

: 4



Luckily my Elco body came from Arizona, and not Michigan...queen of the rust belt. Right floor had a small hole, right in the center. I cut around the hole until there was no rust showing. It took a patch panel about 6 x 6 inches to cover it, so I welded it in. I gas welded it in place. That's how we do it in aviation !

But one thing I do on floor boards after I get any rust etc off of the metal, or over new metal, is lay two layers of fiberglass cloth over both floors, with West System epoxy. My reason for that is, to keep the moisture from rusting the new floor, under the carpet, if water ( rain.."who left my dam window down ?!!) gets in somehow..... And, El Caminos sometimes leak across the joint/seam below the back window, down in the bed floor area ( there are those that leak..and those that will !)

A friend did a full off S-10, and over the complete new floor, he used bedliner stuff ! Like Rhino liner or some other type. I was impressed on how great that came out,sealing the entire floor !!

For my S-10 4x4, I bought new floors, and found that floor panels for a 4x4 are not available, an two-wheel drive floors don't fit, without some "custom" cutting and fitting..!

So good luck and hang in there with the floor replacement !!

pila

Donating Member





Street Cred

: 43



Similar topics
---
Permissions in this forum:
You
cannot
reply to topics in this forum