I'm looking at replacing my original ac compressor (frigidaire) in my 1974 Monte Carlo with a up to date compressor. I'm looking for advice or headsup on what to use or look for. thanks

Hawkeye

Donating Member





Street Cred

: 0



Many people are using the Sanden type compressors to replace the old A-6 Frigidaire. There are places with kits to do this of course. If you are switching to R134A, you need to replace the hoses, which aren't considered OK for the newer stuff.

https://nostalgicac.com/ This is one place that has the parts, hoses, adapters, compressors, etc


Bill

pila

Donating Member





Street Cred

: 43



I would highly recommend upgrading to "Pro-Ten" style compressor. It's a direct bolt in replacement to our A-6 compressors, weights 1/3 of what the original compressor weighs and it's more efficient (uses less horsepower to operate). Here's a link to the one I bought from Rock-Auto. Also below is a link to a better refrigerant to run in our old R-12 systems. My A/C runs about 40 degrees at idle with an outside temp of 90 degrees and 90% humidity.
http://www.rockauto.com/en/moreinfo.php?pk=6387645&cc=1055898&jsn=631
https://www.g3gm.com/t11023-r12-to-134a#105645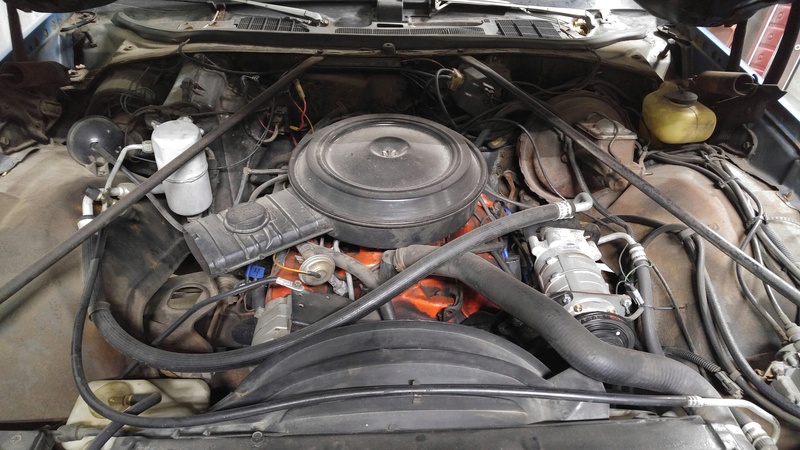 g3chevy / Mr Pontiac

Donating Member





Street Cred

: 33



Your thoughts help alot....thanks

Hawkeye

Donating Member





Street Cred

: 0



"Looks great g3Chevy. How much of the system did you actually replace?

fasrnur

G3GM Enthusiast





Street Cred

: 9



I converted my A/C system to a 77 setup. So I replaced the compressor (new), swapped the VIR for an accumulator and orifice tube (new), the evaporator (new) and all the hoses. This setup has less parts and works more efficiently than the old VIR system. Its a fairly easy swap.

g3chevy / Mr Pontiac

Donating Member





Street Cred

: 33



I just ordered 3 cans of the Enviro stuff. I'll try it in may '74 Malibu ! Will it work to just add it to an empty system ?
I can clean the system with the cleaner and compressed nitrogen, before doing any adding of the Enviro-safe stuff....
The system has been empty since I swapped engines a few years ago, but it's sealed from the atmosphere yet..
I have the R134 service gauges etc..
Bill

pila

Donating Member





Street Cred

: 43



You can add it directly to your system without flushing it out as long as you didn't have a compressor failure that would leave metal fragments in your system. The Enviro-Safe refrigerant works with all oils (mineral, PAG, Ester, etc.) so you don't have to worry about compatibility issues. You don't need to pull a vacuum as it does not react to moisture in the system, but it is recommended by the manufacturer when using the "industrial" blend of refrigerant which is the one I recommend over the standard Enviro-Safe refrigerant.

g3chevy / Mr Pontiac

Donating Member





Street Cred

: 33



Similar topics
---
Permissions in this forum:
You
cannot
reply to topics in this forum