I was just looking at my factory 350, 4 barrel throttle cable. Its in good shape but I'd like to replace it. I hit my gm parts manual and it lists 73 chevelle 8 cyl and 73 chevelle 6 cyl. part numbers. No differentiation between four barrel or 2 barrel or big block/small block. So the part number for my 73 is 336961 which supersedes the old number of 332548. It measure about 20 7/8" long.

I look high and low and cant find anything. I do find that Goodmark has a part number that they list for 68-72 chevelle and 70-73 camaro both with small block and 4 barrel carbs. I called them and no measurement is available. Rockauto and carid both list the same part number as also fitting a 73 chevelle. Carid goes so far as to list it fitting a 73 chevelle with my vin digit. So I order it from rockauto.

It came today and it measures 21 1/2". Otherwise it looks correct right down to the round snap in plug for the gas pedal which isnt shown on the 68-72 cables.

Now I hit the parts manual again and the 74 chevelle has it broken down. It says a 74 chevelle with small block and 4 barrel uses number 1244126.

Anyone have any luck with changing their throttle cable? Any issues? Length differences? Thanks

Joe73

Donating Member





Street Cred

: 80



I ran into some issues on my 73. It's not as simple as one would think. I had to ditch the factory cable with the rubber gromment attachment at the carb bracket when I swapped to the OD trans. The factory cable wouldnt work with any brackets for the TV cable on the trans. I had to go to the newer "square" plastic attachment type cable. The factory started using them around '75. The '75~up cables will not fit through the firewall without trimming the plastic down where it snaps into the firewall.
I think I am using a '75 malibu cable. I cant remember for sure. I'm not sure what type of cable they used in '74. The rubber grommet type or the plastic square type.

I ended up making my own throttle cable/TV cable bracket out of 2 factory brackets and welding them up. Alot of trial and error. The TV cable has to be perfect for the trans to function correctly. Something you will not have to worry about with the 4-spd manual.



73ss

G3GM Enthusiast





Street Cred

: 11



No trans cables on my since I have a manual.  My factory cable uses the square plastic fittings at the firewall and again at the pedal.  Same as 68-72.
I really like this goodmark piece and I think I found the answer to just clipping it a pinch.  
https://www.grainger.com/product/16X624?cm_mmc=PPC:+Google+PLA&s_kwcid=AL!2966!3!50916737037!!!g!82128408717!&ef_id=WzFBBgAAAGjfRQIT:20180727015119:s
This cable stop is the correct diameter for the cable. 1/16".  I'm picking it up tomorrow.  Should be a simple snip, slide it on and crimp it.  
Check out my pics of my original cable side by side with the goodmark piece.  Part number for the goodmark piece is also in the pic. The only difference is that its a pinch longer.

Joe73

Donating Member





Street Cred

: 80



Ok, picked up the grainger part and its exactly what I need.  I used the mini wheel on my dremel to cut the old cable stop off, slid the new one on and crimped it in my vise.  Simple job of less and 3 minutes.  Now this cable is a perfect fit for a 73 chevelle, 350 with 4 barrel.
I bought an extra in case I lose the end.  So I took a pic of the grainger part next to the original part for comparison.  The grainger part is stainless.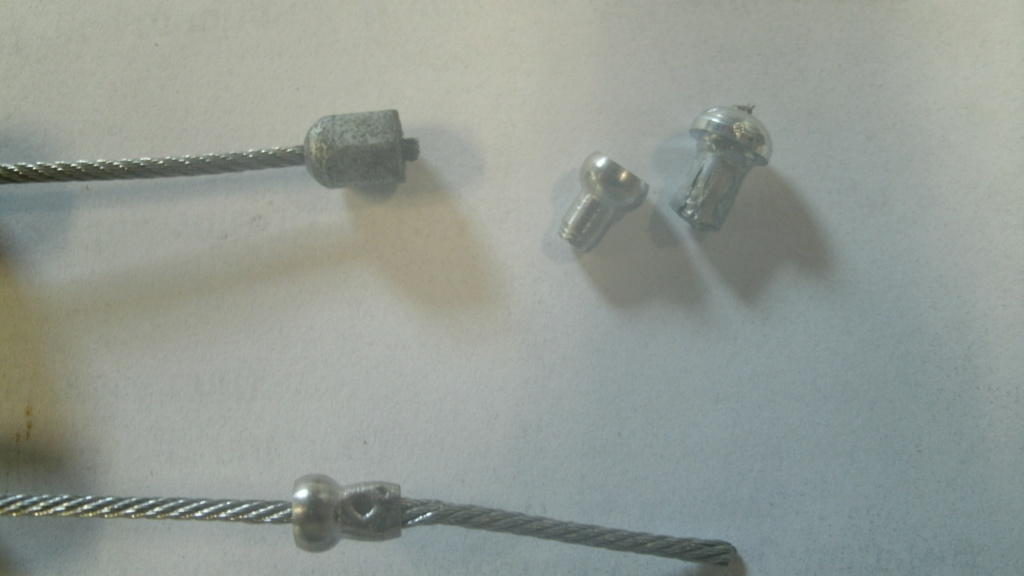 Joe73

Donating Member





Street Cred

: 80



That Grainger part appears to be similar to an aircraft cable part. Used lots of them. There is a swager for those of course.

pila

Donating Member





Street Cred

: 43



Similar topics
---
Permissions in this forum:
You
cannot
reply to topics in this forum