+2
bigredlaguna
bracketchev1221
6 posters
I was going through my parts stash recently and noticed that I had a few extra drive shafts. All were tagged from the vehicles they were pulled from so I lined them up and did a comparison. The driveshaft on the left is from a 76 Laguna that had a 350/350 engine/transmission combination. The one in the center was from a 77 El Camino with a 350/350 setup and the one on the right is from my current restoration project which is a 75 SS El Camino with a 454/400 setup. For some reason I thought the 400 transmission was slightly longer than the 350. But it appears that is not true since both driveshafts are almost identical in length with the exception of the yoke. Anyone ever to a 350 to 400 transmission swap? If so, what modifications need to be done?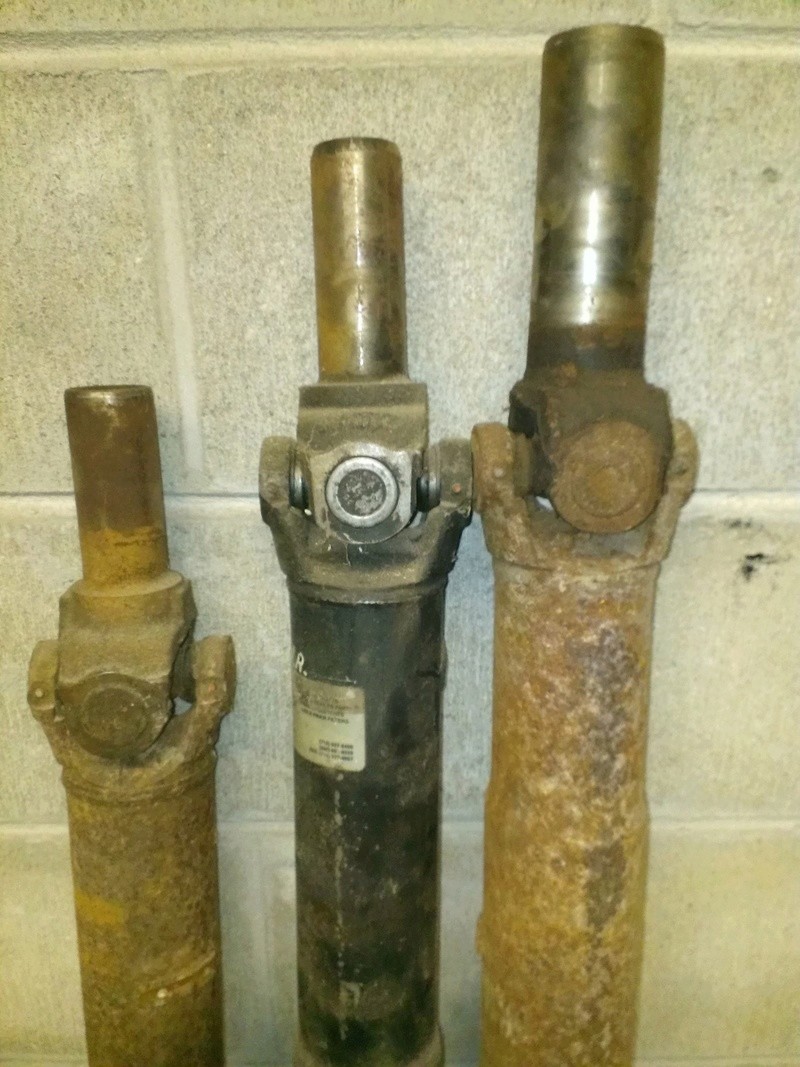 g3chevy / Mr Pontiac

Donating Member





Street Cred

: 32



The turbo 350 vs. turbo 400 have about just about a 2" difference in length.

https://summitracing.custhelp.com/app/answers/detail/a_id/2501/~/turbo-350-and-400-transmission-dimensions

Looking at your pics, the driveshaft are about the same lengths but that 400 yoke is longer. I think your good to go. Thats where your length is being made up.


Joe73

Donating Member





Street Cred

: 80



Without knowing the rear end that was in the vehicle driveshaft length is not standard. If the 77 had a 7.5" rear in it instead of the 8.5 that the 75 probably had, the pinion would be farther back in the car and require a longer driveshaft.

And you wouldn't need a longer yoke if the transmission is longer. You would need a shorter one.

bracketchev1221

G3GM Enthusiast





Street Cred

: 15



A short tail th400 is almost 2" shorter than the 9" tail th350. I bet that is what the respective cars had those came out of.



bigredlaguna

G3GM Senior Member





Street Cred

: 53



It's my understanding that all A-Bodys from 73-77 used a 6 inch tail shaft housing on the turbo 350 transmissions. And the few turbo 400 transmissions I've seen in these cars like my current project, a 75 SS El Camino 454/400, are short tail like the 350. Also, I thought all these A-Bodys came with 8.5 inch rear ends? Anyone have details on this?

g3chevy / Mr Pontiac

Donating Member





Street Cred

: 32



On the El Camino Central forum, according to those folks most '78 thru '87 have the little 7.5 ring gear rear ends.  They were first called an A body, in the first year or two, then a G body. for some reason. ( hey, it's GM..
) Not the only weird thing they have done....Never heard of a 4th gen ('73-'77)Elco or Malibu with the little toy ring gear rear end....
My aviation partner has a '78 Buick Regal, but I never checked which rear it has, when I swapped out the original trans, (TH200 ? ) to a TH350..

pila

Donating Member





Street Cred

: 43



I don't know about the lengths of the drive shafts, but I can tell you that the TH-350 and Th-400 yokes are different. The TH-400 yoke is the same as a Muncie yoke and will not slide into a TH-350.

From what I've seen, the TH-350's in most everything other than station wagons usually had the short tail shaft housing as do the TH-400's. The
long tail shafts mainly came in the wagons from all the ones that I sold over the years.

fasrnur

G3GM Enthusiast





Street Cred

: 9



Muncies up to 1970 1/2 have 27 spline outputs same as turbo 350

Muncies 71-74 have 32 spline outputs same as turbo 400.

Joe73

Donating Member





Street Cred

: 80



Well I had it half right Joe. lol Thanks for clearing that up for me and others.

fasrnur

G3GM Enthusiast





Street Cred

: 9



Similar topics
---
Permissions in this forum:
You
cannot
reply to topics in this forum