Ya'll check out Pugliese's Speed Shops channel on YouTube and give him a sub. He's been working on a 1977 Pontiac Grand Lemans in previous episodes and was looking for parts to fix this ole gal up a bit. I sent him some of the parts he needed to get him started. So he should have more videos coming out soon.
https://www.facebook.com/groups/571670432973633/permalink/2429747033832621/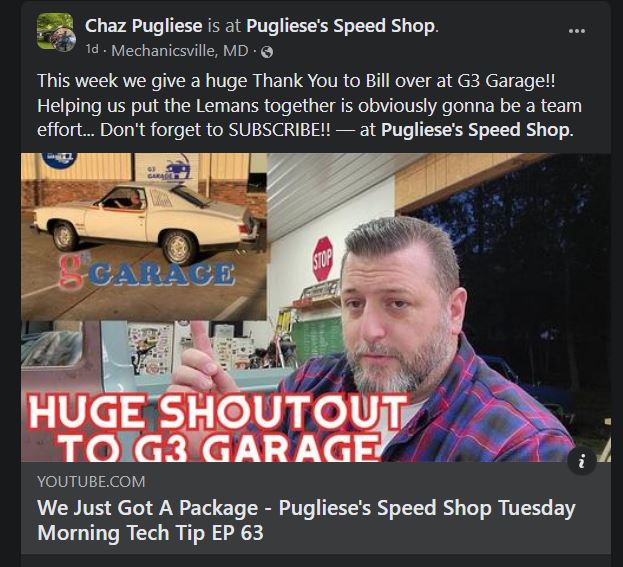 g3chevy / Mr Pontiac

Donating Member





Street Cred

: 32



Limey SE and TW Monte like this post
My friend is once again saving the world. It's mesmerizing to sit on the sidelines and witness your incredible ability to bring others their dreams. Sometimes I genuinely believe that without you, there could be no us. I would like to quote the great Muhammad Ali from your perspective: "Me-We". Thanks g3.

REVINKEVIN / Mr. 600+HP

G3GM Enthusiast





Street Cred

: 19



Very kind words from a very generous man. I've been very blessed to be able to be involved in a hobby I truly love with many other like minded folks here on this forum. There is huge wealth of knowledge and experience here that is shared every day by all of us willing to take the time to help others. I try to do my part to give back to this community because its the right thing to do. I just enjoy being in the trenches working with my projects or any one else's projects for that matter. This is how I learn the best. Mr. Revin, you have opened my eyes to the wonderment of high horsepower fun, and for that I will be forever grateful. Now let's keep the posts on this forum coming and share the knowledge we have stuck in our heads, and make sure the next generation keeps these wonderful cars alive and on the road.



g3chevy / Mr Pontiac

Donating Member





Street Cred

: 32



Similar topics
---
Permissions in this forum:
You
cannot
reply to topics in this forum