Hey all,
I am sure that some of you may have already heard my story, but here it goes again....
I am a very proud owner of what I would say is a 70% original paint 1977 Pontiac LeMans Sport Coupe.  I purchased it back in 1988 with funds that I received from my totaled 1977 Pontiac Grand Prix.  At the time, my father and brother both had 1973 GTO's and this was the closest thing that I could find at the time and the price and everything was right.
I drove it for the biggest part of 2 years, minus winter months.  It then went into storage for the biggest part of 20+ years.  After being able to keep it through a marriage and divorce, starting over and everything else that goes on in life, I finally got it back out back in and around 2011.  It remained about the same car up until this past January when I decided to finally replace the well running Oldsmobile engine that the car came with.  I opted for a Kauffman built 461 to get a Pontiac down in and under the hood.  It was a long road, but thanks to many folks along the way over on FB Groups, the car made it out with its transformation after about 10 months.
I look forward to sharing information and I am sure my share of asking questions on the forum...
Regards from Ohio....
Thad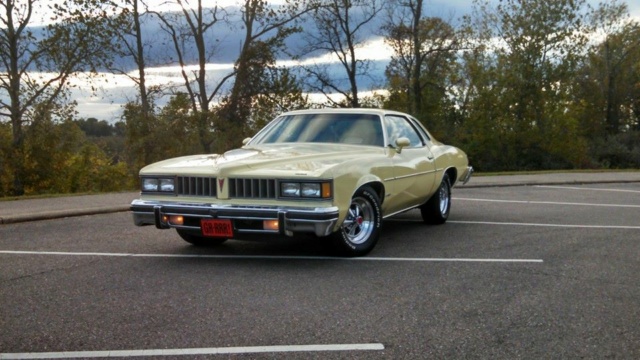 A421cid

G3GM Newbie





Street Cred

: 0



Finn Monte and 76Chevelle2Tone like this post
Very cool. I'm all in on this car. I am a huge fan of the Sport Lemans cars and I really like this one. Welcome aboard.

REVINKEVIN / Mr. 600+HP

G3GM Senior Member





Street Cred

: 19



I have gone a little different route from what you see here. Not doing anything with the body, because I am enamored of the Survivor dings, scratches and scuffs...



A421cid

G3GM Newbie





Street Cred

: 0



Pontiac's are always Classy!


Iggy

G3GM Member





Street Cred

: 15



Welcome A421cid, your sport Lemans looks great. Love the Cragars .

jpowen49

G3GM Member





Street Cred

: 0



Welcome aboard Chad! I've really taken a liking to these Pontiacs over the past couple of years, even though I've been a Chevy guy most of my life. Love to see more pics of your ride!



g3chevy / Mr Pontiac

Donating Member





Street Cred

: 33



Similar topics
---
Permissions in this forum:
You
cannot
reply to topics in this forum