Now the proud owner of a "new" 47th Edition Hollander Interchange Manual that covers our cars...and all other Domestic cars/trucks from about 1969 through 1981. Part numbers, too. Even wheel information. So, guess I can be the designated archivist if anyone has a need to cross-reference. Just need to familiarize myself with it.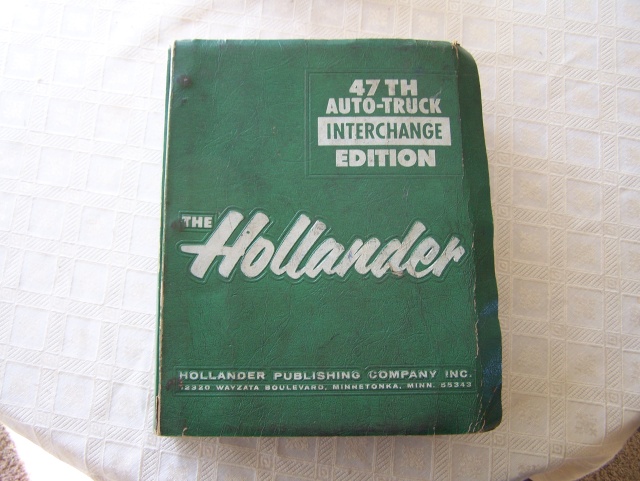 Anyone have a need for a Mitchell Engine Performance Service and Repair Manual that covers Tuneups, Computer Diagnostics, Fuel Systems, Emissions for '86/'87 Domestic cars? It came with the Hollander and I have no need for it. Make you a great deal!

Mcarlo77

Donating Member





Street Cred

: 77



LOL....and the 1st question is.....Those darn window belt line moldings!!!!!

How much are those things??? (The Hollander I mean).


77mali

Donating Member





Street Cred

: 62



Well...wouldn't you know it, the manual doesn't cover the beltline moldings. Nor does it cover dual hump crossmembers. Was surprised to learn that not all "A" bodies share the same hood hinges. The factory wheel and wheel cover section is kinda cool to look at. Anyway, hope it can be put to good use.

Picked it up on e-Bay. Like most used items on there, price can be all over the board. This one is lightly used and I paid $60 for it.

Mcarlo77

Donating Member





Street Cred

: 77




Does the interchange manual cover shocks? In my parts manual they have some obscure description which implies these parts were sold in a different manner. Just to remind I have a stock 76 Chevelle sedan. My shocks are indicated as (front 4975449-1154101/ rear 3189125-1154095). Thanks

76Chevelle2Tone

G3GM Member





Street Cred

: 0



It does cover shocks...but, does not give GM part numbers. Fronts cross over to all '73-'77 GM "A" bodies with no differentiating between coupes/sedans/wagons or el caminos/sprints. Also includes '75-'78 Nova, '75 Apollo, '75-'78 Skylark, among a few additional GM models.

Pretty much the same with rears...but, there is a wider range of years covered.

My '77 Monte still has the original spiral shocks. It came with the optional (D85) Heavy Duty Suspension. Have never found any reference to those part numbers, either.



Mcarlo77

Donating Member





Street Cred

: 77



76Chevelle2Tone likes this post
Similar topics
---
Permissions in this forum:
You
cannot
reply to topics in this forum