what a f"n" mess. Went to pick it up and we were getting pounded by a big thunderstorm with some hail. Was thinking of letting it sit there for one more day. Glad I didnt they had it parked out in the lot sitting in the storm. Wish I could tell you the story gets better but I cant! When I walked up to the car I noticed right away a big scratch in the drivers door and my wife saw the same in the passengers door. Guess same a hole worked on both sides. Then we opened the doors and low and behold all that was done was the door panels carpet and the buckets. (In the wrong material). Guess this is what I get for dealing with hillbillys. I would post some picks but cant even stand to look at it. My blood pressure wont take it. I told the guy I wasnt paying for it being it wasnt what I asked for and he said he would fix it but I dont want him or his employees to even touch it anymore. I guess maybe after time it will get better but for now I just put it back in the garage and covered it up. Sorry for the long post but needed some where to vent.
O by the way for those of you in the Indianapolis area DO NOT USE J&F UPHOLSTERY!!!!!!!!!!!!!!!!!!!!!!!!!!!!!!!!!!!!

Tom77

Donating Member





Street Cred

: 9



I feel so bad for you. Also as a owner of an upholstery shop it really ticks me off. I here a see a lot of this happening to people. It gives the upholstery trade a bad rep when some of us work really hard to have great customer relations plus do the best job we can and jerks like this make it all we strive for go right out the window. Were you having custom work done or a pre made kit installed?

I apollogize form all us Upholsters that take our job seriously. I'm truly sorry for you. If you were closer I would be happy to help you out.

Wally

Wallyuph

Donating Member





Street Cred

: 31



Complete interior to original.

Tom77

Donating Member





Street Cred

: 9



Man that sucks. The damage to the paint on your car especially.

77mali

Donating Member





Street Cred

: 62



I never bought from this place my self but some customers have.
http://www.dixiemontecarlodepot.com/Product/Browse.aspx?d=390&p=1
You can buy most of the pieces premade and then just install them your self if you want. We get customers dropping off this stuff and all ready have the upholstery pre sewen. They ask me to install them. If he screwed up some thing that was pre made he is really bad. If someone wants an original style interior we sugest they buy a kit and pay me the labor to install it. I don't do many cars much any more as I preferred the custom interiors and the last few years the market has dried up. Not much exspendable funds for people now days. If you bought a kit it should only take a week -2 at the max to get your car back from a good shop. With all the plastic in these cars there is not much for upholstery in them.
The scratch is so bad let alone two of them. When a car is dropped off here I look it over with the customer and note any thing on the paper work. I also tape off all the jambs and anything else that I feel could cause harm to the customers car. Like this
[url=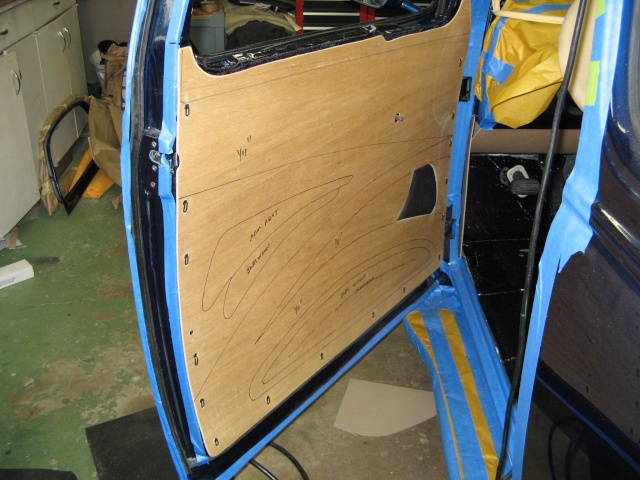 ]
Wally

Wallyuph

Donating Member





Street Cred

: 31



That's a heck of a thing to do to a customer's car. We always note any nicks etc on airplanes too, and taping the entry is the best way to prevent any damage from R&R of parts cords, tools etc., like you do it Walluph.

pila

Donating Member





Street Cred

: 43



Did a 40 Furd and when I untaped it I saw a scratch. This was before I looked them over with the customer. It looked to me like they did it installing running boards. I showed him the scratch as soon as he came in. He looked at me and said I can't do it to you. he said " I put that in installing the running board". If he was not honest with me I would have had to paint the fender. After that I started looking them over and making notes.

I tried to do a search for them but can not even find a web page to look at there work. In todays world I can't belive a business does not even have a web page. If you search for wallys upholstery in MN we pull right up. This really ticks me off and I really feel bad for you.

They had your car all winter didn't they?

I can only get one car in my shop at a time but have never put one outside let alone in the rain.

Ghost Rider not saying all this to make you feel even worse. Just letting you know what to look for in choosing a upholstery shop.




Wallyuph

Donating Member





Street Cred

: 31



Now that I look back I should have documented with pictures the condition of the car before I dropped it off. I have some from the last car show that clearly show no scratches. After that show it went up on stands in the garage till it went in but that was 5 months later. But this shop came recomended from a few different people that go to the same cruize in spot I go to and their cars looked great. Would have to by mine that was the rotten apple of the bunch. I'm shure as time passes I'll get over it but it's going to take some time.

Tom77

Donating Member





Street Cred

: 9



I have a semi retired guy east of Indy that installed seat covers in my K5 Blazer. I bought covers from LMC, took them over and he knocked it out in a few days. He only the wanted seats, not the whole vehicle. If interested sent me a pm and i'll give you his name and number.

But, maybe your best bet would to attempt to sort it out with the guy that did the work. Not paying him should open his ears to what details are lacking.

jerry46765

Donating Member





Street Cred

: 20



Similar topics
---
Permissions in this forum:
You
cannot
reply to topics in this forum