+12
Mcarlo77
1973montec
Blazerteam
kyle1979
thatfnthing
badtemper44
1973 454 MONTE
Pontichev327
Limey SE
driveit
JiMi_DRiX
alleyball4
16 posters
Page 2 of 2 •
1, 2
Mcarlo77 wrote:

Blazerteam wrote:Found the pics,but these arent swiveling buckets..?


Those seats look like '78/'79 Monte Carlo/Malibu buckets.  Definitely not factory seat belts for swivel buckets, either.
Look at the colour on the seats and the console..you think its easy to find parts in the US to convert a Chevelle these days from a bench seat to buckets and console?.Try that in Norway,and turn back time another 20-30 years..i find it highly unlikely that someone did that to a wagon over here..
I guess it left the factory with the seats,and the seat belts where changed over here when it arrived..there is a law here thats says the belts have to be "E" marked.
I also suspect that 4 door G3 cars,couldnt get swivel seats because of the shorter doors..so just the coupes and ElCaminos go them.

Blazerteam

G3GM Newbie





Street Cred

: 2



those are to factory swivel seats. they just have an ash tray in them.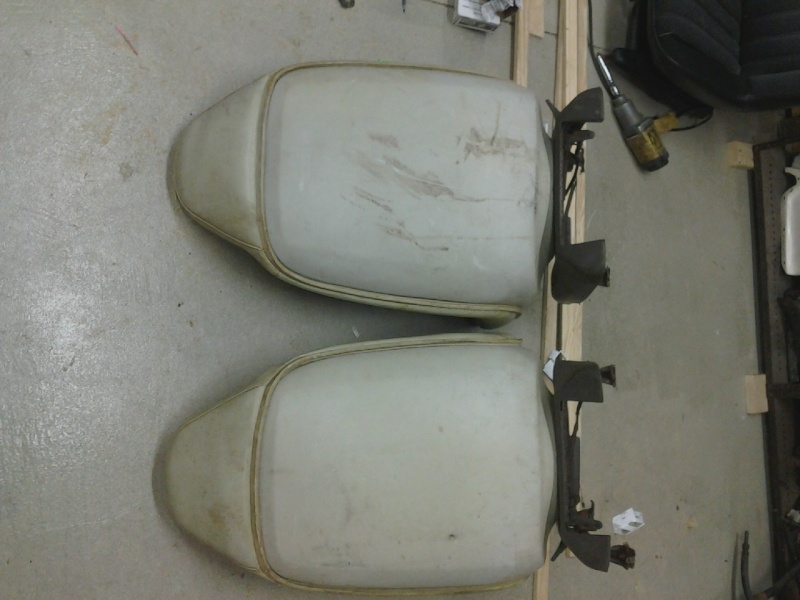 1973montec

Donating Member





Street Cred

: 17



Yeah...upon closer look, they do, in fact, look like swivels. The sideways photo made them appear taller. Never seen swivels with ashtrays, though. Suppose they could have been added if the back door panels in a wagon don't have them?

Mcarlo77

Donating Member





Street Cred

: 77



Looks like a real factory swivel bucket seat setup to me. Very cool!

g3chevy / Mr Pontiac

Donating Member





Street Cred

: 33



I LOVE these 73 SS wagons. I wish the other GM lines would have fallen suit. I want buckets for my Vista but I just want the standard 73-74 Cutlass Supreme buckets in saddle brown in mint condition.  

w451973

G3GM Member





Street Cred

: 0



Factory swivel buckets did come in some special order cars as you can see in some current craigslist, ebay ads and pictures supplied.

The blue 4spd in mention is the same car, just updated with seat covers and paint. I've heard of this car since 1988 and again in 2001 when I started tracking VINs on the SS wagons.

Rare it is but a lot wrong with it for correctness. NO black out anything. Wheels will be Turbine 1 wheels. Stripes are wrong with sharp edges at the bends and not rolled. Door panels are wrong for 1973. It's a COPO car and if an executive ordered it as I've been told over the years, it could have had all those things like steering wheel, door panels put on it. Other than rarity, it is not a good example for other SS wagon owners to use for reference.

dine73ss

Donating Member





Street Cred

: 2



A blue '73 SS 454 wagon sat along the street on North Anthony Street in Fort Wayne for years during the late '80s. We drove by it all the time. It had an average blue respray with no stripes, bench seat, automatic. Clean car, all there but nothing special. Never driven but never wanted to sell either. Finally it came up for sale, like $4k in early nineties. I looked at it, wanted it, but had too many other things going to drag it home. A few years later, a blue 454 wagon appeared in Decatur Indiana at the custom car sales place. It had fresh paint, stripes, buckets, and a four speed. Someone did a pretty nice job but it had a big price tag. The COPO label was applied. I never tracked the VIN, or chased it to see if they had any supporting paperwork on the COPO. Maybe it's not the same car, but what are the chances of two blue '73 454 wagons in a 50 mile radius?

Plus the front bumper on both wagons had that annoying tilt to it.

Either way, it's water over the damn now. But definitely puzzling...

jerry46765

Donating Member





Street Cred

: 20



I remember in the late 70s around Portland Maine, we saw a blue/silver stripe wagon SS 350 a few times on our way to the store. The cars were around but didn't see them often.
All five of the US Factories that built the Chevelles did make the SS wagon.
Many rusted away or just used as transportation till junked or put away for a future restoration.
If you find one, chances are it's the real deal as no one would really go through the effort to clone one out. No money in it. Look for the typical items, sway bars, round gauges, interior emblems, correct door panels. Hard to make one due to just finding a decent 73 wagon. 74-77 had different bumpers and rear marker lights further in. I like them for sentimental reasons. Good riding car and quick for the time.
Seems like the gold and blue ones survived better than dark red and green. Only have see a picture of a green/silver stripes.

dine73ss

Donating Member





Street Cred

: 2



I don't think it was cloned out. It was a 454 SS but it looks like someone changed the front seats, added a console, and swapped in a 4-speed. When it goes from dealership to dealership, the interior seems to keep getting better. Hopefully, they are updating the corporate production order as they are making changes to keep the price up.

jerry46765

Donating Member





Street Cred

: 20



Page 2 of 2 •
1, 2
Similar topics
---
Permissions in this forum:
You
cannot
reply to topics in this forum