I had some time this morning so I figured I put some gas in the Malibu and get it out and take some pictures for a possible for sale ad. Well, the car had other plans. It was hard to start, took a few times and some pumps of the gas to get it to start. It fired up after that, smooth as can be but with slight stumble. I pulled the car out to put the breather back on and noticed a drip on the intake. I pulled it back in and pulled the carb to find on the front corner on the bottom it looks like someone had used some sort of epoxy maybe to try to seal it up at one point. My problem is I don't want to pull the distributor, intake and put on a 4bbl when this car runs smooth as silk with the 2bbl. Then you get into brackets and all that other mess not to mention $375 for a carb, close to that for a intake and all the other nickel and dime things needed when I may sell the car. Does anyone have a lead on where to find a original or if the body has a crack can that be fixed?

Damon23

G3GM Member





Street Cred

: 5



Saw your post on the FB group. Thought I'd reply here too. Can get you a working 2bbl, probably this weekend.

chevellelaguna

G3GM Enthusiast





Street Cred

: 16



Cant tell by the pics if you have a plug that worked loose or a crack. maybe you could clean it up and re-epoxy.

I've got 2 old cores, both are filthy & need overhauled. If all else fails let me know.

73ss

G3GM Enthusiast





Street Cred

: 11



Damon I have a working 2v from a 75 Monte Carlo Boxed and ready to go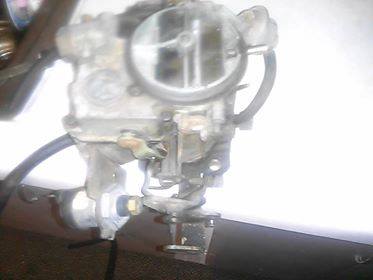 ___________________________________________
1977 Chevelle SE x2
One Mild original
one Wild NON original
Anthony

Limey SE

Management





Street Cred

: 97



Buyer I had backed out for it If still have that front plate holder We can work something out for it

___________________________________________
1977 Chevelle SE x2
One Mild original
one Wild NON original
Anthony

Limey SE

Management





Street Cred

: 97



Sent you a message via Facebook Limey

Damon23

G3GM Member





Street Cred

: 5



will Pm ya tracking in Morning my friend

___________________________________________
1977 Chevelle SE x2
One Mild original
one Wild NON original
Anthony

Limey SE

Management





Street Cred

: 97




Damon23

G3GM Member





Street Cred

: 5



Similar topics
---
Permissions in this forum:
You
cannot
reply to topics in this forum