A buddy of mine has a '73 Chevelle with swivel seats. The seat belts in the car, are not original. The whole 3-point setup looks kinda weird, I think.
My '75 Monte Carlo has a roll right above the opera window and a roll bolted to the floor, right behind the bucket seat. The upper part of the belt is harnessed in a guide, sitting on the shoulder of the seat.
How would a stock setup for a 1973 Chevelle look ?

marx3

Donating Member





Street Cred

: 1



Simply stated, the '73's didn't have a retractable shoulder belt like were used on '74-'77.  Instead, they were just bolted to the upper part of the "B" pillar.  Thus, the reason for that belt retainer trim pc above the door glass...so the belt could be stored away.

The '73's with swivels would have a floor retractor mounted like on your Monte, but would have a different style buckle to accommodate latching of the shoulder strap; instead, of the shoulder strap being sewn to the buckle like on your car.  Inner belt receivers were the same.

I'm confused by your last photo.  That shows a bench seat floor retractor/inner belts for '74-'77.  

Mcarlo77

Donating Member





Street Cred

: 77



Aha! So the 73 had the early style 3-point system, as found in Camaro's etc. ?

So that plastic retainer is actually original? I think it looks kinda misplaced...

The last pictures shows the seat belt system, in my 75 Monte Carlo, that has a a bench.
Would the system be different, had it also had swivel seats?

marx3

Donating Member





Street Cred

: 1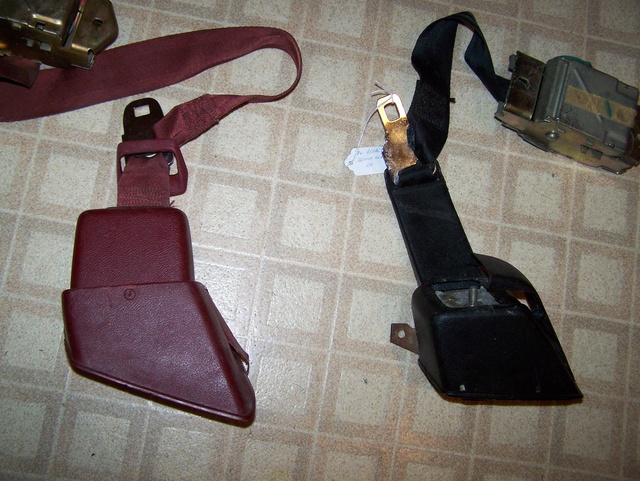 Okay...I assumed when you stated your floor retractors were mounted behind the seats, that you were comparing your swivel bucket setup to those of your buddy's. Swivels used the floor retractor shown on the left in this photo.  Bench and standard bucket (Chevy didn't offer std buckets) retractor style is shown on the right.
The swivel retractor was floor mounted behind and independent of the seat track (unlike yours, that serves as a mtg base for the outer rear seat track).  Swivels also used a single inner belt encased in a full plastic sleeve so it would stand upright when in position.

Mcarlo77

Donating Member





Street Cred

: 77



thanks alot for all this info. I can see the difference between the floor mounted retractors

marx3

Donating Member





Street Cred

: 1



---
Permissions in this forum:
You
cannot
reply to topics in this forum