Page 2 of 2 •
1, 2
One reason my car looks a little lower is it has 28.66" tall tires on 20" wheels. Here's a quote from their website:

Lowered Springs Our springs generally lower the vehicle one-inch in the front and up to 1-1/4 inches in the rear depending on the option for your vehicle. Why we only lower about one-inch in the front is simple, there is not enough suspension travel beyond one-inch for street applications. We admit, vehicles lowered one-inch look great, but they generally run into suspension bottoming problems. Header to ground clearances tend to be another issue. Therefore, in our experience, we believe one-inch makes the most sense especially if the care is driven on the street.

Here's the link to the products they offer for our cars.

https://www.globalwest.net/chevelle-el-camino-malibu-monte-carlo-1973-1974-1975-1976-1977-global-west-suspension-.html

REVINKEVIN / Mr. 600+HP

G3GM Senior Member





Street Cred

: 19



Winter is almost here and I look at my tarped up 75 that has not moved or progressed for several months. Its a shame. Covid problems, kids and just life happens.
But as Im getting ready for the next step I have a question for our Tech experts.
This car originally had a small block 350 and TH350 transmission. It was replaced with a 260hp 396 motor and that was in it when I bought the car this past year. I had a shop install a performance built 1975 454 motor back into the car but as they went to mate it to the TH 350, they said the flex plate would not fit.
Thus they pulled the flex plate off the 396 and used it, as it did fit. (trouble)
Now the car has a vibration as it rolls down the road and has developed a significant oil leak from the transmission. (It runs but I dont want to drive it much)
Now I am about to try and correct my problem and my question is: If I go and buy a balanced 454 flex plate, should it bolt up to the TH350 motor? And if it should, I wonder why it did not the last time? And by last time I mean the clutch plate that came with the 454 and the shop said did not fit. It could be that particular flex plate was not a 454 one at all - I will never know as I sold it with the 396 motor.
Is there only one flexplate to get here for a 74 454 motor? Or is there more than one? I need the externally balanced flex plate that bolts up to the TH 350 transmission.
If I have this motor pulled out again, any other advice on what you would do once it is out? Here is a tip, its not really acting like it has all that much horsepower. Is there anything else obvious to look at, such as torque converter or other upgrades?
Any help is appreciated, thanks.
Pictures of the casting numbers and of the Flex Plate that was on the 454 that looks like match to me but was told it did not fit.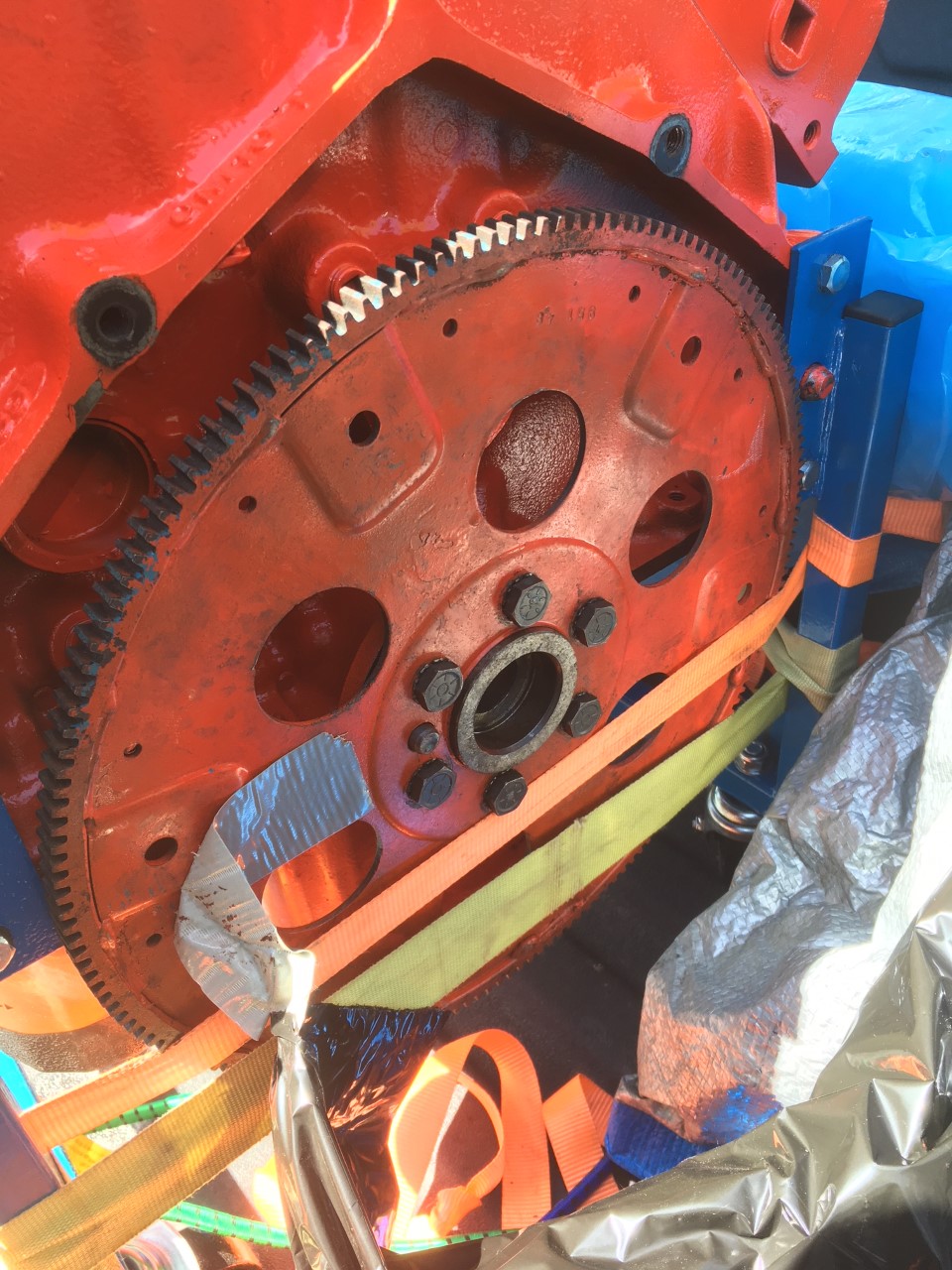 Digger

G3GM Member





Street Cred

: 0



You'll need a flex plate from a 454. The 396 is an internally balanced engine. The 454 is an externally balanced engine. They may bolt up to the engine, but will cause a very bad vibration and destroy bearings very quickly. You should be able to buy a "dual pattern" flex plate from a mid 70's impala or Caprice to match your convertor.

fasrnur

G3GM Enthusiast





Street Cred

: 9



First you need to see if your 396 used a 153-tooth ring gear or a 168-tooth (larger diameter). 168-tooth should be the correct size but there are also two different torque converter bolt patterns. The simple solution if you have the 168-tooth set up it a Summit flex-plate with dual pattern for a 454

Iggy

G3GM Member





Street Cred

: 15



Awesome responses thank you.

Yes, I was aware of why it was running out of balance. But I was not aware of the two different torque converter bolt patterns. I will have to get the dual pattern one.

Thanks again!

Digger

G3GM Member





Street Cred

: 0



Searching for opinions

My 454 is mated to a 350TH transmission with a 273 rear end. The 350 is out for rebuild right now.
As expected, not too fast off line but can cruise on hwy.

Should I consider putting a 700 transmission in? And once I have the 700 with overdrive I can change rear end gears.

Quite a bit more money for the 700 bs the 350. Is it worth it?

Digger

G3GM Member





Street Cred

: 0



If you want a simple overdrive, look into a TH200-4R - most have a dual Chevy/BOP bellhousing pattern and can be built to handle the torque of a built big block - they were used behind the Grand Nationals and GNX Buicks. They are the same length as a TH350 and use the same slip-yoke, and the trans mount is in the same position as a TH400

Iggy

G3GM Member





Street Cred

: 15



Thank you Iggy.

After I posted I started researching and my lord it's is a polarizing subject. Really not that many choices car, yet lots of varying opinions.

I had to choose today and I chose not to upgrade but to refresh the 350 which was in good shape and getvall the leaks stopped. I'm putting the correct 454 flexplate and get a functioning tranny in place. It got beat up with the motor running out of sync and wobbling. If it's up and driving I can spend on other things and perhaps return to drivetrain later. Thanks again.



Digger

G3GM Member





Street Cred

: 0



Page 2 of 2 •
1, 2
Similar topics
---
Permissions in this forum:
You
cannot
reply to topics in this forum