As some of you guys noticed on my Project Brown Eye 76 project, I recently bought some Summit fully welded mufflers. I was somewhat leery of buying them because I feared buying some Blowmaster knockoffs. Good news to anyone who is wondering about them though! These babies are pretty free flowing from the looks of them & I found a pic on the internet that shows it clearly! I was gonna post my own pic, but this is a great shot:
As you can see, they are close to a turbo style muffler but with one open chamber. The flow tubes are louvered & there are actual chambers, not just some random V's welded in.
Looking into them, they look kind kind of like this: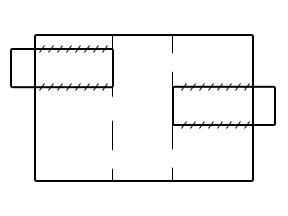 Expect a write-up on sound & performance once I get them installed. I really wanted the Hooker Maxflows, but ended up having to cut my budget short. I think I done alright though.

The Dude

Management





Street Cred

: 48



I think you made a wise choice. Making a good muffler is no longer a big secret, all you gotta do is make sure the muffler material is not rust prone. JB

JB2wheeler

G3GM Fanatic





Street Cred

: 28



I have hooker aerochambers on mine. its quiter than the big block flowmasters that on the 73 (50 series)
3" out the back.
They call it a straight through design but thats only if you order center/center. mine are center/offset. Awesome flow numbers on them and the internals are stainless.
___________________________________________
www.cardomain.com/id/3115ultima

BlackChevelleSS

Management





Street Cred

: 20



My friend had the summit 3" welded mufflers on a 72 nova with a 468bb it sounded real good.

G3NUT

Donating Member





Street Cred

: 11



Similar topics
---
Permissions in this forum:
You
cannot
reply to topics in this forum