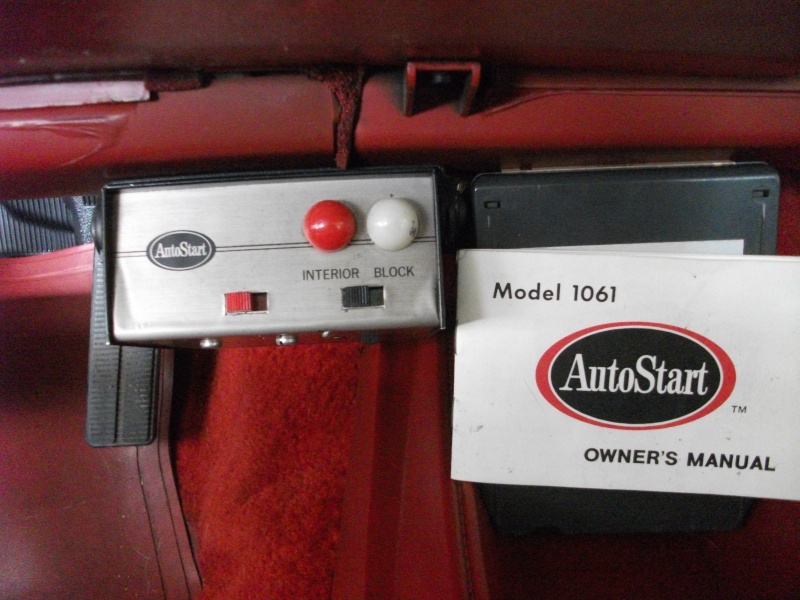 Wondered if anyone had seen anything like this? This is a vintage Auto Start system that was installed on my '77 Monte way back when...possibly by the dealer when new. Made by a now-defunct company called Systematics here in the Twin Cities. The operation manual is dated 1967/68. This "high tech" system allowed the owner to set the box to automatically cycle the car on and off when cold outside in order to keep the cabin warm for the owner when out shopping, visiting, at work, etc. It could be set to read the block temp or cabin temp to determine when to start the car. Didn't even know this technology existed back then. I've never tried it. Gotta love those 60's style bulbs!

Mcarlo77

Donating Member





Street Cred

: 71



wow that is kewl I want one


___________________________________________
1977 Chevelle SE x2
One Mild original
one Wild NON original
Anthony

Limey SE

Management





Street Cred

: 95




74MonteCarlo

G3GM Fanatic





Street Cred

: 17



Cool stuff! Is it still in there. Id just leave the box for conversation. I saw that once in a Caddy for sale on ebay.A 77 Seville

ant7377

G3GM Addict





Street Cred

: 36



Yeah...it's still in the car. One wire lead under the hood has popped off and I'm not quite sure where it's supposed to attach.

This company must have been ahead of it's time as I recently found a '73 Riviera that has what is called a SparkPak Model 2011 Discharge Ignition system made by them. The instructions were in the glove box and, from what I can tell, was designed to be an add-on to your existing points ignition that basically converted it to a High Energy ignition. Interesting stuff back then!

Mcarlo77

Donating Member





Street Cred

: 71



Thats true.Some stuff at first glance you are saying "what the hell" but if you think about it with no computer chips and pretty basic electricals they had some neat stuff to put in your car. I remember another monte had a thing called a "car guard".You had to push 4 buttons in the right sequence or the car would not start. Have never seen another.

ant7377

G3GM Addict





Street Cred

: 36



Holy cow is that cool.
I had NO idea that existed ... learn something new every day.
Heh ... and those with remote starts on brand new cars think they have something brand new and exciting....
.
Cort | 37.m.IL.pigValve.pacemaker | 5 Monte Carlos + 1 Caprice Classic |
* meet_07.30.11_Cold.Treat *
MCs.CC + CHD.models.HO.legos.RadioShows + RoadTrips.us66 = http://www.chevyasylum.com/cort
"Gonna make some dreams come true" __ Hoyt Axton __ 'Della & the Dealer'

knightfan26917

G3GM Senior Member





Street Cred

: 8



Came across another very unusual "high tech" gadget from back in the day. This was made by a company called Trak-A-Matic in Mound, MN and was found mtd in a '75 Olds 98. I apologize for the piss-poor picture (something going on with my camera's focus), but it says Automatic Stabilization Control System across the bottom of the box. Has a rheostat dial, On-Off switch and the same space age On (green) and Off (red) bulbs (similar style as on the Auto Start on my Monte) to indicate it's activated. All the factory auto brochures/manuals were in the glove box, but nothing regarding what this does...or, how it works. Anyone ever seen one of these gizmos? How would something like this control your traction...presumably in ice/snow?

Mcarlo77

Donating Member





Street Cred

: 71



---
Permissions in this forum:
You
cannot
reply to topics in this forum