I posted yesterday in the "U-joint info" topic that I am having some problems installing my U-joints. I wanted to open a new thread so I can get some more attention. I have done this before, but never on these cars. I know the technique for other vehicles, but I must be missing something here. I bought Moog Super Strength greasable U joints, part number 235. These U joints are correct for these cars according to several sources. I cannot, for the life of me, get them installed. This restoration is fighting me every step of the way. As you can see, the U-joint will not fit inside the driveshaft ears. No matter how I wiggle it or position it, I cannot get it to sit down in there. It just wants to sit on top of the ear, only by a few millimeters, but still enough to not set in there. Additionally, the size of these match up perfectly to the old U-joints that I removed. I do not remember having a hard time getting those out, however. Take a look and let me know what you think. Thanks!
- Ryan

" />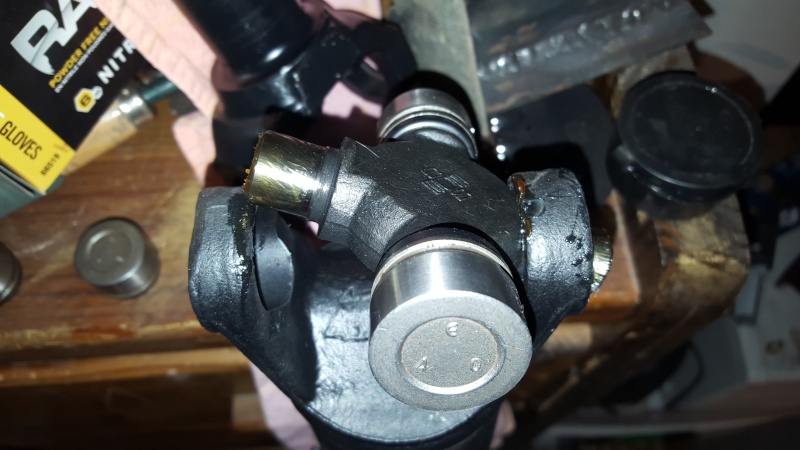 Silentknight85

Donating Member





Street Cred

: 4



Did the old joint have more of a 90 degree corner at the inside corner? I'm wondering if the 45 there is making the joint wider to hit just enough to get it in.

bracketchev1221

G3GM Enthusiast





Street Cred

: 15



In the pic, is the left cap all the way in? Looks like that in the pic. If so, that one should be only half way in. Then set the joint in and finish pressing it in.

Joe73

Donating Member





Street Cred

: 78



bracket: I'll have to look at that more closely when I get home, but when I put them back-to-back I didn't notice a difference. These are 1344 style U joints. Is there another 'style' that I should look at? I'm not sure exactly what that's referring to.

Joe: neither of the caps were in for that picture. I was trying to illustrate how, even without the caps, the U joint won't slide into place. It is pushed as far to the right as possible. I can't get the left side into it's home.

Silentknight85

Donating Member





Street Cred

: 4



Although the Moog part number is correct, it is possible that the part in the box is incorrect.

I use to work in the parts department for a Chevrolet/Mazda dealer for 16+ years and I have seen incorrect packaging many times (OEM & aftermarket).

BBMALIBU

G3GM Member





Street Cred

: 2



Oh, ok. Looks like a cap sticking out of the ear on the left side.
If its that close to going in, is there any chance the ears got tweaked while removing the old joint??

Joe73

Donating Member





Street Cred

: 78



Joe: It's possible, I suppose. I'll give that some consideration tonight while I go for attempt number 3. I did try the same joint on both ends with the same results. I'm also going to take BBMalibu's point into consideration and try the 2nd joint to see if the wrong one was packaged in the first box. I'll let you all know how it turns out. Worst case scenario, if these don't fit, I do NOT want to grind the drive shaft ears to make them fit, which I imagine would considerably weaken the driveline, so I'll likely return these and turn to another joint. What joint is everyone else using in their setup?

Silentknight85

Donating Member





Street Cred

: 4



I'll be running Spicers with no grease fitting. I listed all the part numbers in my U-Joiint Info thread. I listed part numbers from other manufacturers as well. Just double check them.

Joe73

Donating Member





Street Cred

: 78



So after doing some research, and with some help from Joe's info thread. It looks like I will need different Ujoints. Using Moog part numbers, front joint is #369, and the rear is 353.

Silentknight85

Donating Member





Street Cred

: 4



Id have to look at my notes, but, different joints front and back?
I just did a quick check at rockauto.com and they list the trans end and rear end being the same at 1 1/8" cap.

My original shaft (muncie/th400 yoke) has the same joint front and rear. I have an extra shaft from a th350 car and it has the same front and rear and its the same size as my original one.

What was different for yours??

Oh wait, you have BOP rear? Is that why the different joint??



Joe73

Donating Member





Street Cred

: 78



The bop rear end may be the reason for the different joint in the back. From what I'm seeing it's actually a ford/mercury joint that I need in the rear. I measured the ujoint sizes with calipers and the Ford joint matches perfectly to my specs. I'm learning more and more that my car must be a Franken-car.

Silentknight85

Donating Member





Street Cred

: 4



Front joint: all axes: 1.062" cap diameter, 3.219" wide.
Rear joint: axis 1: 1.125" cap diameter,  3.622" wide, axis 2: 1.062" cap diameter, 3.218" wide

Silentknight85

Donating Member





Street Cred

: 4



Similar topics
---
Permissions in this forum:
You
cannot
reply to topics in this forum