Is the space to install the heater core different sizes in AC and non AC cars?

I've got a non AC '77 and need to replace the heater core. Looks fairly straight forward for NON AC cars. I can only find Heater Cores for AC cars locally, and they are about 3/4" bigger than non AC units.

Can I use the AC heater core in my NON AC car?

Thanks

Dinomyte

Donating Member





Street Cred

: 11



I happen to have a non-A/C box with heater core sitting around from a '75 Elkie...and, a new A/C heater core for my Laguna (Spectra Premium 94546).  The A/C core is about 2" shorter than the non-A/C.  Width is about the same.  The A/C core will fit in the box; however, the bands that retain either end of the heater core in the box will not fit it.  Plus, you'll have about 2" less space at the bottom where air will flow around the core instead of thru it.  You'll need to get the Spectra Premium 94545.
First photo showing original non-A/C heater core in place.  Second photo shows A/C core substituted.  Notice the space at the bottom where I'm pointing with the socket extension.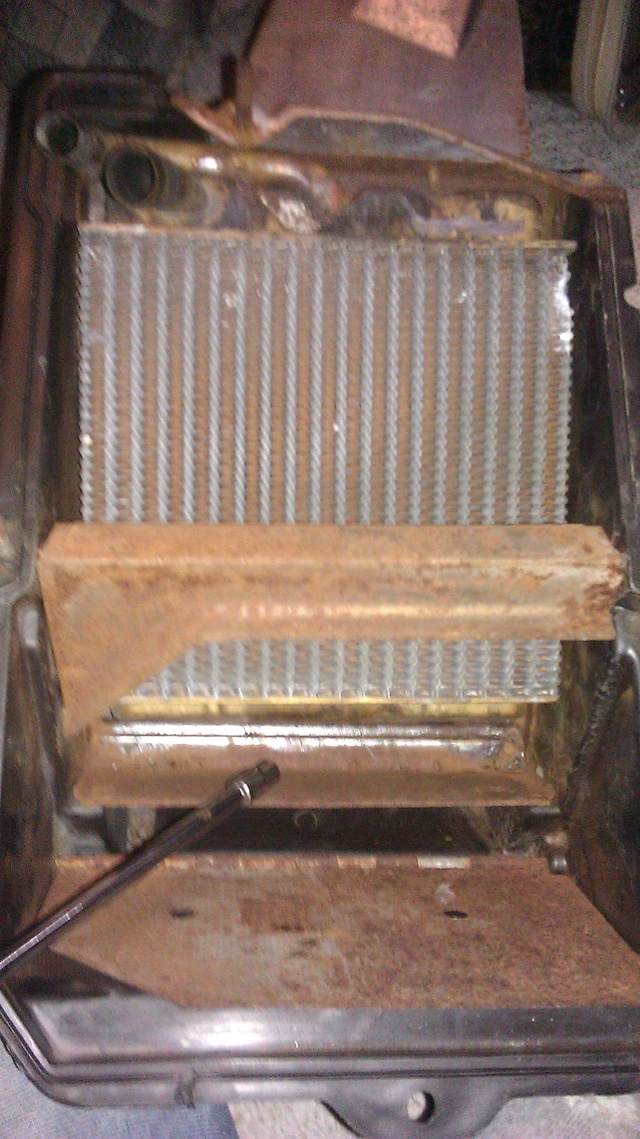 Mcarlo77

Donating Member





Street Cred

: 77



I've had nothing but bad luck with Spectra fuel tank senders, radiators and water necks. Hope their heater cores are better.

Joe73

Donating Member





Street Cred

: 80



Thanks Mcarlo77, so what I get is that the AC heater core will fit, but flow will be restricted significantly.  The hunt continues to find the right heater core close to home.

How long is the new AC neater core.  According to what I found on Rock Auto,
they are both
2" thick
7.5" wide or long (depends on the orientation the manufacturer measures)
7" for AC and 6.25" for non AC on the other dimension

btw same two part numbers you mentioned.

Joe73 - that's the reason I want to by this locally .

Dinomyte

Donating Member





Street Cred

: 11



Spectra A/C core measures about 7.25" square (finned area).  I also have what appears to be an original A/C core (the thing is actually brass) and it measures about the same.  The original non-A/C core (again, all brass) from the Elkie measures the same width...but about 8.25" tall (finned area).  Slight change in overall height adds a little more to the difference between the two.  Something is very odd as I have no idea why both Spectra and APDI/PRO are showing smaller dimensions on their non-A/C core.  Just giving you what I'm measuring from what appears to be a factory original.  I will repeat...a shorter core than original will not allow you to use the factory retaining band on the bottom. And, the Spectra A/C core will not allow you to use the upper retaining rod, either. So, will be curious to know if the aftermarket non-A/C cores will, in reality, be the same dimensions as the factory original. If not, how do they expect a person to retain it in the box?

As for Spectra quality...who knows?  I haven't done an exhaustive search, but it seems it's near impossible to find a brass core anymore.  Everyone tries to sell the aluminum ones as being superior.  Maybe.....

Mcarlo77

Donating Member





Street Cred

: 77



Thanks for all the info. If shove comes to push when I get to that job I'll make due with the AC core. Right now there are two caps on the water pump as the heater core had a leak, so disconnected it, but I really need it in there, makes those spring / fall drives more comfortable, not to mention it's nice to have a defogger.

Dinomyte

Donating Member





Street Cred

: 11



---
Permissions in this forum:
You
cannot
reply to topics in this forum