Fellas-
I'm installing the complete heater core/distributor box back into my '76 GMC Sprint, which is a factory a/c car. The radio, center duct to dash, and glove box are all out. The engine side firewall is bare (installing a/c delete box), and there is no engine in the car, so all obstacles have been removed, in theory. I have all the factory manuals and have followed procedure.
The problem is that I cannot get the box to clear the defroster duct and seat into the firewall. The duct has some flex, but cannot effectively be removed because it is tabbed into the steel channel under the windshield. I removed the box myself and do not recall having a big fight getting it out.
Can anyone give me some tips or tricks to get this back together without having to take the whole dash out? Pics below.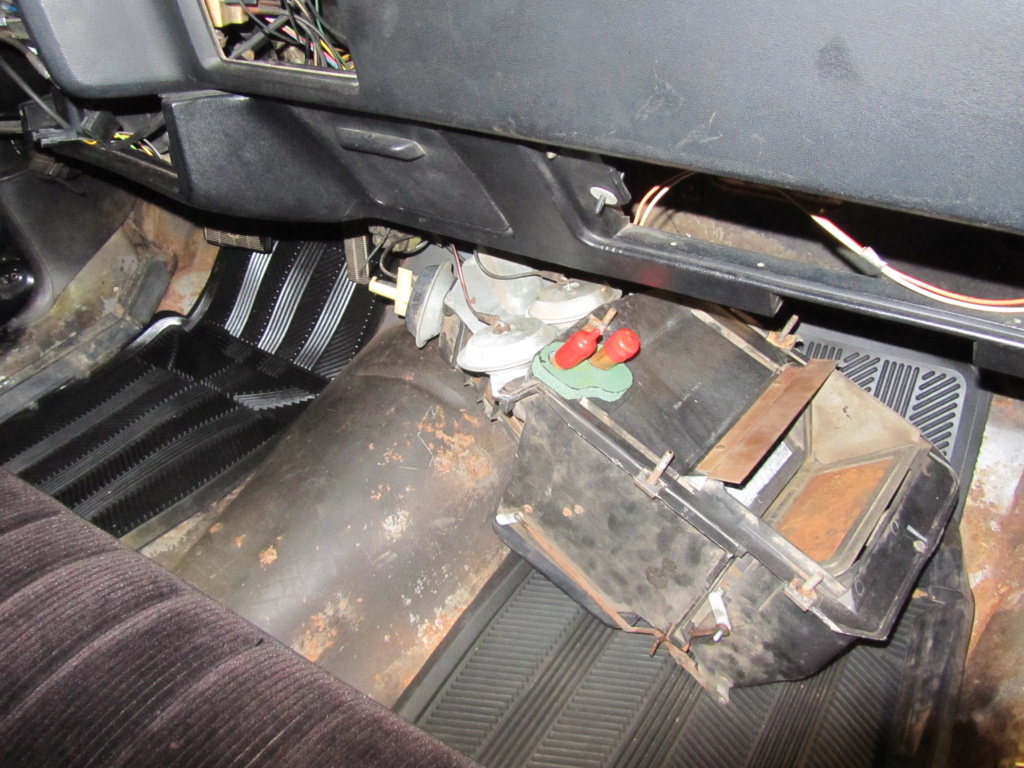 relic7680

G3GM Member





Street Cred

: 1




relic7680

G3GM Member





Street Cred

: 1



In the nearly 38 years I've owned and been driving my '74 Monte Carlo Landau, I've had to replace the heater core twice; once in the mid 1990s (probably around 1994) and once about 7 years ago. Hmm, seems like those heater cores only last around 20 years.

Anyway, I recall it being a monumental task both times. After the first time I prayed to the deity of automotive repair to please grant me the wish to never need to do that again. Obviously I was not heard since I had to do it a second time. I am inclined to think that this last time was more difficult but that's likely a misperception because the experience was so traumatic the first time that I blocked it out.

From this last odyssey, I do recall following the shop manual instructions, removing the lower ducting and the glove box, contorting my body into positions normally practiced by a yogi master, uttering several profanity laden incantations, comparing the positions of the inlet/outlet ports on the new core to the old core, re-measuring everything, shaking my head, uttering more incantations… I spent what seems to me to be about two hours massaging, coaxing, finessing, orienting, etc., that box into position, all the while thinking exactly what you're thinking; "It came out without a lot of drama, why am I having so much trouble getting it back in?"

What I'm about to say probably won't be helpful, nevertheless after patient perseverance, it finally went in. And even then, I thought, "No way." Upon confirmation that it was, indeed, back in, I was elated and became so intoxicated from the relief of finally achieving the seemingly impossible that I don't recall the exact step-by-step process, only that I didn't use any special tools nor did I resort to anything extreem such as removing the entire dash.

I really wish I had more useful information to give you but hopefully it's at least a small comfort to know that you're not the only one who's ever had to face up to this challenge and that there is hope.

Good luck and may the deity of automotive repair favor you.

zucchi

G3GM Member





Street Cred

: 2



relic7680 likes this post
This is exactly what I was thinking....and needed someone else to confirm it. More swearing and elbow grease....

relic7680

G3GM Member





Street Cred

: 1



I took the seat out of my Monte to do it. Helped to lay on your back looking up and using your head (literally)kind of finesse it in there. Real pain in the A$$ no matter what. I took a nap in there afterwards.

ant7377

G3GM Addict





Street Cred

: 36



Similar topics
---
Permissions in this forum:
You
cannot
reply to topics in this forum